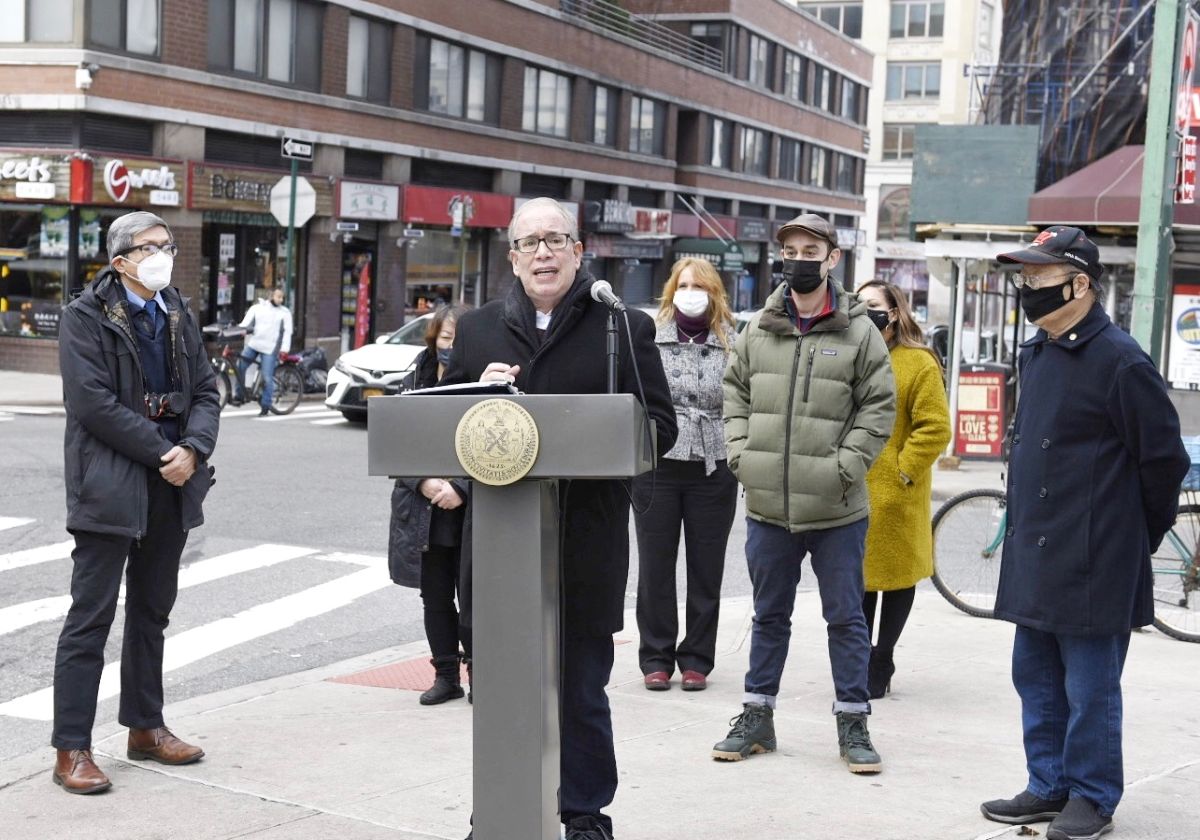 The first round of PPP loans did not reach enough businesses in the city, and certainly not many of the minority and women businesses or independent contractors. A new term for these forgivable small business loans opened on Monday, and New York officials don't want history to repeat itself.
On this occasion, the Paycheck Protection Program, which is how these business grants are called due to the COVID pandemic, is endowed with $ 284,450 million and Comptroller Scott Stringer proposed on Wednesday that in order to reach more entrepreneurs, the city should put a multi-ethnic and multilingual team is in place. The aim is to provide support to city organizations that are essential so that information and direct aid reaches all corners of the city, including immigrants.
Coinciding with this request, the Mayor, Bill de Blasio, and the Department of Small Business Services (SBS) yesterday launched Fair Share NYC a campaign to connect small business entrepreneurs with these federal pandemic relief funds in addition to other aid. such as the disaster loan (EIDL) and grants of $ 10,000 to entrepreneurs in low-income communities.
De Blasio said that everything possible would be done to "connect these entrepreneurs with the help they deserve" with an initiative that reflected some of the needs that Stringer said were necessary.
The comptroller lamented that just 12% of more than 1.1 million small businesses in New York City received the PPP loan in the first round compared to 24% in Nebraska or other states like North Dakota. The data it manages is that those who received the least money from these forgivable loans to cover business costs were entrepreneurs from The Bronx.
"Loan applications were complicated and restrictive, and many entrepreneurs were simply not aware of the program, which is unacceptable. The city failed the entrepreneurs the first time," said Stringer, one of the city's mayoral candidates.
Eileen Guzzo, one of the businesswomen who accompanied him at a public event in which she announced the proposals to improve the position of New York businessmen, explained that in the first round of PPP it was very difficult for her to apply for the loan through a great institution. Gozzo, president of the consulting firm Donnelly and Moore, said that finally, thanks to the support of the Hispanic Chamber of Commerce, she found support in Ponce Bank, a community entity that made everything very easy.
In the first rounds of 2020, some community banks and credit unions told this newspaper that many entrepreneurs did not have sufficient documentation to obtain this credit.
Stringer suggests that the city work closely with communicating entities and Community Financial Development Institutions (CDFI) that have been more effective than large banks in getting these loans to entrepreneurs and that there be an effort on the part of the SBS, in collaboration with other business associations and the Freelancers Union to encourage entrepreneurs and help them prepare documentation.
From the SBS it is recalled that in this round of aid they want to place emphasis on minority and women's businesses as well as those that are very small through community-based lenders.
The Fair Share NYC program will provide daily webinars that can be accessed through evenbrite to review the terms of the PPP and EIDL aid programs and provide guidelines for your application.
In line with one of Stringer's suggestions, individual assistance will be given to find the best financing option for this program by connecting with the entities that grant these loans in addition to helping with the application.
Where to apply for help?
The information will be available in several languages ​​including Spanish at nyc.gov/ppp or phone 888-SBS-4NYC
The state of business
Falling demand and supply constraints are doing a lot of damage to one of the building blocks that a healthy economy needs, small businesses. According to figures released Wednesday by Scott Stringer, as of December 30, 2020, Manhattan small business revenues had fallen 67%, a 43% in Queens, 38% and 37% in The Bronx and Brooklyn, respectively, and 28% in Staten Island compared to January 2020.
Manhattan's downfall is further by having many office areas that have been partially or fully closed for most of the past year.
Keys to the second PPP loan
Businesses that were open before February 15, 2020 and have fewer than 301 employees, including business owners with no employees, independent contractors, or self-employed.
Those companies that have suffered a 25% drop in quarterly gross income (before taxes) compared to 2019 or in the same annual turnover compared to the previous year.
The companies that request it must have used all the money from the previous loan, although it is not required that they have already requested the forgiveness or forgiveness of this debt.
You are eligible for an amount based on 2.5 times the average costs of the 2020 workforce or the 12 months preceding the loan.
In the case of restaurants and bars, the equivalent of 3.5 times the monthly cost of the staff can be requested.

eldiariony.com
Eddie is an Australian news reporter with over 9 years in the industry and has published on Forbes and tech crunch.