Amid fresh speculation over the federal investigation into Florida Representative Matt Gaetz's alleged sexual encounters with teenage girls, an opinion columnist at the New York Times is defending the Republican congressman from the law enforcement agency's "political bias."
In a Monday conversation with his colleague Gail Collins, op-ed columnist Bret Stephens slammed the FBI's investigation into Gaetz as a "disgrace for the ages."
Asked about what current events had recently captured his attention, Stephens said, "The investigation of Matt Gaetz, Republican of Florida, which looks like it's about to fall apart, is an F.B.I. disgrace for the ages.
"It should force heads to roll. And Congress needs to appoint a Church-style committee or commission to reform the bureau," adding that after a string of controversies, including the agency's investigation of Russian interference in the 2016 election, "something dramatic has to change to save the F.B.I. from continuing to lose public trust."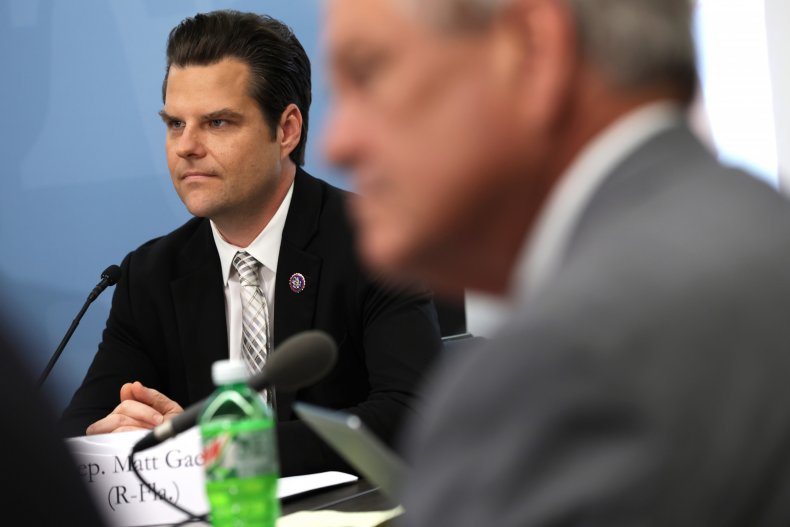 Stephens' comments come as the FBI's probe of Gaetz is winding down and new reports signal that it is unlikely prosecutors will file charges, in part due to concerns over witness credibility, according to a Friday report in the Washington Post.
The probe into potential sex trafficking crimes related to the allegations involving Gaetz began in late 2020 after he was accused of having a sexual relationship with a 17-year-old girl and paying for her to travel with him. Gaetz has denied having sex as an adult with anyone underage.
In an interview with Fox News' Sean Hannity on Friday, Gaetz said, "I continue to proclaim my innocence."
Last year, the federal investigation seemed to ramp up after former Seminole County Tax Collector Joel Greenberg, a former close friend of Gaetz, pleaded guilty to six federal crimes including a sex trafficking charge. Greenberg agreed to cooperate with numerous investigations, including the one into Gaetz. However, the probe has slowed in recent months.
In his Monday conversation with Collins, Stephens clarified that his defense of Gaetz wasn't because he's a fan of the congressman's politics or firebrand persona, but that his frustrations were aimed at "a longstanding pattern of incompetence tinged by what feels like political bias," adding that "no American deserves to be smeared this way.
"What we seem to have here is a high-profile politician being convicted in the court of public opinion of some of the most heinous behavior imaginable — trafficking a minor for sex — until the Justice Department realizes two years late that its case has fallen apart.
"We have a presumption of innocence in this country because we tend to err the most when we assume the worst about the people we like the least."
Newsweek reached out to the FBI for comment.
George is Digismak's reported cum editor with 13 years of experience in Journalism