Indianapolis Colts at Buffalo Bills
Saturday, 1.05 pm ET / 6.05 pm GMT
What the Colts must do to win: Any team whose main strength is its offensive line is not a must, but the Colts are a well-balanced unit, ranking in the top 10 in both offense and defense this season. If that offensive line helps rookie running back Jonathan Taylor play at his best Saturday, the Bills are in trouble. After a regular start to his NFL career, Taylor has been attacking opponents since December, when he averaged 5.9 yards per attempt. In his last game (certainly against the laughable Jaguars) he rushed for 253 yards.
What the Bills must do to win: Josh Allen has always been capable of greatness, the difference this season being that he has mostly eliminated the horrible turnovers that frequently punctuated that greatness. Of course, it has been aided by the brilliance of Stefon Diggs and the spark of Cole Beasley and it is concerning to Bills fans that both receivers missed practice Wednesday. However, if the Bills play anywhere near their best, they win this easily.
Key player: Philip Rivers, QB, Colts. Rivers, 39, isn't going to win games alone, but he still has the ability to lose them for his team (although, to be fair, he's had far fewer turnovers this season than in the past). However, on Saturday he will face one of the best cornerbacks in the league, Tre'Davious White. Oh, and a man used to gambling in Southern California or domes might not thrive in Upstate New York in January.
Prediction: Bills
Los Angeles Rams at Seattle Seahawks
Saturday, 4.40 pm ET / 9.30 pm GMT
What the Rams must do to win: Los Angeles will need a great game on the field against a Seattle defense that has been strong against the run, especially during the second half of the season. The Rams have managed to improve their running attack since dropping star running back Todd Gurley in the offseason, averaging 126.1 yards per game on a committee approach (up from 93.7 last year). But with Darrell Henderson out with a sprained ankle, Cam Akers and Malcolm Brown were limited to 54 combined yards in Sunday's essential game against Arizona to secure a playoff spot.
What the Seahawks must do to win: Star quarterback and MVP candidate Russell Wilson will need to be at his best efficient improv form against a defense that ranked first in the NFL in points allowed and always seems to give him trouble. He was limited to a touchdown and two interceptions while completing 60.9% of his passes in the two regular season meetings between the NFC West rivals and will need to do much better for the Seahawks to prevail in the rubber match.
Key Players: Jared Goff, QB, Rams. Los Angeles' first-choice quarterback suffered a fractured and dislocated thumb in a Week 16 loss to the Seahawks and underwent surgery Monday after missing the regular season finale. Backup John Wolford was good enough in relief to help the Rams to an 18-9 win over Arizona that gave them a ticket to the postseason, but Seattle's defense could be a bridge too far for the backup's second start in the NFL. Good news for Los Angeles fans: the two-time Pro Bowler is tendency to play.
Prediction: Seahawks
Tampa Bay Buccaneers on the Washington soccer team
Saturday, 8.15 pm ET / 1.15 am GMT (Sunday)
What the Buccaneers must do to win: Tampa Bay's offensive line will need to keep Tom Brady clean against a Washington defense that carried them all season, ranking second in total defense and fourth in points allowed. They have done a good job this year, allowing the fourth fewest catches (22) and seventh lowest pressure index (16.2%) in the NFL. But all five of the Bucs' losses came against teams that were able to hound, punch and bully Brady, usually bringing in four defensive linemen.
What Washington must do to win: After "winning" the NFC East title with a 7-9 record, the soccer team is an eight-point underdog by merit. Their chances of scoring the surprise will depend on whether they can take advantage of a defense that has been much more susceptible against the pass (21 in the NFL) than against the run (first, allowing just 80.6 rushing yards per game). Washington quarterback Alex Smith, who underwent 17 surgeries over nearly two years for one more NFL shot, is questionable about a calf strain. But the 36-year-old warhorse gives Ron Rivera's club its best shot after going 5-1 as a starter in the regular season.
Key player: Chase Young, DE, Washington. The second pick in last year's draft, which made headlines for calling Brady After Sunday's decisive victory in Philadelphia, he has displayed glimpses of Hall of Fame talent in a sensational rookie campaign. He's the biggest difference on a defensive line that must put pressure on the four-year-old Bucs superstar if Washington wants to surprise.
Prediction: Buccaneers
Baltimore Ravens in Tennessee Titans
Sunday, 1.10 pm ET / 6.10 pm GMT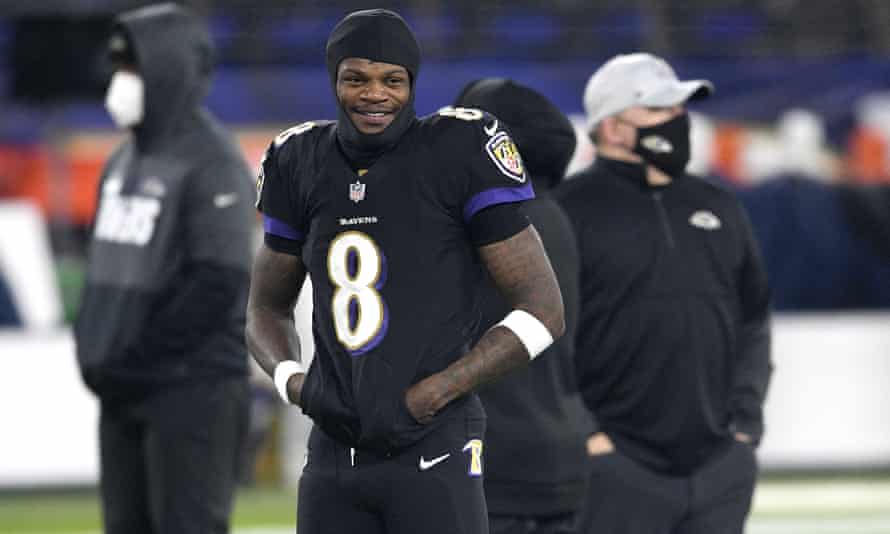 What the Ravens must do to win: In August, ESPN published a podcast titled "How to Stop Lamar Jackson in 2020 (Hint: Pray)." If any of those sentences involved his offensive line and tight ends being smashed, they were answered because the 2019 MVP looked clearly average midseason. But the Ravens adjusted their tactics and Jackson – and the team's running game – have prospered in recent weeks. In fact, they have won five in a row (although four of those five games were against the Cowboys, Giants, Jaguars and Bengals). If those victories were due to the genius of head coach John Harbaugh and Jackson's resurgence, then they will be fine. If the race was due to increasing the score against players like Brandon Allen, things could get a little more complicated.
What the Titans must do to win: The Titans' run to the AFC championship game last season was largely due to their excellent defense and Derrick Henry crushed everything in his path. Henry is still great, has there ever been less fanfare for someone who runs 2,000 yards in one season? – defense less. That defense should stop the Ravens' run, forcing Jackson to make big plays with his arm (which, contrary to some opinion, he's more than capable of doing).
Key player: Ryan Tannehill, QB, Titans. Presumably (warning: I'm not an NFL head coach) the Ravens' first priority will be shutting down Henry. Which will leave the team relying more on their quarterback. Luckily for them, Tannehill has been excellent since breaking free from Adam Gase's shackles in Miami and is even better this season than he was in 2019.
Prediction: Ravens (solo)
Chicago Bears at New Orleans Saints
Sunday, 4.40 pm ET / 9.40 pm GMT
What the Bears must do to win: Chicago must establish the run and use ball control to keep Drew Brees and the Saints' high-octane offense off the field as much as possible. That means getting David Montgomery involved early and often. When the Bears nearly beat New Orleans in an overtime loss in November amid their six-game losing streak, the second-year running back rushed 21 times for 89 yards.
What the Saints Must Do to Win: New Orleans finished 12-4 and captured a fourth straight NFC South championship despite an almost comical litany of injuries. But with the timeless wonder Drew Brees under center and the favorite weapons Alvin Kamara (reserve / Covid-19) and Michael Thomas (ankle) are expected to play, it will be simply a matter of taking what the Chicago defense is giving them. .
Key player: Alvin Kamara, RB, Saints. After tying the NFL record with six impressive touchdowns in a Christmas Day win over the Vikings, the 25-year-old running back was forced to miss the New Orleans regular season finale after testing positive for coronavirus. The gods of NFL programming looked fondly on the Saints, as Sunday is the first day Kamara is eligible to return from the reserve / Covid-19 list assuming he passes all of the league's coronavirus protocols. this week. his expected performance it's bad news, Bears.
Prediction: Saints
Cleveland Browns at Pittsburgh Steelers
Sunday, 8.15 pm ET / 1.15 am GMT (Monday)
What the Browns must do to win: I hope some of the Steelers get ruled out with Covid-19 too? Obviously, the virus has inflicted much more dire misery on the world in the last 12 months, but the fact that Covid-19 has weakened the Browns – They will be left without their head coach and without a cornerstone of their offensive line on Sunday, because what would otherwise have been the highlight of the round is a real shame. Instead, Cleveland, which struggled to beat a Steelers team that rested a good chunk of its starters last week, enters its first playoff game in 18 years with no clear path to victory. Baker Mayfield, despite his well-documented struggles to justify being No. 1 overall in 2018, is still a good quarterback and better than the diminished Ben Roethlisberger. If Mayfield plays to his limit, the Browns have a chance. Or the I could let Jarvis Landry cook.
What the Steelers must do to win: The first thing to avoid is complacency after the Browns' Covid-19 outbreak and surprisingly close competition in the final week of the regular season, when the Browns made Mason Rudolph look half-competent. The Steelers were never as good as their 11-0 start to the season suggested, and they have lost to the Bengals and Washington in recent weeks. But with Cameron Heyward and TJ Watt back on the team Sunday, they should be able to handle the Browns.
Key Player: Kevin Stefanski, Head Coach, Cleveland Browns. Well, Stefanski hasn't been a player since he was at Penn, but his intelligence and insight have been a big part of the Browns' success this season, especially compared to the team's recent coaches. "I'm going to try to do exactly what Kevin would like to see happen," said special teams coordinator Mike Priefer, who will replace Stefanski, absent due to a positive Covid-19 test. How well you can replace your boss could be decisive in a close game.
Prediction: Steelers



www.theguardian.com
George is Digismak's reported cum editor with 13 years of experience in Journalism