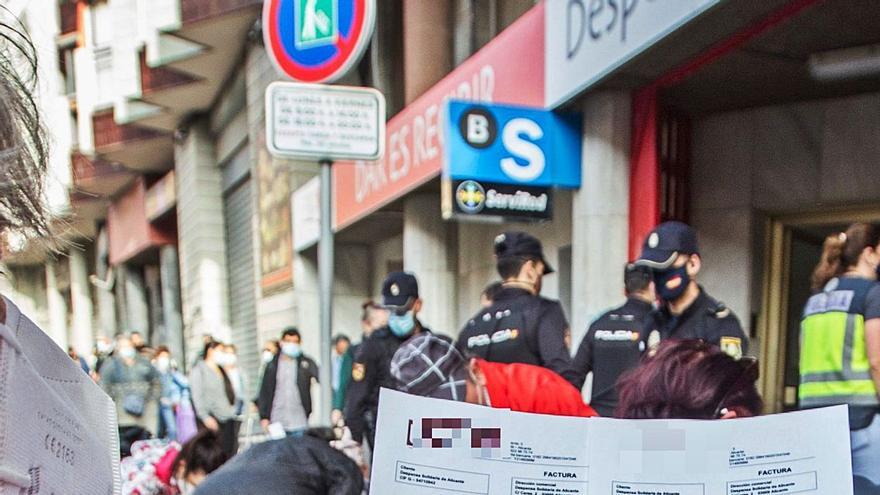 There are NGOs that in the first quarter of the year have already spent 24,000 euros to buy food. They arrive where the institutions do not, and fill the gaps in the distribution of the Food Bank, such as that of February, when the food had finished. The entity is now distributing one million kilos of the European Union through intermediary associations, but it will not reach all applicants until the end of April, so private donations are used to stretch the aid.
Solidarity Pantry it works based on the lists of petitioners sent to it by social centers and health centers. Since January, an average of 2,000 euros per week, money that comes from fees and donations, to the attention to 910 families (2,800 people), among which they have distributed 51,000 kilos of food, always with the collaboration of the National Police. In all of 2020 they cared for 2,688 families with an expenditure of 44,500 euros. This year they plan to reach 100,000 euros in aid, which gives an idea of ​​the scope of the social emergency that does not give truce, and that is running out of their funds, as it is increasingly difficult for them to obtain money. Hence, they make a new call for solidarity.
«How do we finance ourselves? With membership fees, donations, volunteer contributions and with the small part with which the Alicante City Council supports », explains the president of the entity, María José Solbes, alluding to the 10,000 euros of municipal subsidy. "We cover a need that neither the city councils nor the Generalitat cover, with minimal help from them. We are doing something that the Administration would have to do. If it were so, we would not have to attend. As for the food from the Food Bank, in February they ran out and the invoices for the purchases in that month were 3,000 euros per week because they lacked even milk, lentils and rice. European aid has already reached them, although they continue to make purchases of 1,000 euros a week to complete deliveries with hygiene products and other food that do not include official batches.
The Food Bank, which also uses private donations to extend aid and avoid shortages for families, is the third that distributes the most lots of EU aid in Spain after Madrid and Barcelona, ​​and the sixth adding the donation private sector and the distribution of fruit and vegetables donated by the State, 25,000 kilos a week in the province of Alicante. This entity serves more than 50,000 users, 15,000 more than before SARS-CoV-2. 46% of the aid it channels comes from the EU, 15% from the central government, and more than 35% from private donations, among which cooperatives, manufacturers, companies and distributors contribute, in addition to the social aid of citizens to through the big pickup. Always in kind. "We have very few donations in money, and with them we buy food that does not enter through the other channels. Citizen donations are finalists, that is, in the form of food, "says its director, Juan Vicente Peral. As an example, he said that of the almost six million kilos distributed in the province in 2020, only 40,000 kilos, just 1%, "a very minor measure," were acquired with contributions in money. The foods most in demand are sugar, pasta, noodles, cocoa, oil and milk, with a very important supply. Peral hopes that the food will arrive until June with European help and with what they buy thanks to the online proceeds in the great collection.
According to data from the entities, hunger becomes chronic in the province and more and more citizens eat from solidarity. Caritas can serve four times more families than before (around 40,000) because donations have tripled. The entity dependent on the Church has spent more than one million euros in trying to tackle situations of poverty in one year. Of these, almost 300,000 euros of reserves they had from the last years that have been allocated to the covid emergency. To this money is added what comes from Cáritas Spain, and a good part, 350,000 euros, comes from donors committed to responding to the situation: foundations, companies and individuals. "Fortunately, the contributions of the people have grown in a pandemic, at the provincial and national level," says the director of Cáritas Diocesana in Alicante, Víctor Mellado, who highlights the fundamental role in these months of NGOs and entities to attend to the increased vulnerability because "in some cities there is more coordination and in others less. The Administration is always very slow to respond and implement solutions. Red Cross, we, the various associations, including neighbors, have become a leg, the social one, on which many rely, rather than the institutional». Faced with the distribution of food lots, Caritas is increasingly committed to the policy of vouchers, which are given to families, with a follow-up, so that they can also buy meat and fish in the supermarket and can supplement their diet. Depending on their situation, these vouchers are given to them every 15 days. They also collaborate with the payment of rent and other bills.
Red Cross, which also distributes food from Europe, is going after the third wave for the 270,000 users of all kinds of care (homeless, employment, inclusion, apart from feeding) compared to 200,000 in 2020, which was already double that in 2019. Only in January and February they gave food and vulnerability aid to 86,000 people. The entity can face this need because donations from companies and citizens, in short, the support of society for the Red Cross, has increased by 180% in the last year, that is, it has almost doubled. The entity has so far spent 2.5 million euros to support the social crisis through the Responde plan, in what the NGO officials describe as a huge mobilization in the face of "a historic challenge."
Solidarity raffles to avoid having to charge fees
The NGO Cometas y Sonrisas serves more than 400 families and is nourished by donations from individuals, which have tripled in a few months, but always in food or species because they do not take money. Its manager, Paqui Moya, highlights the different way of functioning of this entity, which does not charge fees and opts for solidarity raffles. "We serve anyone because there are vulnerable and poor everywhere," he says. A large part of their deliveries are hygiene and baby products, they organize children's birthdays and donate everything from sewing machines to curtains, stories and everything a family needs.

www.informacion.es
Eddie is an Australian news reporter with over 9 years in the industry and has published on Forbes and tech crunch.