Tyours is the best time in the fridge. A bowl of cranberry sauce filled to the brim; chunks of cold roast goose, perhaps turkey; some cold, steep and golden roast potatoes, and, joy of the joys, a plate of cold piglets in blankets. There's bread sauce in a sauce boat, a chunk of cold salmon, brandy butter, and even a jug of Marsala sauce. Try without measure.
There is nothing, just nothing, that I like to do in the kitchen more than pick up leftovers. Those bowls with saucers like lids, keeping buried treasure safe until we're ready to eat. A prepared breakfast, a treat at midnight, a generosity to choose from for the quiet days that follow the party.
No rules. (Although I must warn you to smell everything first). If you want to add a tablespoon of cranberry sauce to a fry of cold roasted potatoes and sprouts, go for it. Likewise, bread sauce as a dip for crispy fried turkey skin or the ultimate roast of crumbled walnuts in a pilaf.
A fry seems the most honest answer to the riddles that are currently in the refrigerator. The delight increases if there is some kind of sauce or juices for grilling. (That gelatin lurking under the bones is pure gold.) Try bubbling excess sauce and the juices that have settled in the pan to roast together in a shallow skillet, then add grated vegetables served in mashed potatoes or pies. of potato.
Leftover favorites include brandy butter spread on toasted panettone; The Christmas pudding crumbled in a skillet with a glass of brandy and bubbled as a topping for the vanilla ice cream, and the mince pies crushed and folded in cold custard (good when you've had too much of it). Best of all is the baked torn panettone with eggs, sugar, cream, and candied rind – bread and butter pudding with its Christmas hat.
Bones, beans, bits and bobs
No matter how many aromatics you add to it, it is the bones that make the broth. Ideally, there would be a ham bone to share the pot with onions, carrots, thyme, and garlic, but roast turkey or goose will do. The bones give the soup a satisfying silky quality. If I have time, the beans are dried, soaked overnight, then boiled and simmered with bay leaf and peppercorns. If not, a can will do.
You need to be careful what you add, but all fresh greens (cabbage, broccoli, chard, and the like) are welcome, as are cooked carrots, parsnips, and potatoes. A cold chipolata or two would be like finding buried treasure in your soup and the same with bacon, but this is not the place to throw anything away.
The number one addition would be a piece of crust from the Parmesan, which will silently add a nice umami base note as it simmers. For 6
onions 2 medium
goose fat or olive oil 3 tablespoons
Carrot 1, chopped
celery 1 chopped rib
bacon 150g
chicken, turkey, or goose broth 2 liters
thyme 6 springs
bay leaves 3
Rosemary 3 twigs
bones (like turkey leg or carcass) 1 or 2
Peppercorns 8
veal parmesan (optional) a 5-10cm piece
butter beans 2 cans of 400g
Pesto, to finish:
Garlic 2 peeled cloves
Basil leaves 50 grams
pinions 45g
olive oil 150 ml
Parmesan 30g, grated
Peel and chop the onions. Heat the goose fat in a saucepan over moderate heat, add the onion, chopped carrot and celery and cook until soft and pale golden. Cut the bacon into small pieces, cook it until the fat is golden, then pour in the broth and add the thyme, bay leaf and rosemary. Dip the bones, add the meat juices or jam, peppercorns and a piece of Parmesan rind if you have it, then bring to a boil. Lower the heat to simmer for 45-60 minutes.
Crush the garlic until you get a paste with a pinch of sea salt, then crush the basil leaves, pine nuts and olive oil, then the Parmesan.
Add the beans to the soup and continue cooking for 10 more minutes. At this point, you can trim the fat if you want, but I don't; instead, I enjoy the silkiness it gives the soup. Serve in bowls and add the basil sauce.
Panettone custard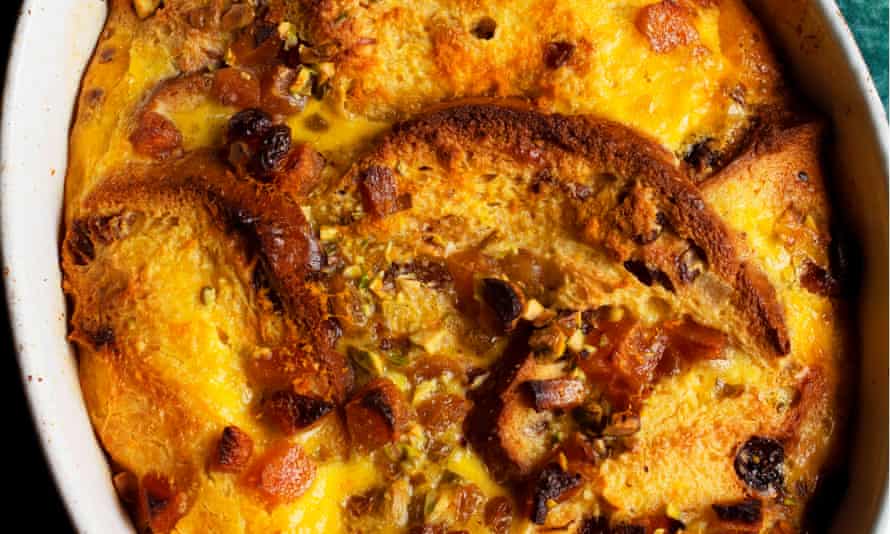 I like this bread and butter pudding when it's just set, so you get scoops of freshly set pudding and a splash of custard, for which I suggest a 35-40 minute bake time. If you'd rather have the pudding puff up, more of a wobble than a quiver, I'd suggest 40-45. For 6
For the custard:
eggs 4
whole milk 125 ml
double cream 500ml
powdered sugar 50 grams
Panettone 300g
golden sultanas 50 grams
candied skin (optional) 3 tablespoons
pistachios 2 tablespoons, peeled
orange zest of 1
You will also need a 2-liter baking dish.
Set the oven to 160C / gas mark 3. Break the eggs into a bowl and beat until mixed. Add the milk, cream and powdered sugar; beat everything lightly together with a whisk. Cut or cut the panettone into large pieces and place it in the baking dish.
Spread the sultanas raisins and peel them between the panettone. Finely chop the pistachios and sprinkle on top. Pour the pastry cream into the plate, soaking all the panettone. Grate the orange peel over the surface, then bake for 35-45 minutes until slightly firm. To check that the pudding is done, shake the plate; the custard should quiver in the middle. Remove from the oven and let it rest for 15 minutes before serving.
Follow Nigel on Twitter @NigelSlater



www.theguardian.com
Digsmak is a news publisher with over 12 years of reporting experiance; and have published in many industry leading publications and news sites.