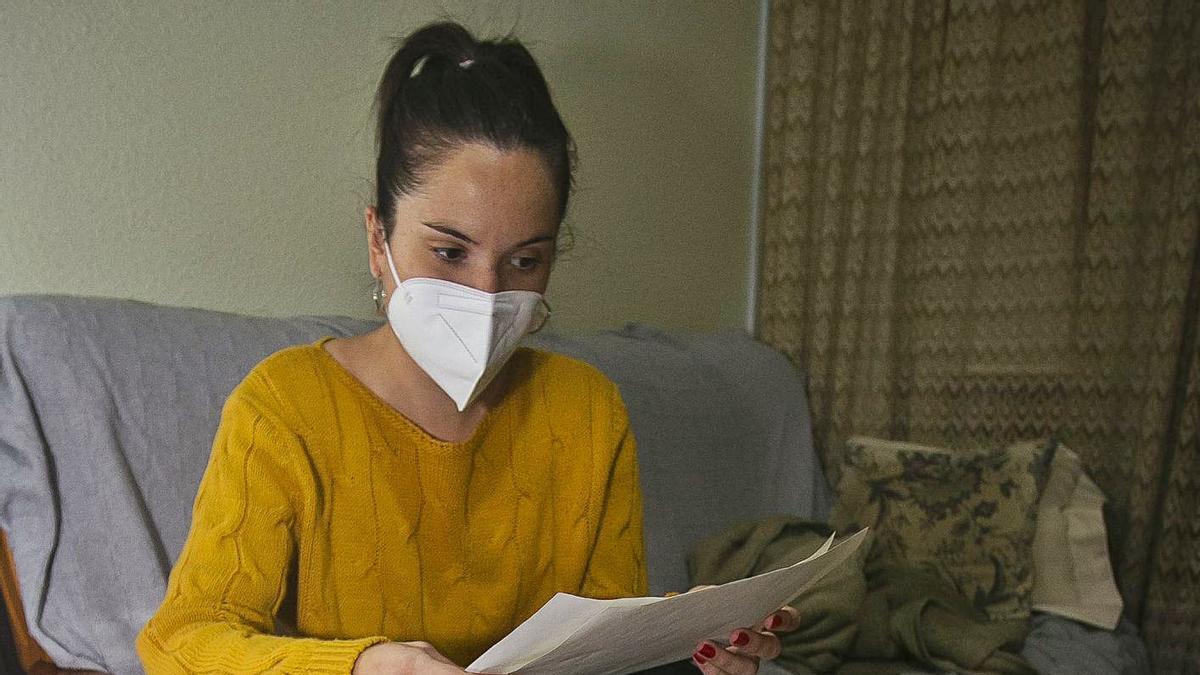 Four PCRs and one serology were necessary for the doctors to begin to think that Arantxa Martínez had some kind of disease that was not covid. The alarm that there is for the coronavirus and the very nonspecific symptoms of the disease caused this 29-year-old young woman from Alicante to live a real journey that finally led her to enter the General Hospital of Alicante for a strong urine infection.
"I was dizzy, my head hurt a lot and I had 38.5 fever and chills," he says.
It all started when one Tuesday three weeks ago, Martínez began to feel ill at noon. «I was dizzy, my head hurt a lot, I had chills and when I took my temperature, the thermometer read 38.5 degrees ». Alarmed that it could be a coronavirus, Arantxa decides to go to the health care point on Aaiún street in Alicante, accompanied by her father. "There they auscultated me, looked at my throat and the doctor told me that he was going to order a PCR, so I had to go home and put myself in isolation."
Two days later, the result of the test arrives without, in these 48 hours, "nobody called me to see how I was doing." PCR was negative, "but I continued with a fever, so the doctor who called me to give me the result said that maybe it was because the viral load at the time the sample was taken for the test was not very high and that he was requesting another one. In this way, the young woman had to undergo a second test that again came back negative. In view of the fact that the symptoms did not subside and Arantxa had begun to have diarrhea, "the doctor who treated me booked an appointment for me with my family doctor for the following Tuesday, a week after I began to feel ill."
Prior to being treated by her doctor, Arantxa received two more calls from his health center related to covid. «On Monday they told me that I was discharged and could lead a normal life, since both PCR were negative, and on Tuesday morning a different person called me from the previous day and told me that they had not given me any upon discharge, they have to do a serology test to rule out that I have antibodies to the disease.
Martínez explains that when she managed to talk to her doctor and explained that she was still not feeling well, "she He told me to wait to know the result of the serology and if he wanted to, he would ask me for an analysis, but that was absurd ». With the serology negative and feeling better at that time, Arantxa began to lead a normal life, until a few days later the symptoms returned. "So I didn't think twice and went straight to the Emergency Room at the Alicante General Hospital."
Telephone service
There, two more PCR tests ruled out the covid again and one blood and urine tests "revealed that he had a very strong urine infection". The young woman had to be admitted to hospital for three days and still continues with the treatment so that the infection subsides. «The doctor who treated me in the emergency room told me that things had not been done well in my case and that fortunately the infection had not affected the kidney ». This young patient regrets that all the attention he received «was by telephone, despite the fact that I was very ill, something that seemed very undignified.
Due to the pandemic, health centers remain closed to free access for patients, who must contact their doctor in advance by phone. If the doctor considers that he must see the patient in person, he will make an appointment at the health center. The objective is that many patients do not crowd in the waiting rooms to avoid infections.

www.informacion.es
Digsmak is a news publisher with over 12 years of reporting experiance; and have published in many industry leading publications and news sites.