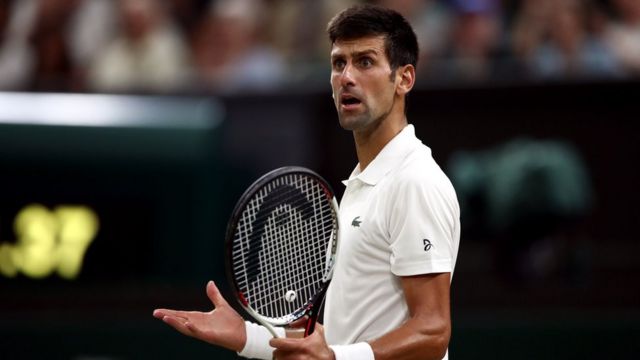 Novak Djokovic, the world's number one tennis player, generated an angry reaction in Australia after announcing that the authorities had granted him an exemption from the covid vaccine to be able to play in the Australian Open this month.
The 34-year-old Serbian star is being held in a hotel for immigrants in Australia, seeking a way not to be extradited, after his visa was revoked upon arrival in Melbourne and he was denied entry to the country.
What was supposed to be the start of another Grand Slam championship campaign has morphed into a diplomatic storm.
Here we clarify the key questions of what has happened so far and what could happen next.
1. How did Djokovic receive a visa to enter Australia?
The news that Djokovic had received approval to play in the Australian Open – which begins on January 17 – was revealed by the tennis player himself on Tuesday.
Australia requires all foreign visitors to be double vaccinated before entering the country. Otherwise, they must spend 14 days in quarantine. But Djokovic, who has publicly stated his opposition to the vaccine, said on social media that he had received a medical exemption.
Tennis Australia, the body that administers the Australian Open, confirmed that the number one had been granted an entry permit under their "exemption" policies. That system operates in the following way: two independent medical panels evaluate the claims of the players, which are kept anonymous to avoid bias.
Valid reasons for exemptions include an acute medical condition, such as myocarditis or inflammation of the heart muscle. Having suffered a covid-19 infection in the last six months was also recognized under those policies, as announced in December and endorsed by the government of the state of Victoria.
At the time, Australian federal authorities had no objection.
2. What has been the reaction in Australia?
The Australians rejected the decision to grant Djokovic a waiver, causing Prime Minister Scott Morrison to change his stance.
Djokovic has been a polarizing figure during the pandemic. In 2020, he had to apologize after organizing a commercial tennis tour where he and other players contracted Covid-19.
Meanwhile, in Australia, residents have endured months of confinement and restrictions. Most have obeyed government directives to get vaccinated, and more than 90% of the adult population has received two vaccinations.
But the country is also going through the worst wave of covid-19 with more than 70,000 new cases reported on Thursday. The situation has hospitals and businesses under immense pressure, and public anxiety is high.
Initially, Morrison stated that he accepted the Victorian state government's decision to grant Djokovic and other players medical exemptions. On Tuesday, he indicated that the federal authorities, which control the borders, "would act according" to the decisions of the state and that "this is how it works."
But amid public outrage, he backed down on Wednesday. Morrison warned that Djokovic would be returned home if he could not show the correct medical evidence for his exemption.
Some have accused Morrison of politicizing the problem. The prime minister himself is under pressure amid the covid-19 boom, and all of this is happening just months before federal elections scheduled for May.
3. Why was Djokovic denied entry at the airport?
Djokovic landed at Melbourne Airport at approximately 11:30 p.m. local time (12:30 GMT) on Wednesday. He was quickly evaluated and refused to enter. His visa was canceled on the spot and he was taken to a temporary immigration detention center.
The tennis player could not present evidence of being double vaccinated or a legitimate exemption in this regard, Morrison explained. He added that a recent Covid-19 infection, not one in the past six months, was a valid reason under federal rules.
Djokovic was taken by Australian Border Force (ABF) officials to an immigration detention hotel, where he awaits a decision on his situation. The rest of his team were allowed entry because they accepted their vaccination status, Australian media reported.
4. What will happen now?
Djokovic's contingent is furious at the sudden turnaround and claim they are using him as an example. What's more, there are three other unidentified tennis players with exemptions who have been allowed to enter the country, according to the Australian media.
The hearing of the Federal Circuit and Family Court of Australia, which must analyze the case, was called for Monday, so the tennis player will be able to remain in the country until then. It is not yet clear whether he will be in the government detention hotel on those days.
5. What are your plans to play at the Australian Open?
Djokovic, a nine-time Australian Open champion, has not commented on his plight.
It is not yet clear if he could play in the event, even if they allow you to stay in the country.
The Serbian tennis player is not only looking to establish a new record for Australian Open wins but also to break the record of 20 Grand Slam championships that he jointly holds with Roger Federer and Rafael Nadal.
6. What have other tennis players said?
Rafael Nadal, the also 20-time Grand Slam champion, stated that the Australian authorities' refusal could not have taken Djokovic by surprise.
"In a way, I feel sorry for him. But at the same time, he knew perfectly the conditions for many months," said the leading figure in Spanish tennis.
Nadal stressed that he does not like the situation his rival is in, but that "He was the one who made his own decision".
The Mallorcan tennis player, who was infected with covid despite being vaccinated twice, urged, however, to follow the advice of "people who know about medicine" and get vaccinated. "If you do that, if you get vaccinated, you can be here. You can play the Australian Open and wherever," he stressed.
For his part, Daniil Medvedev of Russia, the last player to beat Djokovic in a Grand Slam championship, said it is "difficult" to know what to do.
"If he had a valid rule exemption, well, it should be here; if not, then no," said the reigning US Open champion.
7. What is the background to this situation?
Although Djokovic was granted permission by Tennis Australia under a policy backed by the state of Victoria, that same policy has not been approved by the government in Canberra.
It is clear, then, that the federal government has overruled the state in this case. Australia is a federation, but its constitution assigns border control to Canberra, not to state authorities.
On Thursday, Morrison noted that the ABF had sent letters to Tennis Australia in November outlining vaccination conditions for entering the country.
He also said that it was not unusual for people to be turned away upon arrival in Australia, because Immigration officials assess visa requirements at the time of the traveler's arrival and not before.
Meanwhile, Serbia has rallied around its national champion, with President Aleksander Vucic accusing Australian authorities of "harassing" Djokovic. Canberra has rejected those claims.
This article was based on the reports of Frances Mao of the BBC in Australia
Remember that you can receive notifications from BBC Mundo. Download the new version of our app and activate them so you don't miss out on our best content.

www.bbc.com
Eddie is an Australian news reporter with over 9 years in the industry and has published on Forbes and tech crunch.