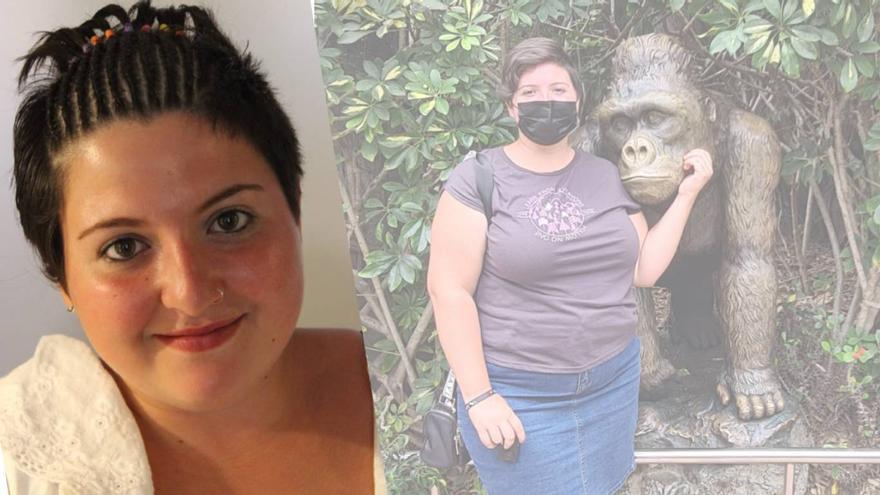 He left home with 50 euros, the DNI and what he was wearing. He said nothing. Did not say goodbye. Nuria López Santiago, the 20-year-old who lost track of October 11, is still missing. His family searches tirelessly. Almería is full of posters with your photo, many see it, but no one finds it.
There are many calls that claim to see her on the street. They do not arrive on time. The alert is high, the fears, all: the young woman has an intellectual disability of 66%. He has the happiness, smile and innocence of a two year old. She trusts everyone, she doesn't see the danger, which makes her vulnerable. Very vulnerable.
Alone at home
"That Monday, Nuria was at her other aunt's house," explains Lidia Gálvez, Nuria's cousin. For months, the girl lived with two relatives, Lidia's mother and the other relative in whose house she was when she disappeared. It alternated seasonally.
"She had to go to the hospital to have some medical tests done, so Nuria stayed at home sleeping. She didn't take long to come back, she returned shortly after, before noon. When he entered the house and went to the room, Nuria was gone ". They called on the phone but there was no answer, he had left it in the room.
"Abandoned" by her mother
Outgoing, smiling, happy. Always laughing, smiling. A motto: "I am happy", he liked to say. His continuous laughter attested. All despite the fact that her life was never easy, says her cousin. "Her mother ignored her," she laments. "When her parents separated, Nuria stayed with her father. Three years ago he passed away, and then he stayed with his maternal grandmother, "explains Lidia, but three months later she also died.
"Nuria's mother said at the door of the cemetery – burying her mother – that she was not going to take care of her daughter," says her cousin. "My mother, who is Nuria's godmother, said that she would not stay alone and since then she has lived with us."
The police contacted Nuria's mother in case the girl was with her. She replied that "she did not want to know anything about his disappearance"
The police collided with the first wall as soon as the search started. Although his family did not see it as an option, they considered the possibility that Nuria had gone in search of her mother. Everything was possible. "They contacted my cousin's mother, but she said she didn't want to know anything. Not about her or about the disappearance."
Nuria's childhood was no better. "She suffered at school, because of her disability, because she was chubby … She He said that they filled his wallet with water, and even broke his finger with a stone. Nuria told her mother, who at that time was not separated, and did nothing, she laughed, "says Lidia." He had not even taken her to the doctor to diagnose her disability, "she adds.
"He was never present in his daughter's life, he only did it when she turned 18. He took her away, convinced her to sign a paper on a bench and he asked for a loan of 3,000 euros in the name of Nuria that the girl continues to pay, until February 2022 ".
One day after disappearing, he wrote to a boy with a cell phone that he borrowed on the street. No more news
Nuria's disability makes her vulnerable and the police start a time trial from day one to find her. The young woman from Almeria is leaving a trace, but her wake was lost 24 hours after the disappearance.
"He was in Aguadulce (Roquetas de Mar, Almería) the day after he disappeared. We know that he asks a boy for a person passing by on the street, a boy. Through this boy's Instagram he sent an audio to a supposed boyfriend -the family did not know that Nuria had a relationship- asking me to pick her up there, "says her cousin.
A security camera captured the image of Nuria, waiting in the street, quiet, until three in the afternoon and then he left. The young man did not appear. The police summoned him to testify and found out that he had actually exchanged messages with Nuria before disappearing, but he was not her boyfriend (the boy went to the police station accompanied by his real partner).
"The young man had not even heard the audio. He opened it at the police station, in front of the officers and realized that he had not seen it before," says his cousin.
Researchers have achieved locate the taxi driver who took Nuria to the point where she disappears. "When the driver dropped her off in Aguadulce she told him that I only had 10 euros to pay him, that he no longer had money. So the taxi driver only took that amount. Today my cousin has no money. He comes out with 50 euros, he spends them, he doesn't have more. "
"They have seen her alone and with someone. They could both be true"
After your stop in Aguadulce, disappears. The police search tirelessly, her family travels through Almería, strewn with photos of her since then, and crowds of people look among the people to see if they see her. They do, They contact daily stating that they have seen someone who looks like her. Through different points of Almería. Some people claim that she walks alone. Others, on the other hand, they point out that a young man walks with her hand in hand. "They can see it alone, or accompanied, it has been proven that both can be true."
Many of the sightings have reached the SOS Desaparecidos association, which has supported the family since practically the first day of searching. Joaquín Amills, president, soul and voice of the association, says that "many notices have been received, some have been discarded, but the vast majority were real. Some have been given maximum credibility," he says.
"Nuria's disappearance has us very, very worried. She is a 20-year-old person and very, very vulnerable." Amills, a scholar in disappearances, fear that someone is taking advantage of the innocence of the young. "It is evident that it has to be with someone and this is the fear that we have that it may be being manipulated by third parties."
Lidia, her cousin, thinks the same: "She doesn't have money. We are worried because we don't know who will be supporting her: buying clothes, feeding her, in exchange for nothing?" The young woman adds: "I think someone has talked to her, promised her something … and she believed it. To trust is very childish. It is very innocent, Nuria does not see the evil".
Amills recalls that the photo and the poster of Nuria's disappearance are in all the ATMs of the Euronet ATM Spain and Europe network, in case someone recognizes her. Although neither he nor the girl's family believe that he could have come that far.
The police work tirelessly. They check cameras, they ask, they track. They explore the young woman's social networks. Active in them, especially on Instagram, "she accepted everyone," says her cousin, "although personally she did not know practically anyone."
The figure of Nuria's friends in social networks number in the thousands, many of them of Maghreb origin. All are being analyzed by the National Police. "They do not stop looking for my cousin. We are in continuous communication", affirms Lidia, who launches a plea: "Please, if someone sees her, let the police know, to Sos Disappeared, that he does it quickly and that he does not lose track of him until we arrive. "
He also sends a message to his cousin, Nuria, the eternal child. "If you are watching me, or reading, yesYou don't know the phone numbers but you can contact me through any social network". Innocent, funny, who" likes to play, dance. "The young woman who has suffered a lot, but smiles, and does not hold a grudge. The girl they seek, they see and cannot find. Lidia misses the smile of her Cousin Since she disappeared, hers isn't there either.

www.informacion.es
Eddie is an Australian news reporter with over 9 years in the industry and has published on Forbes and tech crunch.