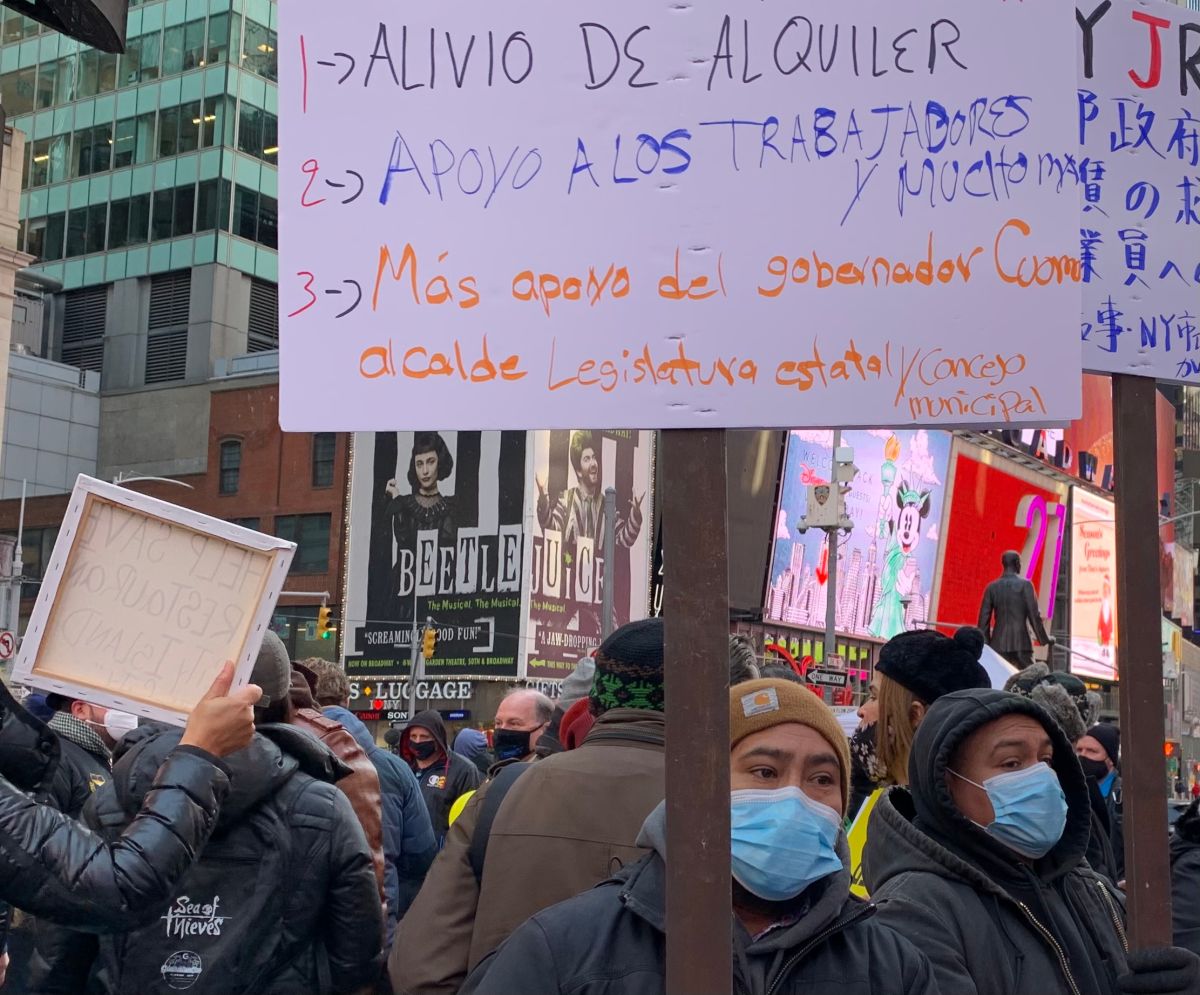 Tenants have until February 26 to petition the courts for eviction protection
Photo: Edwin Martínez / Impremedia
The pandemic COVID-19 has not only left in New York City more than 28,000 deaths, between confirmed and probable cases, but caused an unprecedented economic impact, which was strong among low-income tenants what they have not been able to pay their rents.
But this Thursday, in the midst of the anguish of tenants who fear losing their homes due to late rent, due to to the impact of COVID-19 In their finances, New York political leaders and activists recalled that families and individuals affected by the crisis they have until February 26 to present in the housing courts the so-called "Forms of declaration of difficulties" for avoid being evicted.
They also highlighted that the "COVID-19 foreclosure prevention and emergency evictions law", enacted on December 28 of last year, also applies to stop foreclosures, and allows tenants and landlords who have lost income, to protect themselves against eviction.
"I encourage all eligible New Yorkers to submit their statement of hardship forms as soon as possible. I also remind you New York landlords who are legally required to provide these forms to their tenants in a language the tenant understands"Said the state senator Brian Kavanagh, who sponsored the eviction moratorium legislation. "These forms provide real protection for countless tenants and homeowners who would otherwise be at risk of losing their homes."
To benefit from the moratorium law, you will extend protections against eviction until May 1, Eligible New Yorkers must complete the above hardship statement form, which it can be delivered directly to the property owner or to the local housing court.
They only deliver 2,300 forms
So far the NYC housing courts have received only less than 2,300 forms of "declaration of difficulties" of tenants and owners, which is worrying, so activists insisted on their call to present this form as soon as possible.
"The protections will expire on February 26 unless the tenant files a hardship statement form to extend them until May 1. The eligibility criteria for the Hardship Statement form are complete and the process for submitting a form is very simple, "said Assemblyman Jeffrey Dinowitz.
The Senator Brad Hoylman warned that one in eight New Yorkers who worked lost their job since the beginning of the pandemic and they need to know that New York State offers protections to keep them in their homes.
Ombudsman Jumaane Williams, joined the call and reminded New Yorkers affected by non-payment of rents, that they have until friday next week to take action.
"I call not only for New York City and State tenants to file hardship statements, but also for the City and State to better inform tenants of their rights and responsibilities under the current version of a moratorium. "Said the Defender. "For both tenants and landlords, the lack of security or clarity has been debilitating, and doing everything possible to keep people in their homes is morally imperative and economically vital."
Judith Goldiner, lawyer of the Civil Law Reform Unit of the Legal Aid Society asked the tenants to take advantage of the remaining days to fill out the protection form before February 26 and avoid evictions.
"We urge all tenants experiencing financial difficulties during the COVID-19 pandemic to complete a Declaration of Hardship form immediately. Doing so will help tenants automatically send a notice to the landlord and the local housing court, which is essential to receive protections, "said the attorney.
For more information
Tenants with housing-related concerns can call the NYLAG COVID-19 Legal Resource Hotline at (929) 356-9582 or visit the site nylag.org/hotline, but for now they warn that those who fill out the form keep a copy for them as evidence and do so online.
"Send hardship statements to owners by email or using evictionfreeny.org it's a great way to make sure there is proof that it was shipped, "he said. Jonathan Fox, director of tenant rights at New York Legal Assistance Group (NYLAG).
Tenants who require assistance and have questions on this matter can call the Housing Helpline at The Legal Aid Society, Tuesdays, only from 9 am to 5 pm, at (212) 298-3333.

eldiariony.com
Eddie is an Australian news reporter with over 9 years in the industry and has published on Forbes and tech crunch.