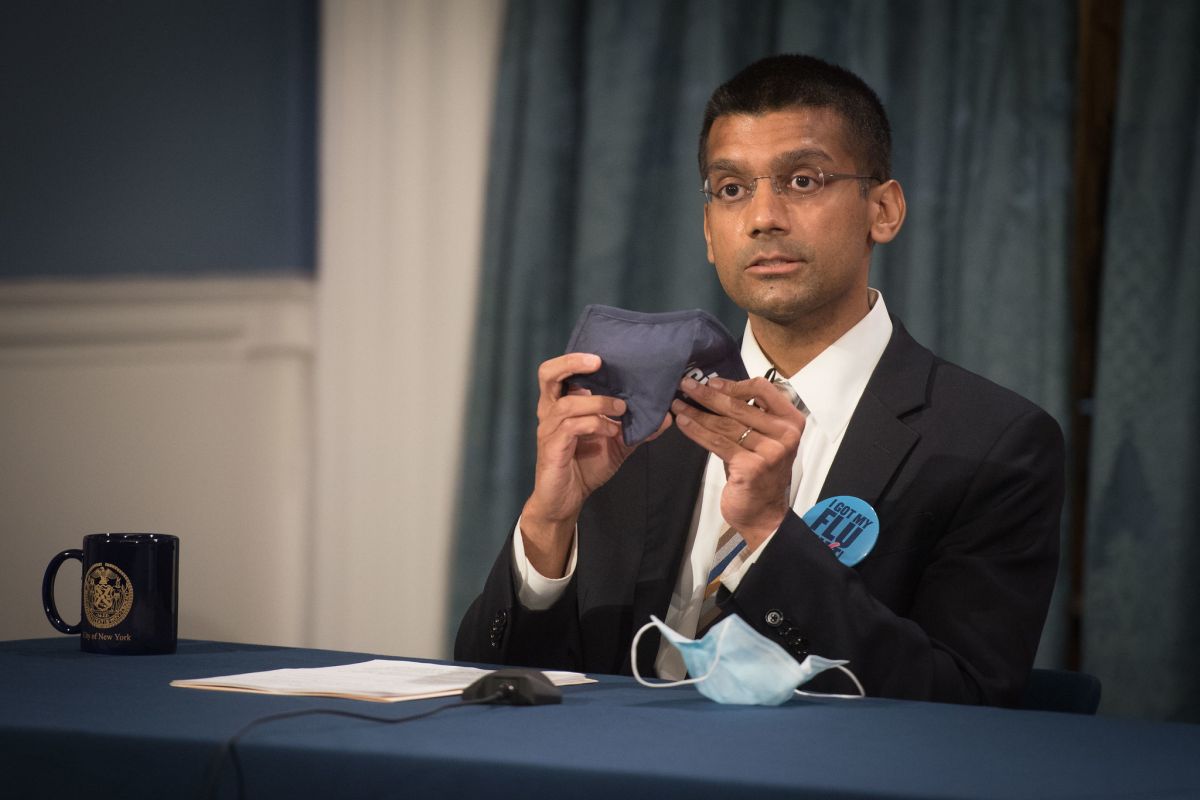 "This is maybe the most dangerous time for the unvaccinated of catching the coronavirus ". That was the clear alert that the City Health Commissioner Dr. Dave Chokshi to New Yorkers who are still hesitant to get immunized, emphasizing that the Delta variant of the virus is a real risk in New York City and now represents the 75% of all cases.
The alert of the 'top doctor' of the City was accompanied by the presentation this Thursday of the most updated figures of the coronavirus in the Big Apple that show that, although slight, there is still a sustained rise in infections, with 644 new cases this Thursday, an increase from 597 on Wednesday and 516 on Tuesday.
In addition, the new hospitalizations were 98, while the positivity rate in seven days in a row increased to 2.01%.
The Dr. Chokshi accompanied Mayor Bill de Blasio in his daily press conference, and there both officials were again questioned if he was contemplating reordering the mandatory use of masks indoors, as this sustained increase in COVID-19 infections continues to be reported in the Big Apple.
"Our recommendation on masks has always been very clear, and particularly important in the closed places that are shared and where there are supposed to be a large number of unvaccinated individuals or that the immunization status of these people is not known: it is mandatory to wear face masks in public transport like Subways and buses, in schools, in places of concentration and health centers, for everyone ", emphasized Chokshi.
The prevalence of the delta variant continues to increase in NYC, now making up 𝟳𝟱% of sequenced cases. This variant is highly transmissible, and it's one of the reasons we're seeing increases in #COVID19 cases across the city. The latest: https://t.co/Fda8n958t4 pic.twitter.com/JR3zIEjWyy

— Commissioner Dave A. Chokshi, MD (@NYCHealthCommr) July 22, 2021
De Blasio also said that the reality was very clear, and "if we do not want to go back to what we lived before, and having to close everything againSo we have to get serious and we have to get vaccinated, period ".
The Mayor once again recalled that there are still places where the use of masks is still mandatory, for the vaccinated and unvaccinated. "In schools, in the Subway, in hospitals it is mandatory and that is correct policy, but also those New Yorkers who are not vaccinated should wear their masks all the time in all places because unfortunately they pose a risk to the people around them, including the ones they love. "
When referring to the new policy that establishes that all workers in public hospitals are vaccinated or weekly COVID-19 tests, the Health Commissioner insisted that the objective with this new policy is "to encourage people to get vaccinated, since many will prefer that alternative instead of having to be tested constantly."
New milestone: 70% of adults vaccinated
Although there are still many who hesitate to give the injection, De Blasio stressed that this Thursday an important milestone had been achieved. "70 percent of adult New Yorkers have had at least one dose of the vaccine. "
That percentage, as explained by the local president, explains why the City continues with its recovery plan and moves forward with the development of the events, concerts and opening that are part of what the great 'Summer of New York'.
"In total, 58 percent of all city dwellers have received at least one dose, and remember that when someone receives the first, they usually return to receive the second dose," he said. De Blasio, on these new figures that are part of the 9,795,576 doses of vaccines that have been administered so far in the five counties.
However, the City authorities acknowledge that they still have a great job to do, especially with the youngest New Yorkers who are the least vaccinated, and that they are key, especially when there are less than two months to return. To classes.
This is how the cases have increased in a week in NYC:
Thursday 22:
644 new infections.
98 new hospitalizations
2.01%. positivity rate in seven days in a row.

Wednesday 21:

597 new infections.
108 new hospitalizations
1.86%. positivity rate in seven days in a row.

Tuesday 20:

576 new infections.
90 new hospitalizations
1.72%. positivity rate in seven days in a row.

Monday 19:



eldiariony.com
Eddie is an Australian news reporter with over 9 years in the industry and has published on Forbes and tech crunch.