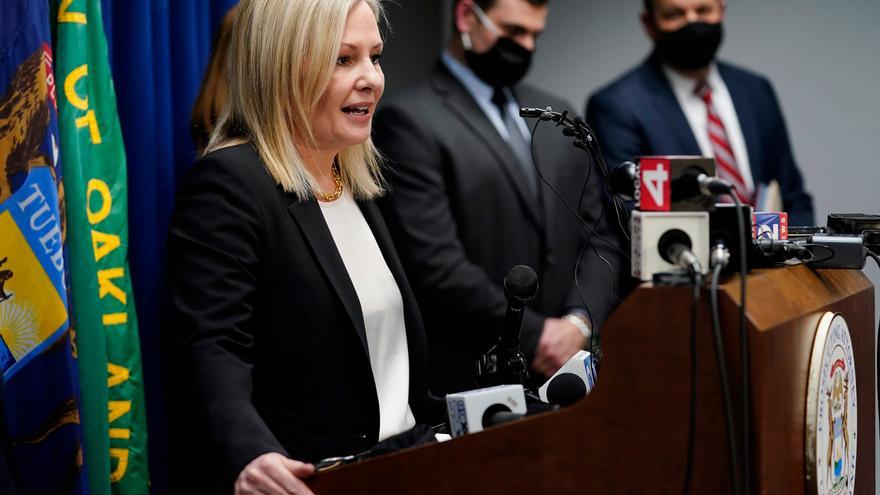 Oakland County Prosecutor Karen McDonald announced Friday that will press charges of involuntary manslaughter against the parents of the fifteen-year-old accused of to kill to four classmates from his institute, in Michigan, this past Tuesday in a shooting that left at least seven other wounded. "Although the aggressor was the one who entered the center and pulled the trigger, there are other people who contributed to the events of November 30 and it is my intention to hold them responsible as well," McDonald said at a press conference.
Investigations maintain that the perpetrator, Ethan Crumbley, used the pistol his father had acquired four days earlier of the Oxford High School massacre. "Gun ownership is a right, and with that right comes a great responsibility," McDonald has argued. For this reason, the prosecutor has filed four charges of involuntary manslaughter against Jennifer and James Crumbley, who, as the authorities have counted, not only have they not cooperated with the investigation, but they have also not allowed their son to testify, based on the laws of the state of Michigan.
McDonald has related that James Crumbley went with his son to the armory with the intention of buying the weapon for the young man. Under Michigan law, involuntary manslaughter charges can be filed if prosecutors believe that it contributed to the harm. In case of being found guilty, the penalties can be up to a maximum of fifteen years in prison. The prosecutor has told the media that parents were alerted to some disturbing and potentially dangerous behaviors from their child, as when a teacher surprised him by consulting information about ammunition on his phone, or drawing violent images.
Before appearing before the media, McDonald told MSNBC that the boy is suspected of having "free access" to the gun. "If you have a gun and knowingly allow someone to have free access to it, who you have reason to believe could use it to hurt someone, that is intentional and gross negligence and there are many criminal consequences for that," he said. However, the US authorities have not been able to find the whereabouts of the Crumbleys at the moment. Asked whether the student's parents are missing, Sheriff Michael Bouchard has answered "correct."
The Crumbleys' lawyer was working with the police so that Ethan's parents were available for arrest once the charges were announced, according to Bouchard, who has specified that, however, the couple no longer maintain any communication with the lawyer. "It is indicative of their intention to flee," he said, assuring that "if they think they are going to escape, it is not like that." Bouchard, who has guaranteed that "every available resource is dedicated" to locating them, has indicated that "it is possible" that the couple is armed, for which he has asked the city not to approach them. A source cited by CNN television indicates that parents have withdrawn $ 4,000 (more than 3,500 euros) from an ATM in Rochester Hills during the day. Authorities were tracking his whereabouts using mobile phones, but have lost track of them because they are turned off.
Ethan Crumbley has been charged this Wednesday with several charges, including four of first degree murder, one of terrorism, seven of assault with intent to kill and twelve of possession of a firearm to commit a crime. Is accused of the deaths of his colleagues at the center, Justin Shilling, 17; Hana St. Juliana, 14; Madisyn Baldwin, 17; and Tate Myre, 16. Seven other people, including a teacher, were seriously injured.

www.informacion.es
Eddie is an Australian news reporter with over 9 years in the industry and has published on Forbes and tech crunch.