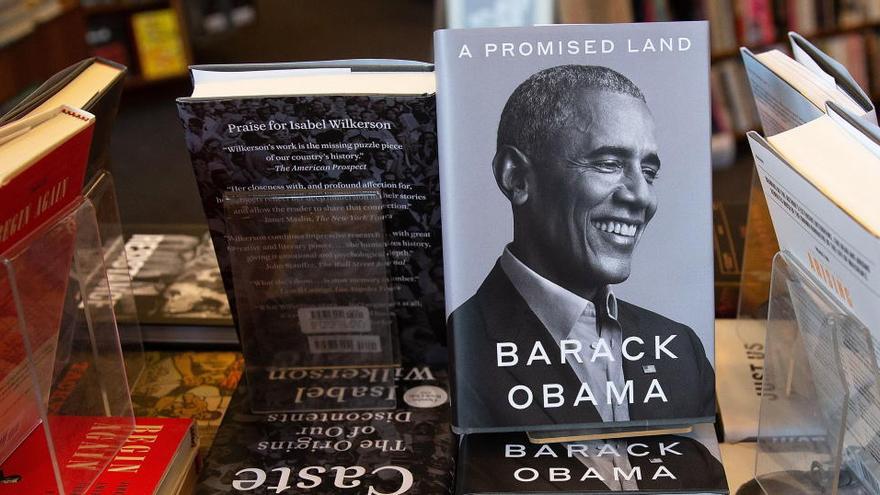 Optimism about America's future is mixed with an exercise in introspection in the first volume of the former president's memoirs Barack Obama, a leader whose historic rise excited half the world, but also removed the tensions that would raise to power its antithesis, Donald Trump.
'A promised land', which went on sale on Tuesday around the world and in 19 languages, including Spanish, makes clear from its title Obama's unshakable faith in the future of the country that he ruled between 2009 and 2017, and that now stands, in your opinion, "on the brink of a democratic crisis" due to its extreme polarization.
"I am not yet ready to abandon the possibility of a (better) America, not only for the sake of future generations of Americans, but for the sake of all humanity," Obama writes in the volume's preface.
That confidence in the special destiny of his country, and in the exceptional character of the United States, forms the backbone of the 768 pages of the book, which covers since his childhood until the time of 2011 when he met the American special forces team that They killed the leader of Al Qaeda, Osama Bin Laden.
Its publication has generated great expectation in the United States, where the Crown publisher has printed 3.4 million copies only for that country and Canada, in addition to another 2.5 million for the international market, including Spain and a good part of Latin America.
Those who have already been able to read it describe a much more introspective self-portrait than the usual one in the memoirs of former American presidents, motivated in part by Obama's talent for narrative.
"What I try to achieve in this book is as much (to reflect) the story as (to tell) a story," explained the former president in an interview published this Monday by The Atlantic magazine.
This attempt to create a tool for historians that also brought the experience of being president closer to the public was what delayed the writing of the book, which Obama wanted to complete in a year and concentrate in a single volume, but which finally did not finish until the middle of the year. 2020, with at least one more volume to be written.
"He's an outstanding writer, but no one would accuse him of being succinct"Obama editor Rachel Klayman told The New York Times.
What distinguishes him is not only the extension and detailBut what Nigerian writer Chimamanda Ngozi Adichie described in her review of the book as "a savage interrogation of himself"; a reflection on the true motives that drive their decisions.
In addition to confessing that he is deeply sensitive "to being rejected or appearing stupid," Obama contemplates the possibility that his initial decision to run for political office was due more to his ego than to his will to public service.
He also confesses that he ended up running for president in 2007 despite the fact that his wife, Michelle, strongly opposed the idea and snapped, "God, Barack, when is that going to be enough for you?"
His disbelief when he was announced that he had won the Nobel Peace Prize in 2009 is reflected in a question – "why?" – and there is also room in the book to remind those progressives disappointed by his Presidency that he was never a "dreamy idealist" but someone much more pragmatic.
That does not mean that Obama regrets not being able to do more in many areas, especially in terms of gun control and immigration, but blames that fact on the obstruction of the Republican opposition, which controlled both houses of Congress during six of his eight years in power.
"People talk about the Obama administration deporting a lot of people, but that was not because of any policy that I introduced.. I inherited ICE (Immigration and Customs Enforcement Service) and the Border Patrol and many laws (…) and I was not successful in changing them, but it was not because I did not try, "Obama said in an interview with the Chilean writer Isabel Allende for Univision.
The roots of Trump's rise
Trump's election in 2016 was, in part, a reactionary response to the milestone brought to power by Obama, the first black president, who was attacked for years by the current president with a false and racist conspiracy theory that questioned his American origin.
His book only references Trump in the preface., when he admits that his successor represents something "diametrically" contrary to him, but argues that his populism was already present in the 2008 elections that he won, at the crowded rallies of the Republican vice presidential candidate, Sarah Palin.
"Messages related to identity politics, anti-immigration, conspiracies, were gaining strength" already then and would crystallize in 2010 with the rise of the movement Tea Partywrites Obama.
That movement disrupted the political life of a country that is now marked by "deep divisions", immersed in an existential struggle between "two opposing ideas of what the US is and what it should be," argues the former president.
In his interviews to promote the book, which have ranged from CBS's star program to Oprah Winfrey's, Obama talks about the responsibility of the media and the technological giants in solving that crisis, but above all he entrusts to the wisdom of the youngest.
"I have learned to put my faith in my fellow citizensespecially those of the next generation, whose conviction that all people have equal worth seems to be innate, "he explains in the preface.

www.informacion.es
Digsmak is a news publisher with over 12 years of reporting experiance; and have published in many industry leading publications and news sites.