Bilbao's Carnicería Vieja street, in the Old Town, used to be a party on certain dates: carnivals, Halloween … The merchants of the shops that give life to the neighborhood organized different activities for the neighbors and passers-by to enjoy. We look back, before the coronavirus established itself in our lives and upset everything. «Last year, the day before All Saints' Day, we prepared a very nice party that had the Harry Potter films as its common thread. A lot of people came and we distributed sweets to the children ", recalls Vanesa Santos, owner of the 'AH!' Store. In those special days, merchants also put all their efforts to decorate their windows, always according to the chosen theme. But this year was going to be a different Halloween as a result of the pandemic that plagues our country and the entire world. Despite this, some of these merchants proposed to take up this celebration "that had worked so much in other years" to give "atmosphere to the neighborhood." This time, the theme chosen would be the zombies.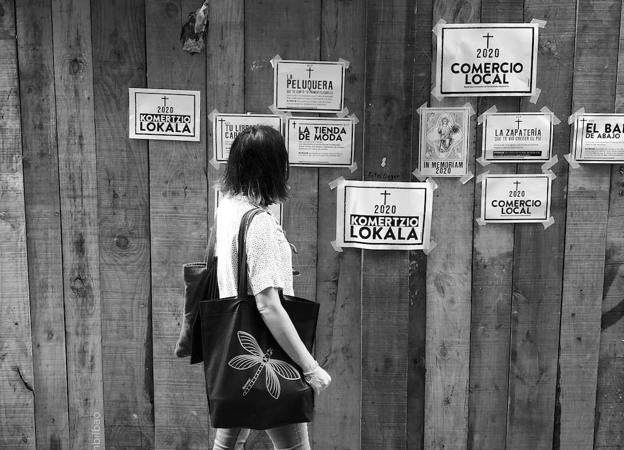 "In truth, when the Basque Government made the new restrictions public last Monday, I was sad, it seemed to me that there really was nothing to celebrate. If the local business situation was complicated, now it was going to be even more so … We have clients from other municipalities in Bizkaia who weren't going to be able to visit us, "he explains. But finally, one day before Halloween, Vanesa decided to join the initiative of the shops in her neighborhood. «Photos of the young children of my friends disguised as skeletons or witches began to arrive via WhatsApp. This made me very nostalgic and I thought I owed it to them and the neighborhood, "he acknowledges.
Thus, this 41-year-old Galician who left her land more than a decade ago to start her own business, set out to turn your shop window into a graveyard. "The idea came from a program that was shown on TV about Naples, an Italian city in which large obituaries are pasted on the walls," he explains. And when Vanessa finished the task, her gloomy window, with its spider webs included, reminded her of an abandoned window. "It was very similar to those empty shop windows that lower their blinds forever", need.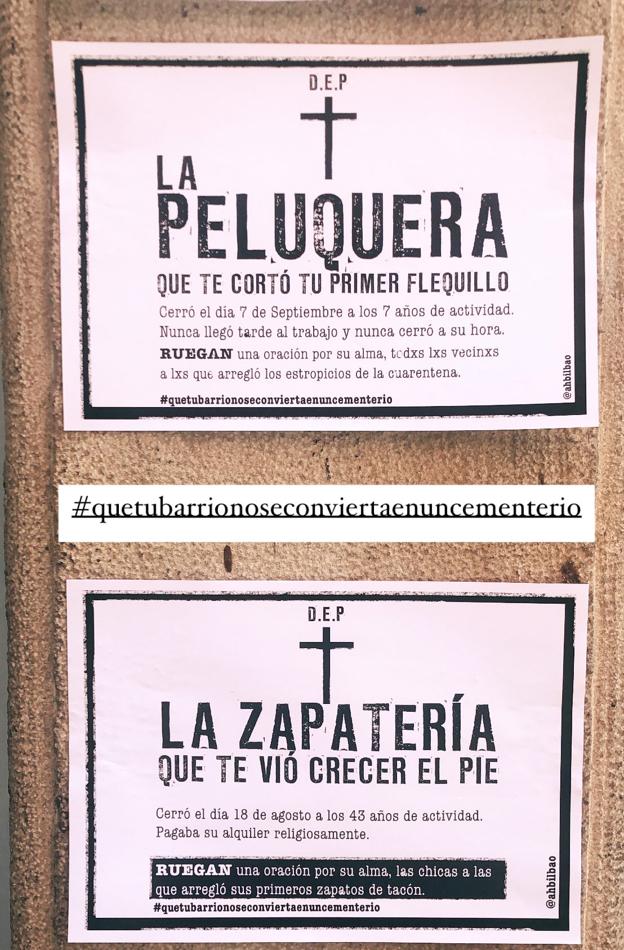 In this way, Vanesa decided to decorate her shop window and the scaffolding in front with business obituaries, from 'The fashion store' to 'your head bookstore', to raise awareness among citizens. He also created a wreath of flowers. «No one is to blame for what is happening. Local commerce was touched before, the pandemic has only done extra damage. It seemed to me that this action could mentalize a lot of people. I think we all have to think about who we give our money to, "he says. A reciprocal relationship according to Vanesa: «Sometimes we have the perception that we are doing a favor to small businesses by buying in their stores, but I think it is the other way around, that we help ourselves. It is very important to have shops at street level. Every time you lower your blind, the neighborhood always loses out. "
'Don't let your neighborhood become a cemetery'

Without intending to, the shop window of this merchant has become an awareness movement in the social networks. "Our message is being shared a lot. We knew it was going to shock because it seems that on Halloween we are used to seeing skeletons and zombies, but in reality what is in our cemeteries are obituaries and flower crowns, "admits Vanesa. Small merchants from different locations in the village shared the images of the window that Vanessa created for Halloween with the message: 'Don't let your neighborhood become a cemetery'. The 'post' of this merchant exceeds 100 comments and 1,600 'likes'. "Strength and encouragement to all," wrote one user. "As soon as they let me leave my town, I'm going to buy something," added another.
After the good acceptance among customers and other merchants in the town, Vanesa shared an Instagram Stories with her more than 7,000 followers to say that she was "overwhelmed." "The day is over and I wanted to stop by to tell you that I am really excited. For the neighbors it must have been very hard to see obituaries in the shop window of my shop, for me putting them has not been easy, "he acknowledged. But with this action this woman at least hopes to have "stirred consciences." «If you have been thinking that this is the right path for a long time, I hope it has helped you decide. Together, we can add value to our neighborhoods and make them bigger ", he adds. In the recording, Vanesa did not want to say goodbye without congratulating her 'followers' on the winter solstice: "They are always synonymous with change, so hold on tight!"



www.elcorreo.com
Digsmak is a news publisher with over 12 years of reporting experiance; and have published in many industry leading publications and news sites.