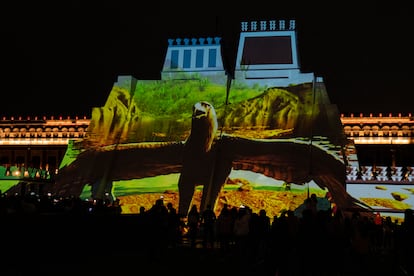 I have always been surprised, for the worse, the trust that governments place in propaganda. I am speaking in general terms, but in this case I am going to refer to what we could call patriotic propaganda. I find it hard to believe that an inhabitant of this so flagellated country would forget, when looking at a tricolor flag with its little eagle shield in the center, some luminous pendants with the heroes' faces or a beautifully elaborated pyramid based on drywall, of their problems economic, of daily violence, of those superimposed crises that we call Mexico. Instead, the institutional powers are sure that this dubious effect is very real.
If the present time moves us to despair, then may history and symbols restore our faith: that is what the rulers seem to think (and not only the current ones, who we already know are devoted to dusting off national ephemeris every morning, but basically all the who have exercised power in this country, as if a patriotic flute of Hamelin also came packed with the eagle's chair). They forget, of course, that our history will be as epic as you want, but also that it is full of dire defeats and that the vast majority of our heroes ended very badly …
Perhaps the skepticism that I experience comes from the fact that when I was a child, my father took me to see a play in which an actor characterized as Benito Juárez of the banknotes repeated the famous phrases of the Oaxacan president and in the end he ordered to shoot a Maximilian from Habsburg who spoke like a gringo. What was I doing in the audience, looking at that mess? The teacher from the public school where I studied had sent me, punished. What was the motive? That he had caught me yawning in history class. The issue we were looking at had nothing to do with the War of the Reform or the French Intervention (I think I remember that we were memorizing the names of the four main roads that crossed the great city of Mexico-Tenochtitlán). But since the play was on the billboard, the teacher decided to send a message to my parents, in which she asked them to take me to the happy performance, to see if the national spirit descended on me. Needless to say, that did not happen.
What is clear is that, in the public schools of my time, patriotism was something that was taken very seriously. Every Monday, there were representations of historical episodes and the children had to dress up. Some as revolutionaries, others as insurgents, some as invading Frenchmen to be swept away by children dressed in pseudozacapoaxtlas. Our classes crushed nationalism to such a degree that universal history basically served as a preamble to the peak moment when the PRI took power … There was also, I understand now, little awareness of the amount of overlapping and self-exclusive nationalisms in that discourse. Some thought that being Mexican meant feeling Aztec. Others thought the same about being a charro, which is something that no Aztec could have been even in hallucinations. Our teacher was very satisfied with our fervor, but when it occurred to her to ask the curious question: "What is your favorite country in the world?" Most of the children answered "United States" and it was a miracle that we did not have a heart attack. Unfortunately, there was no patriotic play on the local bill at the time. We just run out of recess, due to foreigners and evildoers.
Perhaps if life in Mexico ceased to be crushed by violence, economic problems, marginalization and the distress of millions, we could be proud of living in peace without the need for costumes, little flags, endless rants about how noble the heroes were. . But then what would the drywall pyramid builders do?
Subscribe here to newsletter of EL PAÍS México and receive all the informative keys of the current situation of this country

elpais.com
Eddie is an Australian news reporter with over 9 years in the industry and has published on Forbes and tech crunch.