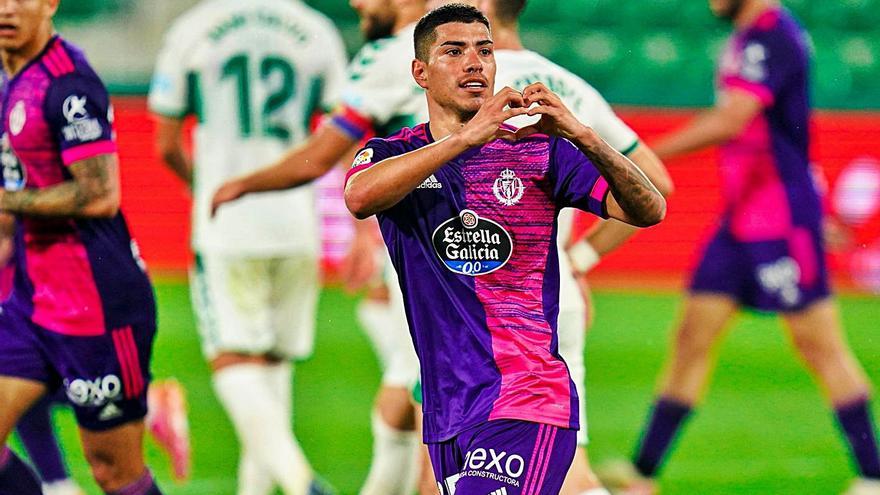 The franjiverde coach knows him perfectly because he already had him at his command at Celta, where he rescued him from the stands and made him the undisputed starter in the left lane. Bragarnik also has good references from his time in the ranks of Boca Juniors in Argentina.
Lucas Olaza is 26 years old, aged 1.75 and stands out for being a fairly complete footballer, with good defensive arguments, who joins the attack well, even with a good hit from set pieces. After two seasons at Celta, where he arrived from Boca, last summer, they practically forced him to leave. In Valladolid he has played 32 games and has accumulated 2,877 minutes, being a fixed for Sergio González.
He scored for Martínez Valero
Last season he scored a goal and, curiously, it was against Elche at the Martínez Valero. In the 86th minute he headed a corner kick, which allowed the Pucelanos to achieve a draw and leave the Elche team in a very compromised situation to achieve permanence. In the end, the franjiverdes saved the category and the Valladolid ended up descending.
Lucas Olaza has a contract with Valladolid until 2023. The pucelanos were obliged to pay a clause to Boca Juniors, of three million if they were still in the First Division and two if they went down, to keep it as their property.
This situation complicates their departure, since in Zorrilla they are not willing to facilitate their departure and, if it occurs, they want to recover the money invested,
Sources from the Elche club have acknowledged to this newspaper that he is an interesting player for the left back and Escribá would also be delighted to have him at his command again. But they are not willing to do crazy things economically to hire him.
His representatives are also pushing hard to find him a way out by way of assignment. The footballer wants to continue playing in the First Division and, in addition to Elche, Cádiz, even Granada and Valencia, they also have it on their radar. The market is currently very stagnant and it is a complicated operation. So in the Martínez Valero there is tranquility waiting for the movements that may occur. What is clear is that it is one of the alternatives that they like a lot.
In the franjiverde entity there are also other left backs on the list, but they have lost strength in recent weeks, such as the cases of Jaume Costa and Johan Mojica.
Jaume Costa has high financial claims after leaving Villarreal free. Escribá has asked a player with more defensive characteristics for the left lane, although at no time is he ruled out and, if he gets within range, they will go for him, because he is a footballer with extensive experience in the First Division who can take a leap from quality in the workforce. But right now, it is not a priority.
Last summer there was a similar case with Barragán and, in the end, he ended up signing. Everything will depend on how the market develops.
The one who has a difficult time continuing in Elche is Mojica. The club from Elche has until June 30 with a priority option to buy it from Girona for two and a half million. But in the Martínez Valero they consider that it is a very high amount.
The Catalan team has returned to second place, after losing 0-2 to Girona, and that could lower the price of the agreement, but there are also other teams such as Red Star that have shown interest in the Colombian. The Belgrade team is going to play European competition and has more economic margin.
For now, what Elche is doing is setting up a list of interesting players in each of the positions to be reinforced. Bragarnik is taking it easy, aware that the market has not yet come to a boil and is going to play with the times.

www.informacion.es
Eddie is an Australian news reporter with over 9 years in the industry and has published on Forbes and tech crunch.