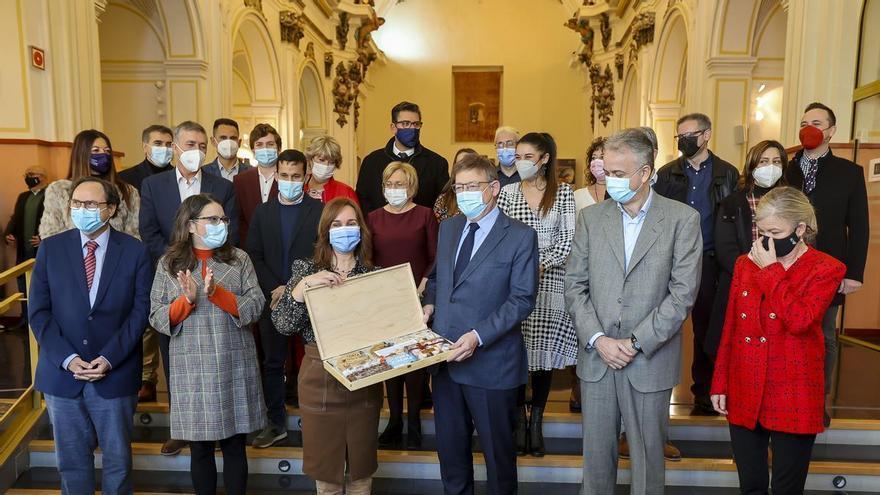 The first vice president of the Consell, Mónica Oltra, stands firm by ensuring that "you can't let your guard down"at a time when, once again, there is an escalation of coronavirus infections and, therefore, It cannot be ruled out that it is necessary to adopt restrictive measures again, beyond the entry into force of the covid passport from this Saturday. The spokesperson for the Generalitat has reiterated today in Xixona the statements that she made last Wednesday from Elche, statements that contrast with those made by the president of the Generalitat, Ximo Puig, that same day, when he ruled out the application of new limitations by the pandemic. However, Oltra has avoided polemicizing about it today. He has assured that "there is no discrepancy" with Puig, but, in any case, he stressed that "in 48 hours everything can change", so he has left the door open to adapt the measures depending on the evolution of the pandemic.
It is not the first time that Ximo Puig and Mónica Oltra show different points of view on possible restrictions. Exactly the same thing happened last Christmas, which generated some wear and tear among the main government partners. Faced with the current scenario, on the other hand, the vice president puts black on white what her position is, but tries to avoid conflicts with the Presidency, especially after friction over the negotiation of the 2022 budget. "I understand that we say the same and that we are in the same line of asking do not let your guard down, responsibility and in favor of a continuous analysis to act quickly, another thing is that each one has a way of expressing himself, "he said today to questions from this newspaper after the plenary session of the Consell, held in Xixona.
Oltra has stressed that if the pandemic has taught something in these almost two years it is that nothing can be ruled out and everything must be considered, in addition to the fact that it is not possible to make long-term plans. In this way, the vice president has considered that in the current context no additional restrictions are necessary to those imposed with the covid passport, although she has emphasized that it is not known how we will be in a few days. In fact, he has given as an example what happened in 2020, when it all began. "On March 8, 2020 we were enjoying a mascletà and 20 days later locked up at home".
However, the also Minister of Equality and Inclusive Policies has considered that now it starts with the advantage that more than 91% of the target population is immunized, a higher percentage than that of other neighboring countries, which shows that "we are a responsible people". However, it has influenced the fact that vaccines "hinder infection, they do not make it impossible, they are not infallible", so it is necessary to maintain caution and follow the recommendations.
"Vaccines do not exempt from responsibility, caution and prudence because love does not immunize and when we are with people we love, we can think that we cannot harm them, but there may be infections if there is no protection and we cannot lower our guard, "he stressed.
On the other hand, on the lawsuits filed against Health for its action in protecting health workers in a pandemic, he commented that "they have neither head nor feet" and has criticized "the use and abuse of complaints in what is a political dispute" . "The penal system is designed for criminal offenses and not for other things," said Oltra, who has shown the "unanimous and vehement support of the Consell" for the minister Ana Barceló.

www.informacion.es
Eddie is an Australian news reporter with over 9 years in the industry and has published on Forbes and tech crunch.