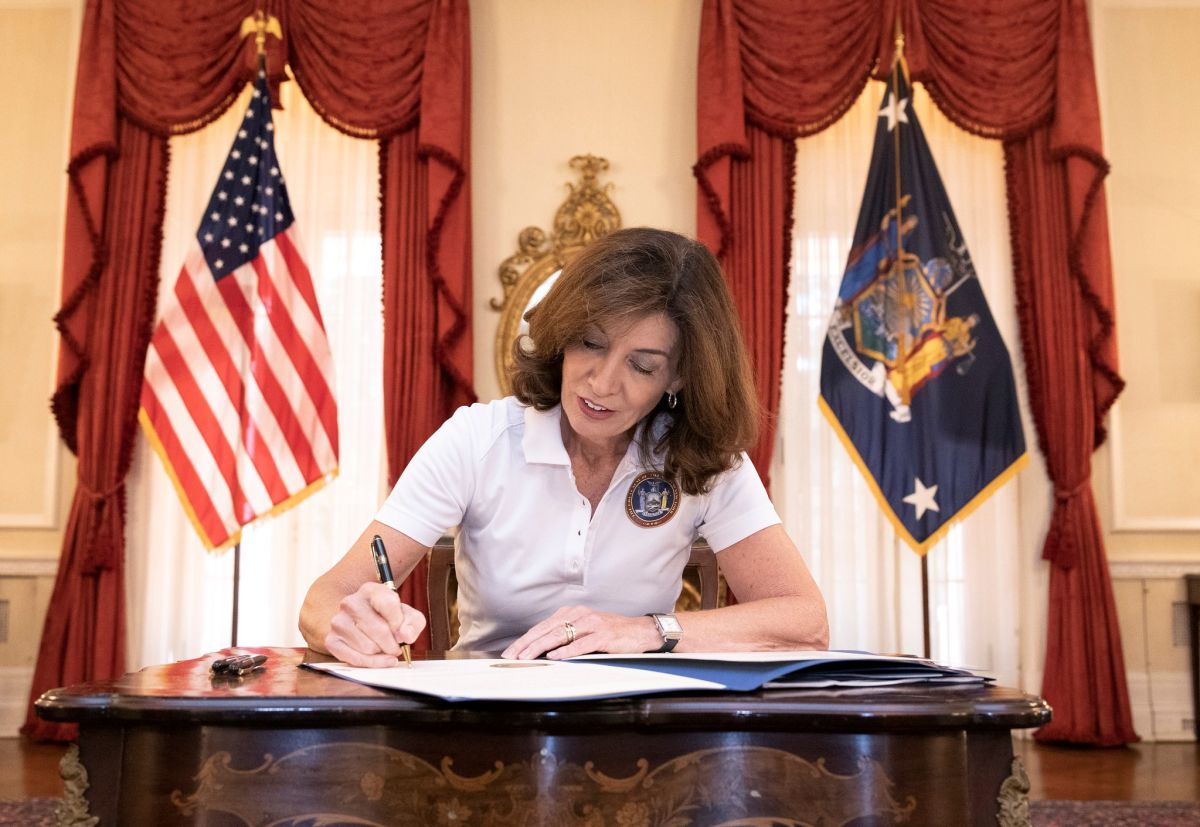 On the occasion of the celebration this Monday of 'Labor Day' (Labor Day), Governor Kathy Hochul announced the signing of a package of four laws that will increase workplace safety and they will put more money in the pockets of the workers.
"On Labor Day every year, we are reminded of the vital contributions of organized labor to New York construction, and that is why I am signing four laws to help workers thrive across the state," he said. The governor.
In a statement with the details of the legislation, Hochul explained that the legislation establishes a demonstration program to implement speed violation monitoring systems in work zones, to keep workers safe and to hold construction contractors accountable for the wages owed to your subcontractors. They also require the payment of the prevailing wage to construction services employees in cooperatives and upscale condominiums and extend the benefits of job sharing.
"These bills will ensure that workers receive fair wages, good benefits and are kept safe in their workplaces. Our state harbors a long and proud legacy of supporting New York workers, and we are working to reinforce that for the future, "added the state leader.
Two Hispanic legislators celebrated the signing of these labor laws precisely on the day that commemorates the 'Labor Day', and stressed that the many immigrants who work as construction workers and in general essential workers, will be the main beneficiaries.
State senator Jessica Ramos said: "This Labor Day, we make history for the workers of New York. Addressing wage theft in the construction industry and strengthening benefits for New Yorkers in the Shared Work Program put more money in the pockets of working families. "
Meanwhile, the assemblywoman Carmen De La Rosa He assured that public funds "should never be used to subsidize low-wage jobs or undermine the industry standard. This is a great day for essential workers who risked their health and that of their families to finally earn the salary and benefits they deserve. "
Details of the four laws:
Establishes a program that implements speed violation monitoring systems in work zones through photo devices and is related to liability notices and the adjudication of certain traffic violations. Holds contractors accountable for wages paid to their subcontractors.
Holds construction project contractors liable for wages owed to employees by their subcontractors:
Currently, contractors are not responsible for the salaries of their subcontractors' employees, unless there is an employment relationship between the contractor and the subcontractor's employee. This bill applies prospectively to contracts terminated 120 days after the bill becomes law. It also allows contractors to demand payroll information from subcontractors and withhold payment if the information is not provided.
Pay Prevailing Wage to Construction Services Employees in Buildings Receiving the 467-A Tax Relief:

Requires the payment of the prevailing wage to construction services employees in cooperatives and condominiums that receive tax reductions under section 467a of the tax law. The law applies to buildings with an average unit appraised value of more than $ 60,000.

Expansion of shared labor benefits:

Changes the limit on Shared Worksharing Benefits from 26 weeks in a row to an amount of time equal to 26 weeks of benefits. The job-sharing program allows employers to retain employees and avoid layoffs by allowing staff members to receive partial unemployment insurance benefits while working reduced hours. Under current law, claimants can only receive 26 weeks of benefits, regardless of the claimant's maximum entitlement to benefits under UI.

eldiariony.com
Eddie is an Australian news reporter with over 9 years in the industry and has published on Forbes and tech crunch.