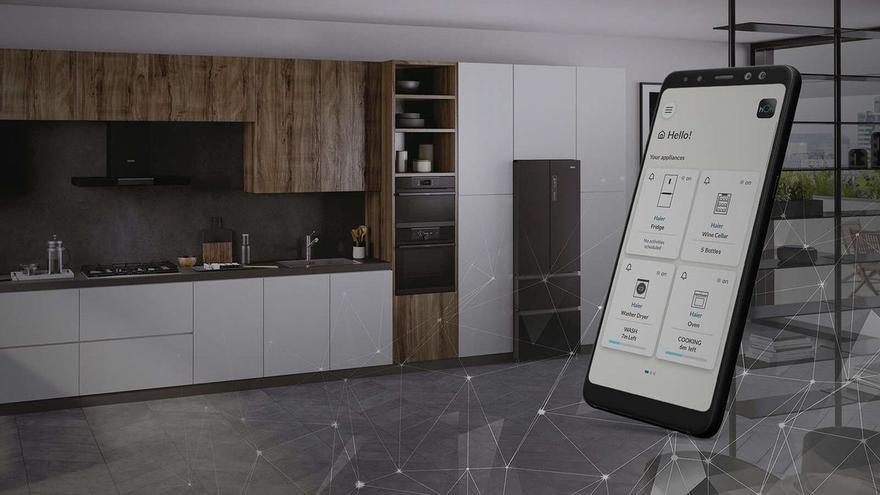 One in four Spanish households already has a smart appliance, a trend that is gaining strength among the youngest users between 18 and 34 years old (32%). This is reflected in a Report on connected appliances carried out by the manufacturing company Haier Europe, which is part of Haier Smart Home Group. The study shows the main consumption habits and the penetration of these products in Spanish households.
The washers, dryers and washer dryers They are the most widespread smart appliances, with a presence in half of Spanish homes. Behind, we find other products such as refrigerators or freezers (23%) and ovens (18%). The forecast indicates that these products will continue to gain importance in homes, which is why the brands that operate in our market include a range of this type of device. "We are heading into a future where connected kitchens are more important than ever. The improvements achieved with connected appliances are evident, both in comfort and in saving time and money", says Esther Alonso, Marketing Director Iberia at Haier Europe.
What users think
Three out of four Spaniards claim to know what an intelligent appliance is. The majority of those surveyed (32%) define them as products that have a connection to the Internet or to the Wi-Fi network, although reference is also made to the fact that are programmable (25%) or that can be controlled remotely with a smartphone (25%). The Spaniards also give importance to these products adapting to the needs to help the user (21%), products that have autonomous functions without the intervention of people (16%) and savings in consumption (9%). Energy saving is the most important feature of a smart appliance for Spaniards (66%), followed by a better quality of life (47%), remote control (42%), extra features (23%), security (22%), better product use (21%) and problem resolution (20%).
In relation to the purchase of smart appliances, six out of ten Spaniards are influenced by the fact that the model is intelligent. Of this group, 11% plan to buy a connected model during the next 12 months, while the remaining 46% value the purchase in the medium term.
The use of the functions of smart equipment is widespread, in fact, three out of four Spaniards already use or plan to use the different functions of their connected appliances.
rising market
More than a quarter of Spaniards already use the smartphone or the tablet to control their home appliances or smart devices, with those under 49 years of age making the greatest use. The predisposition to control these products from the same app it is very high; almost 7 out of 10 would be predisposed to it. According to the Haier report, it shows that more than 40% of Spaniards would be willing to pay more for an intelligent appliance than for a conventional one. "More and more users are deciding to buy a connected model to have better features," he says. Xavier Rofes, country manager of Haier Europe in Spain.

www.informacion.es
Eddie is an Australian news reporter with over 9 years in the industry and has published on Forbes and tech crunch.