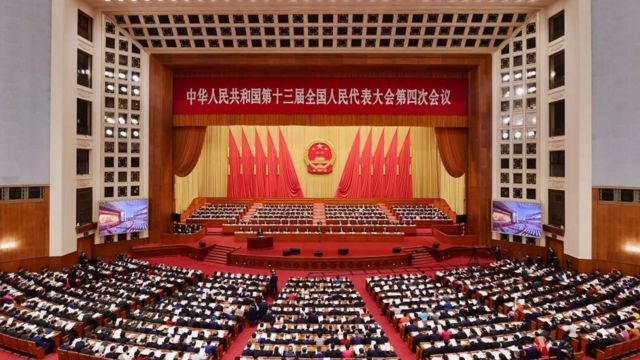 China's main legislative body plans to pass measures to ensure that only "patriots" can rule Hong Kong, thus reinforcing Beijing's control over the city through changes to the electoral system.
Addressing the National People's Congress of China, which brings together thousands of lawmakers these days in Beijing, Prime Minister Li Keqiang also warned the world not to interfere.
The announcement follows the imposition of a strict Security Law in Hong Kong.
Critics say Beijing is crushing dissent and scrapping the "one country, two systems"to which the Asian power arrived with the United Kingdom in 1997.
Under the agreement, Hong Kong, a former British colony, was allowed to continue with its own legal system and have rights that include freedom of speech and freedom of the press.
Fears that this was being eroded sparked huge protests in favor of democracy in 2019. Some turned violent and Beijing imposed the National Security Law.
Assembly Vice President Wang Chen now assured that the changes are necessary because "the unrest and turmoil that occurred in Hong Kong society reveal that the existing electoral system has clear gaps and deficiencies."
He said it was necessary to eliminate "risks in the system" to ensure that only "patriots" were in charge.
Prime Minister Li warned that China "will resolutely protect itself and deter" interference by external forces in Hong Kong affairs.
New powers
The Assembly meeting lasts for a week, and although no text has been made public, both Wang and local media established what the areas for debate will be.
The city's electoral committee, strongly favorable to Beijing, would obtain new powers over the parliament or the Legislative Council (LegCo).
This committee could also examine all candidates for the LegCo and elect many of its members, diluting the number directly elected by the public.
Willy Lam, a China analyst at the Chinese University of Hong Kong, told AFP news agency that if the new measures are passed, as he hopes, "then the voice of the opposition will be effectively silenced."
For Stephen McDonell, BBC China correspondent, the change would be a response to recent election results to district councils in Hong Kong, in which advocates for democratic reforms took control of all but one municipality.
"Now, after the electoral 'reconstruction' to be introduced […] there will be no pretense of democratic elections in Hong Kong, "he concludes.
Although the Assembly is in theory the most powerful institution in the country, in reality legislators often approve plans and policies decided in advance by the central government.
On Friday, Li also announced that China has set its economic growth target for this year. above 6%.
The coronavirus pandemic is largely under control in China, and for most people life has returned to normal.
Now you can receive notifications from BBC News Mundo. Download our app and activate them so you don't miss our best content.

www.bbc.com
Eddie is an Australian news reporter with over 9 years in the industry and has published on Forbes and tech crunch.