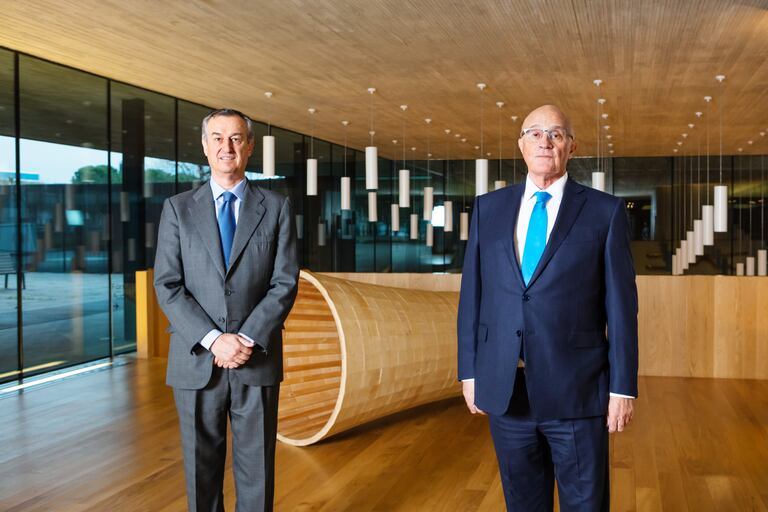 The market has not welcomed César González-Bueno, Madrid, 60 years old, as the new strongman of Sabadell. Since it was learned that he was relieving Jaime Guardiola, Barcelona, ​​63, the bank's price has suffered a slight drop. It seems that investors are not going to give confidence to the new manager who has three main tasks: to improve profitability, efficiency and digitization processes. The key is how to do it in the middle of the economic crisis and how long the market will give you.
The executives consulted believe that the former head of ING Spain and Portugal is an all-rounder of the bank, with 24 years in the sector, but that it will not be easy to straighten out an injured bank with scarce resources. Among the advantages is that he comes to the organization new, without inheritance from the past, and he will be free to end what does not go well.
Another positive factor is the executive character of the Madrilenian: "He has very clear ideas, he is meticulous, demanding, intelligent, he puts pressure on teams and works with intensity. He doesn't like balls and demands that managers defend his ideas ", say those who have worked with him. This attitude, they remember, also has its bad part. "He is a reasonable person, but if they do not allow his project to be implemented, González-Bueno will leave, just as he has come, as he already did at ING. In addition, he is very clear about his personal and professional interests ".
In its favor is that it will land in the fourth Spanish bank when its president leaves executive powers, which will give it more room for maneuver. However, some executives consulted question the total departure of Oliu, which could be an element of confrontation. These sources consider that Oliu has a very special relationship with Sabadell, almost a family business and it will not be easy that now that an outside manager arrives (and the first one who is not Catalan) he does not exercise any control.
Fans and critics in the sector
Oliu (Sabadell, 71 years old) has chaired it for the last 21 years, although he has been a director for 30 years. He received the entity from his father. He even has one of his sons, Jaume, responsible for the sale of the damaged assets, whom some considered the hereu due to gestures of his father. Now all those plans, if they existed, have been broken.
In any case, González-Bueno has been a director of the British subsidiary TSB since March, with which he will have had time to debate the distribution of power. This is what they point to in the sector, where the manager has fans, but also critics who remind him of his campaigns against traditional banking when he launched ING without commissions, "and now he is signing for one of the most classic".
Finally, in the market they also stand out that he has a great vision of what the customer wants, what is going to work and how to implement it, an important factor in a bank in transformation.
Among the drawbacks are that the bank that will take over between February and March (with the permission of the ECB), is already losing the game. Its profitability has fallen from 7% to 1.5% in the last year and it is the value that falls the most on the Ibex 35. Its subsidiary TSB (where they put a large part of the 5,250 million they received from the CAM rescue) has only served to distract managers and cause problems, although no one has been held responsible for the fiasco. The management of Sabadell is questioned by the ECB and by investors and has just ended its sale process to BBVA.
The supervisor has demanded a new team with a compelling new plan to fly solo or to merge and is on injury time. Managers consulted recall the parallels with the arrival of Emilio Saracho to Popular and point to a new ERE in 2021, after closing the one with 1,800 people this year, although that requires a lot of money.
Over half the offices
It should not be forgotten what he told EL PAÍS after leaving ING: "Banking is an industry in decline due to the change in model and the drop in interest rates. It must reduce its size in the number of offices by half in 10 years, and its profitability will continue to decrease ".
They also point out that a large part of the Sabadell franchise, the SME business, will cause problems in the coming months, and it is a field that González-Bueno does not dominate. In fact, at ING he sold it to Bankia because the bank was not able to make it profitable.
Sabadell is his last bullet before retiring and he will try to shine. If negotiations with BBVA are resumed, at least González-Bueno has a good relationship with its president, Carlos Torres. And he will be pragmatic: if he believes that it is best to sell the bank, he will do so without hesitation; and if it cannot apply its model, it will go where it came from.

elpais.com
Digsmak is a news publisher with over 12 years of reporting experiance; and have published in many industry leading publications and news sites.