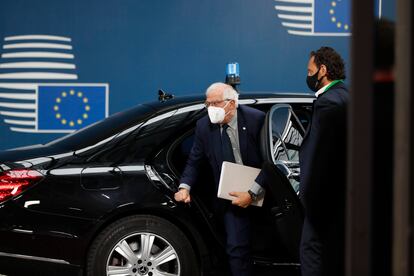 The future of the deep crisis in Venezuela depends on its leaders and its citizens, but it is largely played out abroad. This week, the Joe Biden Administration and the EU have agreed for the first time since the Obama era on the formula to try to stop the drift of the Nicolás Maduro regime. The goal is, as always, the holding of free and guaranteed elections. What is unprecedented is that Washington and Brussels are open to lifting sanctions if Chavismo shows a real will for dialogue and accepts a broad negotiation. The opposition has traditionally been reluctant to enter into talks with the government. With the exception of figures like Henrique Capriles, the majority of anti-Chavista leaders have rejected in recent years any option that did not go through the immediate resignation of Maduro. The reasons to distrust are abundant. The pro-government apparatus not only controls the springs of the State and the electoral competitions, but in the last attempts to find a negotiated solution it has tried to impose its rules and conditions. Dialogue rehearsals, sponsored by Norway, some Latin American countries or the EU itself, have been a constant. And the results, a resounding failure.
The arrival of Biden was a turning point due to the expectations generated. Trump tightened sanctions and maintained a warmongering stance, even waving threats of armed intervention. That strategy helped him campaign in the United States, but did not lead to a solution. On the contrary, it contributed to sharpen the confrontation in the South American country. The US Secretary of State, Antony Blinken, and the EU High Representative for Foreign Policy, Josep Borrell, have laid the foundations for a new international initiative, with more force than the previous ones.
The joint statement issued on Friday, joined by Canada, emphasizes a peaceful exit, calls for an end to the persecution of opponents and the release of political prisoners, and urges Maduro to reverse the dismantling of institutions. But, above all, it opens the door to a review of the sanctions that have had an impact on the economy of a country already prostrated by catastrophic management. There is no time to lose to alleviate an emergency that has driven millions of people into misery or exile. The first test bed will be the local and regional elections already set for November. Washington and Brussels call for an electoral process adhering to international standards. The ball is in the court of the regime, which has no excuses for refusing to convene a free and democratic electoral process. Given its dismal record, there are no high expectations. Still, the new common position of the US and the EU is positive news.

elpais.com
Eddie is an Australian news reporter with over 9 years in the industry and has published on Forbes and tech crunch.