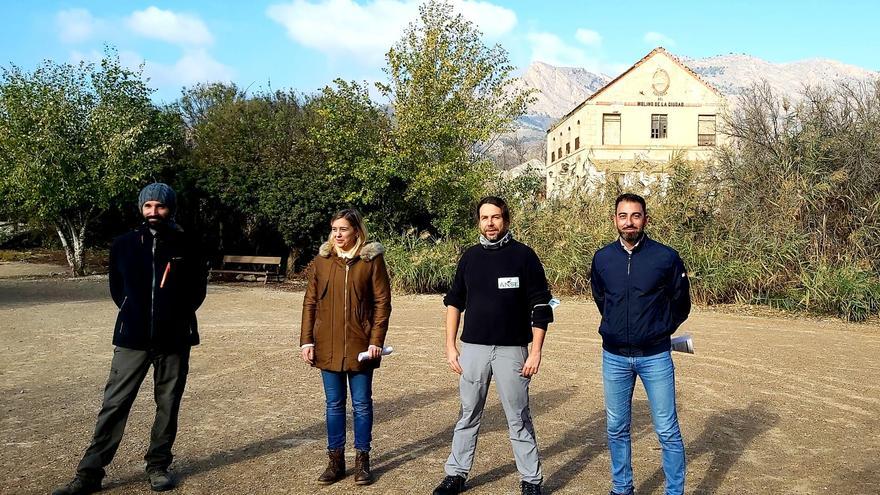 The Department of the Environment has begun actions for environmental recovery and maintenance of the environment del Soto I5, better known as the Mill of the City, on the left bank of the river Segura.
The objective is that the grove of the City Mill becomes "a space of environmental education for the bird watching and that it be considered a wetland space within the Valencian Community and of special protection, "he stressed. These interventions, which are being carried out at this time of year because there is no nesting, will also eliminate invasive species to replace them with autochthonous ones.
"The recovery of the environment of the riverbed in the urban area, from the Ociopía area to the transfer tubes, was one of the objectives that we had planned within this legislature," explained the mayor Dámaso Aparicio, who added that "the area has become a natural green corridor for the enjoyment of citizens". He has even stated "from the pandemic we see how it is used more for walking."
María García Sandoval, co-spokesperson for Cambiemos, who has also participated in the initiative, has pointed out the collaboration that exists with the council, as well as the willingness to receive proposals in the renaturation of the riverbed and repopulation with autochthonous species. His group has been an intermediary between the Association of Southeast Naturalists [ANSE] and the Department of the Environment for actions such as urban gardens and the Palmeral ", he recalled.
For his part, Ángel Dolón, representative of the Faunatura association, explained that the future of cities passes through make compatible biodiversity and sustainability with the use and enjoyment of these spaces, like the Mill of the City: "It is a place where a multitude of birds nest." For this reason, this organization will collaborate for "the enjoyment and learning about its most natural environment".
In the opinion of Jorge Sánchez, ANSE biologist, "it is an opportunity for ribera forest recovery in this area of ​​the Segura ". Thus, he has indicated that" with regenerated water we can establish thermophilic avenue formations, which is the reference ecosystem that should exist but has practically disappeared ".
In addition, he stressed that "the riparian forest has the advantage of regenerating very quickly, which makes it an inexhaustible source of CO2, in addition to sheltering species such as the Moscón bird or the Berber ZarceroWe hope they return to this place. "
This first performance, with an investment of 27,592 euros, occupies an area of ​​26,000 m², of which 7,000 represent the bed of the lagoon that is inside, which is fed by the water table (although with the modification of the channel that was carried out in the 80s, the grove was separated, being located below the river, a continuous presence of water is maintained).

www.informacion.es
Eddie is an Australian news reporter with over 9 years in the industry and has published on Forbes and tech crunch.