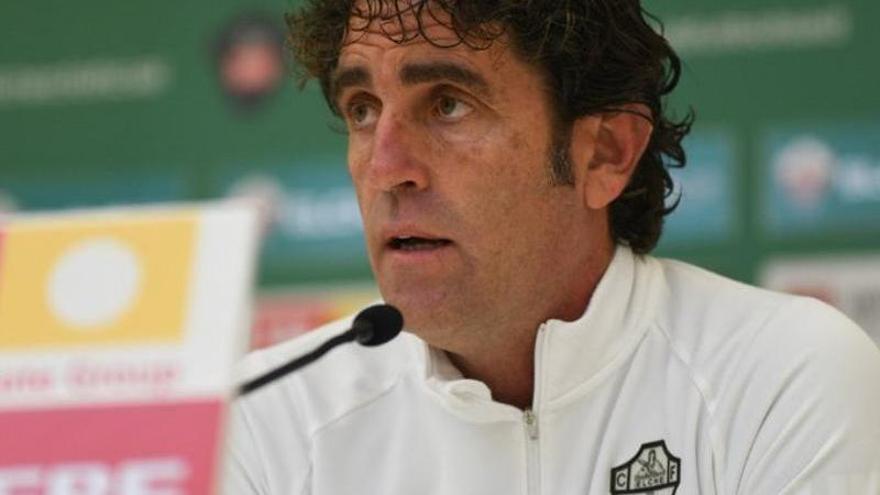 The assistant of Francisco, Jose Manuel Rodriguez Ortega "Ortega" has been in charge this Wednesday of offering the press conference prior to the match of the qualifying round of Copa del Rey Round of 16 who will face Elche CF with Real Madrid It is Thursday (7:00 p.m.), at Martinez Valero Stadium. The head coach is confined to his home after having tested positive for Covid-19 and cannot lead the team, nor will he be able to sit on the bench in the cup clash against the white team.
How is the coach and the rest of the coaching staff?
The coach and Jaime Prado (assistant coach) have no symptoms and are doing well. They are waiting for the next tests to come back negative.
And what about the players who were with Covid (Helibelton Palacios, Fidel, Kiko Casilla, Piatti, Pastore and Josema) and those who are in pain (Roco, Marcone, Pedro Bigas)? Are there any who can recover in time for the Real match? Madrid?
Of those who tested positive for Covid, there are a couple of them (Fidel and Heleibelton Palacios) who can arrive on time and of the injured until training this afternoon we will not know what situation they are in and what condition they are in. Everything will depend on the sensations they have. From the coaching staff, Jaime I think he could be with us on Friday and the coach could be there for the game at the Santiago Bernabeu. The protocol at the beginning was ten days and now seven. Everything will depend on whether they come out negative. This is a surprise continues and until we know the results of the antigen tests every day we cannot say anything.
How do you face a match as special as the one against Real Madrid?
We are very excited. The team is on a roll and confident. Although it is clear that what matters to us is the League, we want to maintain a competitive level. The team, little by little, is getting better, although there is still a long way to go to get to where we want to be.
With which footballers are they going to face the match? Are you going to reserve one for Sunday's league game at the Santiago Bernabeu?
We are going to try to compete with those who are better. In these types of games we know that we don't have to work on the emotional aspect, because everyone wants to play against a rival like Real Madrid and even more so at home and against our people. We are going to try to make things difficult for them. We have to face each game as if it were the last with the hallmarks that we want to capture. Then the game will offer different nuances. Our only intention is to go out and win.
Bearing in mind that after the two games against Real Madrid (Thursday in the Cup and Sunday in the League) the break arrives and there will be more than 15 days until the next match on February 7 against Alavés, does that allow us to think about risking more and thinking in putting a starting eleven in the Cup that can be more similar to the one in the League?
It is true that in another situation we would not risk so much. The good thing is that after the game at the Santiago Bernabéu we will have a long recovery period and that allows us to risk more with a player who is more saturated with minutes or with some discomfort.
Will the players who come out of Covid be prepared to enter the eleven directly or is it recommended that they start on the bench? Aren't you afraid that if you take a risk with one it could break?
The players who come out of Covid can perfectly enter the eleven, because they have carried out personalized work at their homes and have had a follow-up. In addition, of those who can return they have accumulated minutes and spending a week without training with the group hardly affects them. Regarding the risk of injury, it is always important what the players themselves transmit and the sensations they have. We have daily conversations with them and the footballer himself is the one who knows it best, although, then, this is football and anything can happen.
Are you going to continue rotating in the goal when it comes to the Cup?
I still can't answer that question until tonight or tomorrow morning we have the coaching staff phone meeting and the manager decides the lineup. In the last game Axel Werner played and Kiko Casilla did before, but now he is with Covid. We haven't decided yet.
How can you beat a Real Madrid that is in a great moment?
As they come, we know we have to play a tactically perfect match. Take advantage of our opportunities and try to minimize those that they can create, which they will surely have. They come in high spirits after winning the Super Cup and beating two great teams like Barcelona and Athletic Club de Bilbao and we know it's going to be difficult. We have to know how to play the game and minimize mistakes.
Could the fact that Madrid has just played two games in five days and a long trip to Saudi Arabia be a factor and a good opportunity in favor of Elche?
Real Madrid is a team that is used to playing every three days and after long trips. It has top players. We don't know if they will rotate, but whoever comes out will be very complicated. We cannot think that they will be tired or relaxed. We expect the best Real Madrid.
Who is affected more by Covid losses to Real Madrid or Elche?
Without a doubt, us. Madrid has a squad with 25 top players. Casualties make it difficult for us, above all, our day-to-day work. Not so competitively. That is why we are working more at the board and tactical level. It will always hurt Elche more than Real Madrid.
If you were given a choice, what would you prefer to win the Cup match or the one on Sunday at the Bernabeu?
It is difficult to answer that question. We have to focus on the next game and that's tomorrow in the Cup. We're coming off a good run, we're becoming more and more competitive and we want to grow as a team. We are achieving it, but we want even more. The League is the most important thing, but there is always the candy of the Cup and we are going to try to get through.
What has the last two victories meant for the locker room and seeing yourself five points ahead of relegation?
It is a shot for important morale. When we came as a new coaching staff to replace a colleague, we knew that if the results did not arrive, the speech you could have would be empty. In the comments of the players, the morale and the illusion that exists is noted. Against Granada we deserved to win and in Valencia and Barcelona we also deserved to score. Now the victories against Espanyol and Villarreal have come and that allows the work to be consolidated and the team to create more.
This Elche has always been surrounded by the comment at the beginning of the season that it had the best squad in its history. What have they done so that such an important change has been experienced?
It is true that when we arrived there was talk that there was the best squad, but we made it clear that at the qualifying level it was not like that. The team was in difficulty and we knew that we had to work hard to get out of the bottom. That is the line we have followed. Now we are five points from relegation, but we have to continue with humility and knowing that if each player does not give 100% nothing is achieved. We have to continue as a block, because each game is very difficult.

www.informacion.es
Eddie is an Australian news reporter with over 9 years in the industry and has published on Forbes and tech crunch.