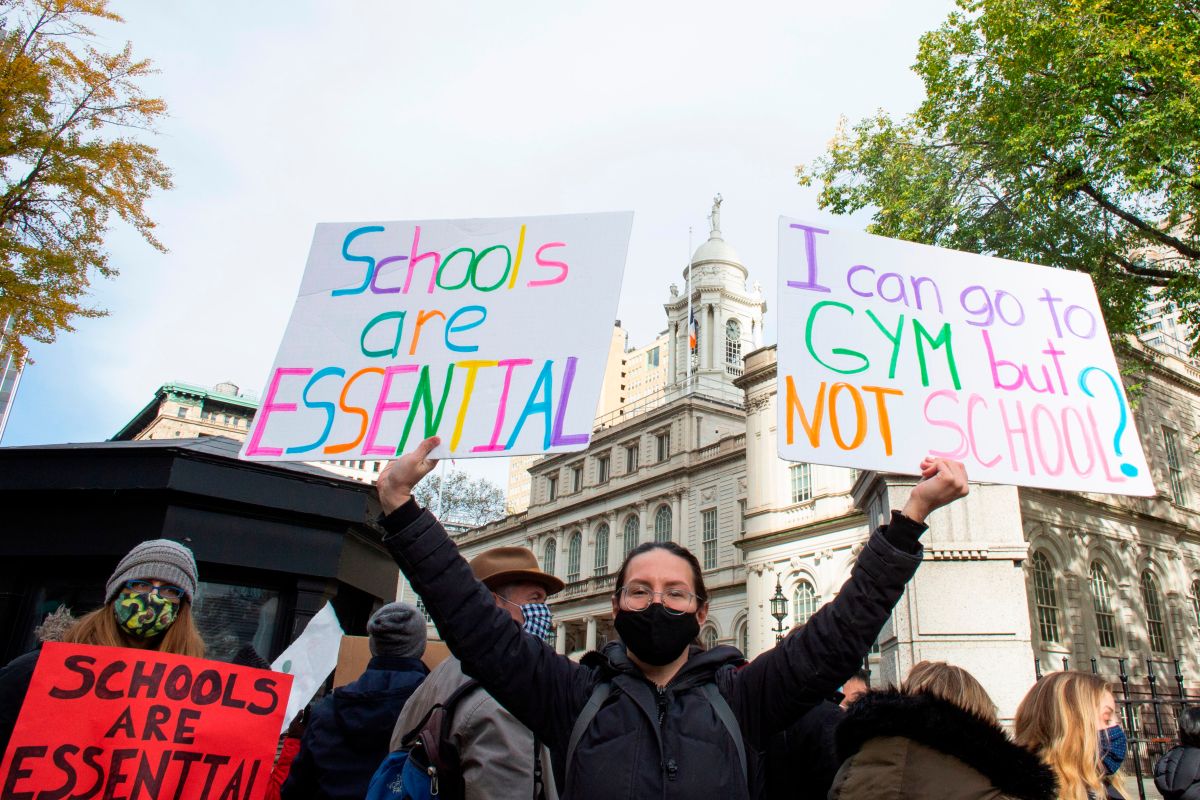 While this Thursday the closure of the public schools of New York City came into force with what ones 300,000 students stayed home, a group of parents protested before the Mayor's Office and the Governor's offices to demand the measure be reversed.
Mayor Bill de Blasio made the decision to close the public school system arguing that the average seven-day COVID-19 positivity rate in the city reached 3%.
The parents are outraged and call on the Mayor to reconsider the 3% COVID-19 positivity rate threshold, and qualify the measure as "outdated and arbitrary."
As authorities defend that the closure will help defend New Yorkers from a second wave of coronavirus, parents started the movement "Keep NYC Schools Open."
The movement has produced a document, which by noon had gathered more than 13,000 endorsement signatures. In it, they argue that officials are sacrificing children's futures to keep nonessential businesses open.
Parents' rejection of school closings the debate on whether the measure is coherent began to escalate when, on the other hand, the city authorities have authorized that the non-essential businesses stay open. Parents' rejection also targets teachers, whom they accuse of aligning themselves in favor of school closure.
"Exercising in a gym is no more important than educating the next generation of our city's citizens. Eating indoors is no less dangerous than students sitting six feet apart with their masks on, "reads one of the recitals of the petition.
The loud protest of the parents was accompanied by many posters that read: Remote learning is not equitable! Open schools now! New York school parents are angry! Close the United Federation of Teachers!
Parents insisted that recent tests have shown that schools are not the source of the increase in infections in New York City. Meanwhile, officials say the positivity rate in schools is just 0.23 percent.
"We want our children not to stagnate in their studies. They must be studying while we work, "he said. Efigenia Bautista, mother of three children who attend a public school in the Bronx.
The closure does not affect private schools, which continue to operate with regular instruction in their classrooms. This is another factor that parents question because they say, it discriminates against poor families who struggle to pay for childcare and depend on free school meals.
"The time our children lose without going to school they will never get back. The mayor must know that his decision will affect them in that sense, "said Steve Morales, father of an 8-year-old student from Lower East Side.
In his opportunity the Mayor De Blasio and the United Federation of Teachers (UFT), agreed that schools would close again if the 3 percent threshold was crossed.
Michael Mulgrew, president of the UFT, defended the closure, arguing that the measure is in line with what health experts recommend.
"We have to be much more aggressive in the areas where children enter buildings because we want them to be safe and their families to be safe," Mulgrew said in an interview with News 12.
Mayor De Blasio defends the closure of schools
For his part Mayor He acknowledged this Thursday that it is likely that the new restrictions to address COVID-19 will have to be extended to the closure of non-essential businesses in the coming days.
The closure of the gyms and the indoor food service is only a matter of time: "It is very likely that it will be in the next few weeks," said the mayor.
The city will soon be in an orange zone state, leading to closures, De Blasio said at a press conference Thursday.
"The rules for the orange zone state are clear and New York City, in no time, will be in that status," he added.
De Blasio said he ordered the closure of the public school system "as a precaution."
"The data is very clear that we have to keep our children, our educators safe," he confirmed. De Blasio in an interview with CBS this Thursday.
"My children went to public schools in lto New York City. I really feel what parents are going through. I told you last week that we had to prepare for this possibility. The benefit is keeping people alive and safe, "said De Blasio.
The Mayor added that he expects the schools to reopen in "the next few weeks", this is after Thanksgiving.
The mayor's statements coincided with those of the Governor Andrew Cuomo, in the sense that New York City could soon be designated as an "orange zone," leading to the closure of non-essential activities, including gyms and indoor restaurant dining.
NJ will keep the school system operational
New Jersey Governor Phil Murphy announced that schools in the state will not close.
Murphy did not indicate that schools are likely to follow New York City's lead. The governor explained that he has left the closure decision to the superintendents, but he has the power to order them to be closed again.
Speaking to CNN, Murphy that New York City's decision to close its schools is not something New Jersey will follow, even as the state had 4,063 new cases and 2,446 people hospitalized with COVID. -19.
"Our school experience has been different" from what New York City is seeing, Murphy said. Honestly, I don't see a scenario in which we transpose that (closing schools before businesses) ".
As of Wednesday, there have been 56 schools in New Jersey with outbreaks of the coronavirus; The state defines an outbreak as two or more laboratory-confirmed COVID-19 cases among students or staff within a 14-day period, that are epidemiologically linked within the school setting, do not share a home, and were not identified as close contacts between yes in another setting during standard case investigation or contact tracing.

eldiariony.com
Digsmak is a news publisher with over 12 years of reporting experiance; and have published in many industry leading publications and news sites.