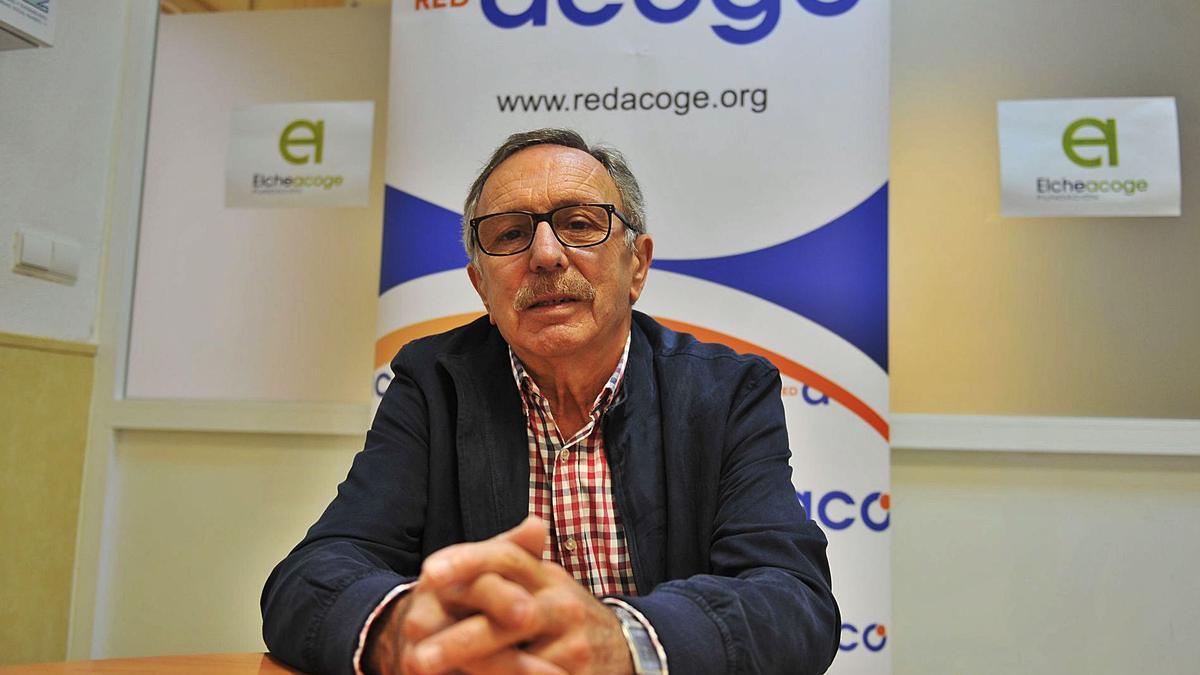 Rita Mari Coves has ceded the presidency of Elche Welcomes Paco Cámara after spending 30 years at the helm. The new president arrives at a crucial moment, in which the crisis is hitting, even more if possible, with migrants.
Q After 30 years, Elche Acoge changes its president, how has it reached this new challenge?
A I have dedicated my whole life to associative movements. And now that I have finished my career, I want to continue doing activities. I have participated in the adult courses of the Miguel Hernández University and the outgoing president [Rita Mari Coves] A year ago he offered me to be part of Elche Acoge. I started in the Rincón de las Culturas de Carrús doing a school review with the children and I have continued to collaborate during the months of confinement.
Q Has the pandemic changed the priorities of NGOs like Elche Acoge a lot?
A The health crisis makes us all go at a changed pace and now the priorities are different in our case to cover the most basic needs of migrants. There are months in which we attend to more than sixty demands on a daily basis and 600 families have been given food vouchers thanks to the City Council and collaborating companies. The pandemic is making it difficult for migrants to integrate and for community coexistence.
Q What tasks do you do now?
A We continue our work as the health crisis keeps us moving forward. We serve, advise and train migrants and refugees. We constantly receive people in our city and we implement integration and awareness programs for them, as well as Spanish classes, the legal department or the employment office. All the small grants, as well as the volunteering, are well received. The pandemic has put us a thousand obstacles to achieve a dignified and safe migration.
Q In what specific aspects do you notice the damage of covid-19?
A In school revision classes, for example, we have had to change the way we work because we can no longer do them with 30 children as before. The same thing is happening to us with learning Spanish for adults. We lack volunteers because now we have to work with smaller groups. The economic needs are also greater so as not to leave anyone on the road. We have to fight harder to get new subsidies in a context as delicate as the current one.
Q The lack of work also makes it difficult for migrants to regulate their situation in the province …
A By not having work they are losing acquired rights. We have detected an increase in people who are in an irregular situation and the authorities have to give a solution to this because we can only advise. Now it costs much more to do paperwork and paperwork for everyone and what we see is that no quick solutions are offered to people who are out of work or cannot be hired.
Q How do you see from Elche Welcomes the migratory crisis that is being experienced in the Canary Islands?
A Spain is the gateway to Europe and people who don't have enough to eat in their country are looking for a way out. This is not a knock-on effect, we are talking about hunger and looking for solutions. It cannot be ruled out that what is happening in the Canary Islands has repercussions in our province. We can soon experience it here and in Andalusia as it is the closest region to Africa.
Q In the case of Elche, are the biggest problems focused on the Carrús neighborhood?
R Carrús is the neighborhood where immigration lives the most and it is where there may be more problems, yes. There are many needs for work and housing. Last year, without going any further, we found employment for about 200 people. There are also needs for food, training and legal advice. There are people who want to return to their country and cannot do so due to a bureaucratic issue. We have 17 technicians who respond to all these social questions, but the procedures are not agile at all.
The City Council of Elche praises the work of the NGO
With great sensitivity towards social issues, and especially at a time of health and economic crisis like the current one, the government team from Elche is next to entities such as Elche Acoge, shows them its support and does not miss the opportunity to praise the work that carried out for the benefit of coexistence in the city. Proof of this is that, recently, the mayor, Carlos González, accompanied by the councilors Mariola Galiana and Mariano Valera, received the outgoing president of Elche Acoge, Rita Mari Coves, and her successor, Paco Cámara, at the City Council.

www.informacion.es
Digsmak is a news publisher with over 12 years of reporting experiance; and have published in many industry leading publications and news sites.