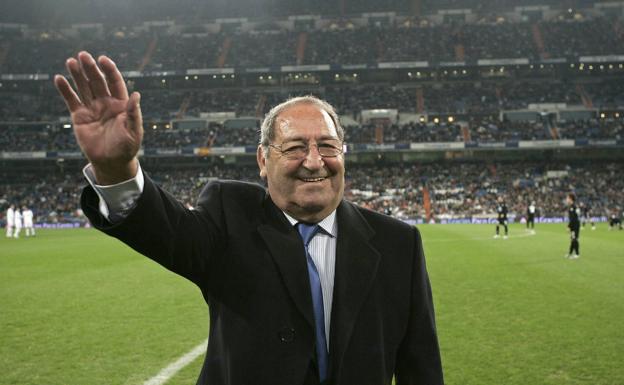 mourning in football
The honorary president of Real Madrid, winner of six European Cups, has died at the age of 88
Paco Gento, honorary president of Real Madrid and the only footballer to have won six European Cups, has died at the age of 88. The disappearance of the Cantabrian deprives Real Madrid of the last member of that mythical striker that catapulted the Chamartín entity to the pinnacle of world football with the achievement of the first five European Cups in history, to which the Galerna del Cantábrico would add a sixth, already with Real Madrid yeyé in the sixties, to become the footballer with the most 'orejonas' in history.
Kopa, Rial, Di Stéfano, Puskas and Gento. The attack that was recited in a rush and sowed fear in its wake dismisses its last representative. Honorary President of Real Madrid since October 2016, he took over as the highest emblematic figure of the Concha Espina de la Saeta Rubia club, with whom he landed in the 1953-1954 academic year to shake up history and cement an unrivaled hegemony.
Born on October 21, 1933 in Guarnizo (Cantabria), the fast left winger had accumulated just eight games in the First Division with Racing de Santander after passing through several teams from his homeland when Santiago Bernabéu, who was beginning to form a legendary team, tended the cane at the request of its vice president Álvaro Bustamante, also of Cantabrian origin. He signed his contract in a garage, with a token of 125,000 pesetas. He renewed at the convenience of the offices, both in years and in money. I neither asked nor asked. He left 18 years later with three million as emoluments from his last campaign. Other times.
Gento formed a mythical striker with Puskas, Rial, Kopa and Di Stéfano that took Real Madrid to the top in Europe

He had grown up among cows, potatoes, corn and beans. Arriving in the capital changed his life, although the first times were hard. He ran faster than the ball – he ran under eleven seconds in the hundred meters with the ball sewn to his foot – and there were those who saw him more as an athlete than as a footballer. It was difficult for him to adapt, coming almost from Third, the size of his teammates shrank him and he still had to refine the technique. It was a diamond in the rough, unpolished. He came to think that they would transfer him, but soon the respectable surrendered to his talent.
physical prodigy

His portentous physique ended up making him the best left winger in history. He took the defenders out of the wheel with his gear change and centered with millimeter precision in the race. The connection with Rial and with Di Stéfano made the Bernabéu lean to the left. "He ran so fast that you couldn't catch him offside," recalled Britain's Bobby Charlton, one of the leading figures of the time. "He has speed and hits the ball like a cannon. That is not learned, it is brought, "defended Di Stéfano, from whom he metabolized so many things. "He was fantastic facing defenders," Puskas abounded, with whom he shared eight glorious campaigns.
"He and I with nine other teammates, those who want, we would always be champions," said the Brazilian Garrincha, a dribbler with deformed legs who rose to fame with Pelé at the 1958 World Cup in Sweden and took over four years after the absent O 'Rei in that World Cup in Chile in which the Canarinha came down to a Spain in which Gento lived with the nationalized Di Stéfano, Puskas, Kubala or Santamaría, perhaps the greatest amalgamation of talent in the history of La Roja.
Gento, in 1960 during a match against Atlético de Madrid. /

R. C.

Gento had debuted with the merengue jacket on September 13, 1953 with a victory against Osasuna. The whites would end up conquering that League to end a 20-year drought. It was the first of the twelve that he amassed in his 18 courses in Chamartín, a record that no one has matched to date, nor are his six European Cup titles unparalleled. He played in and won the first five finals in history, in which he scored two goals, and was also crowned in 1966 against Partizan Belgrade, the link between two exceptional generations.
He hung up his boots on May 21, 1971 with a defeat against Chelsea in the Cup Winners' Cup final in Athens that led Santiago Bernabéu to undertake a profound renovation of a squad that had culminated a horrifying season. The Cantabrian winger, who was already 38 years old, said goodbye with a superlative record. To his twelve Leagues and six European Cups, he added two Spanish Cups, two Latin Cups and one Intercontinental Cup. Twenty-three trophies that keep him, half a century later, as the most successful footballer of the most successful club in history. Gone were 600 official matches and 182 goals sealed by a player who was capped 44 times by the Spanish national team and became one of the great architects of that white legend who today dresses in black to say goodbye to an unrepeatable figure.

www.laverdad.es
Eddie is an Australian news reporter with over 9 years in the industry and has published on Forbes and tech crunch.