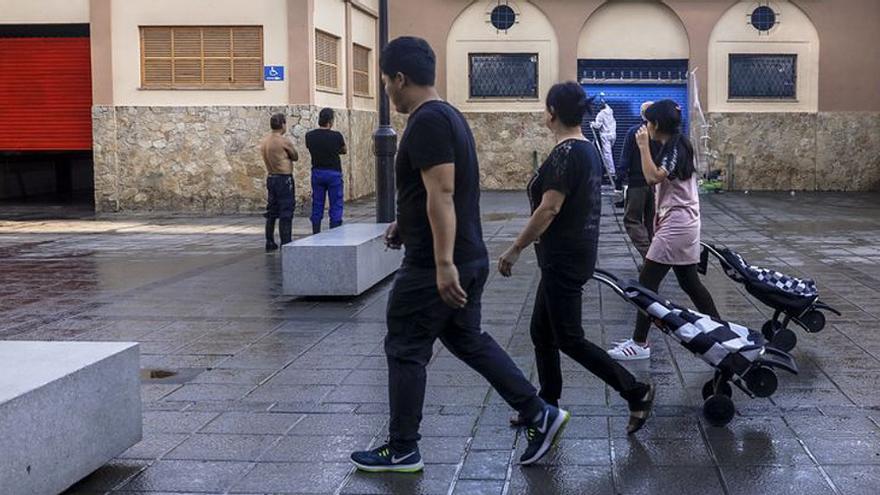 Daniela Vidal is visiting the Blanquerna neighborhood. You do not want to disclose your district of residence, but you think about this measure that you think "horrible". "I like my neighborhood, it has grace and some flaws, but it has worsened due to the excess of construction and I assure you that the secret places I would never tell Cort for that tourist guide because I will have more than enough tourists in droves," he points out. . "I'm dying of grief when I see that everything is focused on tourism, we should recover the industry that existed before the change in the economic model," he says. "Initiatives like this survey and subsequent guide is the destruction we pay for with our taxes", He snaps.
Rosa Garcia walk through the Ses Fonts Park, the favorite corner of your neighborhood, Camp Redó. It is one of the residents who feels dislike for including in a tourist guide the quiet and often unknown spaces of the suburbs. "Look, don't bother us, and even less with the danger of covid. And if you put me to one extreme, I answer you: come see the houses in Korea next door, where I live, and tourists will be able to see that they only clean around the Cathedral and its surroundings ", he says. In the central path of the park, with one of the most coveted shades of the district in summer due to its vaulted pergola covered with vegetation, are Rosa Jimenez and Marta Rosada. They do not quite understand the proposal of the City Council. "In the months of good weather the park is already full, there is no free bank. People are already coming from other neighborhoods, we just needed more people to come ", they denounce. Another neighbor who crosses the park does not want to give her name, "because I am going to be very emphatic": "I don't want to give more publicity to my neighborhood because when an area becomes fashionable it is a disaster for the neighbors. We have already seen what has happened to other areas ", he says.
Joana Well She is retired, walks with her granddaughter arm in arm through s'Escorxador. "I prefer that they do not come. Not tourists around here. There are already too many. And this is not to be a tourist area, please. Let them stay on the part of the pier that faces the sea, but not around here. I want to walk comfortably through these streets", sighs.
Other citizens would welcome the visit of tourists to their neighborhood. Magdalena Garcies, a pensioner, has no problem with it being that way as long as "quality tourism comes to the neighborhoodWe don't want drunken tourists because it would bring us more harm than benefit, and now I like Blanquerna a lot, I want her to stay as curious as possible, "he says. "It would seem perfect because tourists do not always have to stay in the center, I have traveled a lot and I like to see places that are not typical, but I think this area [Parc de ses Fonts] it would not attract tourists because of its characteristics. Maybe the neighborhood of the Plaza de Toros ", he says Esteban Santos, "Retired, Majorcan from León".
Nael I speak is a neighbor of Pere Garau. "Surprise" and "perplexity" are the words he uses to refer to this new tourist campaign of the Palma City Council. "This is one extension of the negative dynamics that tourism has generated in the old town. It's kind of socialization from the same. It has been clearly seen that they generate a theme park. I suspect this campaign has to do with outpost of the civic axis of Nuredduna, which is going to be a commercial center for tourists ", he warns. "They are two things that are related," he says. "In Nuredduna there are Chinese businesses that are very spacious and are ideal for franchises. People in the neighborhood are going to run out of 'parking', from paying 24 euros a year they will go to paying 65 a month, I already know two people whose rent is going to be raised and there is a building on that street in the that there are already rents at 1,400 euros and it is full of Germans. This it's going to be a Santa Catalina 2 and this campaign by the City Council is aimed at this ", he denounces.
"It is possible that some businesses are happy with this arrival of tourists, but for the neighbor who lives in the neighborhood it is not positive, because the few resources they have suffer," he points out. "Now you want extend that model from the old town to the rest of the city starting with the nearby areas, we are suffering a very worrying gentrifying dynamics", alert.
Ruth Miguel also resides in Pere Garau. When he arrived in the city, more than eleven years ago, "you could still live in the center of Palma. But it soon ended. I am a typical case: I had to flee from there, where the rents were abusive and there were hardly any leisure places not intended for tourism"He came to Pere Garau five years ago." My son was born here. The neighborhood has serious problems that have been ignored for years. Curiously, Now that they open a cute little hotel in Columnas, put some tacky pots in the Plaza de Pere Garau and give it a face wash to some streets. We will see if now that they are going to pedestrianize Nuredduna they take advantage and act in other areas as well. We think they are fixing the neighborhood for us, but it is for them. The process is unstoppable; I have no hope, "he blurts out." The house will go up and instead of a pleasant bar where I can have a beer, they will open a joint of bubble tea; instead of a haberdashery, we will see a waffle shop in the shape of genitals. Nor can I complain very loudly, because I am not, by far, among the most vulnerable. But above all, don't ask me which of my favorite places I want to be without a table. With me they do not count; It seems to me in quite bad taste ", responds to the City Council's call to citizens to respond to the survey of 'Your favorite palm. '

www.informacion.es
Eddie is an Australian news reporter with over 9 years in the industry and has published on Forbes and tech crunch.