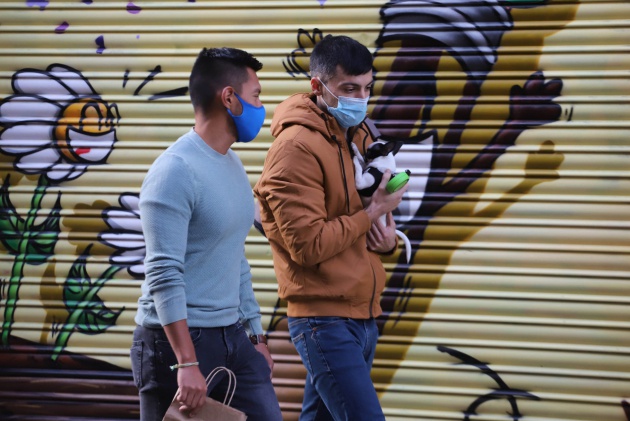 Manuela Astasio got married in Tarragona on October 16, and neither her parents nor those of her partner, Jaime, attended her wedding. "We saw my parents at Christmas, in 2019, and since then nothing," he tells by phone to Verne. "When mobility restrictions were lifted in June, all of our friends took the opportunity to travel, but we, with a three-year-old girl and my parents [en Madrid] at risk, we decided to wait as a precaution, "he explains. They had tickets to meet again in September, but that was when the virus got out of control again. "We no longer know when we can see each other," he says. "They are very understanding, but it generates a conflict for me: I can't help but think that they are not seeing their granddaughter grow because of our decisions, even though I think they are the right ones."
Astasio, 34, is not alone in feeling this way. Laura Carmona, a publicist from Pamplona living in Madrid, remembers of these last weeks, trying to meet friends, "the difficulties, the rush and misunderstandings to fulfill the famous quota of six people". Explains the Verne who has come to voluntarily stay out of a plan to which she was invited after checking on the stories of Instagram that that quota of six people had already been exceeded. "My head and chest are split in two for understanding. You know that the right thing to do is deal with it and make you understand it, but we are social beings, "he says. Carmona has also not seen her 95-year-old grandmother, Carolina, since Christmas.
In recent months, dozens of young people have posted messages on social networks in which they speak of similar feelings: from feeling that something is being lost by avoiding risk situations to guilt or the need to have to explain to friends and family for wanting to follow health regulations.
Among these messages on social networks, one of the most popular has been the thread of Carlos Samitier (@casamitier). In it he told how, after having decided to stay in Madrid after the latest restrictions on mobility in the capital, he had seen himself "seeking justification for my decision" and annoyed because "in many eyes, I seem like the prick who always complies with the rules" . Dozens of people have responded to the thread, acknowledging having felt similarly at some point during the pandemic. Is it normal to feel bad or guilty for trying to do things right?
For Amaya Prado, educational and vocal psychologist of the Official College of Psychologists of Madrid, having these feelings of sadness or guilt "is normal, as it is also that in young people these feelings are more pronounced." According to Prado by phone to Verne, "In the situation in which we find ourselves it is frequent that, on the one hand, the fact that we have to be responsible for the good of all clashes with the messages that we can receive from the other side: the 'why don't you go out' , the 'why haven't you come to see me' … part of social development [de los jóvenes] it is produced in the street, and for them, more than for any other sector, belonging to a group is important ".
Manuel Muñoz López, Professor of Psychological Assessment and Diagnosis at the Faculty of Psychology and director of the Chair UCM – Group 5 Against Stigma, agrees with Prado that this feeling of guilt or pain is normal, and points to two other causes: accumulated fatigue and lack of social reward. "From the institutions there has hardly been communication with young people, who do not have any social reward for complying with health recommendations," he says. "We all know that the better we do it, the sooner we will get out of this, but it is also important that there is a social perception of the effort involved, that it be recognized at the institutional level," explains Muñoz.
The chair directed by Muñoz has been in charge of carrying out the Longitudinal study of the psychological impact derived from Covid-19 in the Spanish population, an investigation for which thousands of interviews have been conducted at different times during the pandemic. "According to the study, young [de 18 a 30 años] they are one of the groups most affected psychologically ", he explains. The research does not speak directly about this feeling of sadness or guilt, but it does point out that young people are the ones with the most depressive symptoms and also the ones who feel the most loneliness.
What can we do to avoid that feeling
For Amaya Prado, one of the keys to avoid feelings of sadness or guilt is to be communicative and practice assertiveness, the social ability to express our wishes in a frank and friendly way. "Right now I think [la asertividad] is the key: to explain to our friends clearly that we are afraid of infecting those around us because there are vulnerable people and we want this to end as soon as possible ", he says. "This is a new situation, and therefore we have to learn to manage it and normalize these types of conversations, nothing happens to tell someone that we do not want them to remove their mask in front of us," he says.
For Prado, it is also important to "become aware that we are helping, feel part of the solution and that we are helping to protect your loved ones." Manuel Muñoz agrees, and considers that it should also be influenced by institutional communication. "We must establish a specific communication for young people, which highlights the consequences of not following the rules but also encourages positive messages: thanking the effort and remembering that the more rigorous we are, the sooner everything will end." In this Laura Carmona consoles herself, that the sooner she finishes, the sooner she can see her grandmother. "At the moment, the only thing I can use is the phone and call her on the landline, which is one meter from where she sits to watch TV," he says. "I don't see her, but I imagine her with her 95-year-old white hair trying harder than me to understand everything."
* You can also follow us on Instagram Y Flipboard. Don't miss out on the best of Verne!



verne.elpais.com
Digsmak is a news publisher with over 12 years of reporting experiance; and have published in many industry leading publications and news sites.