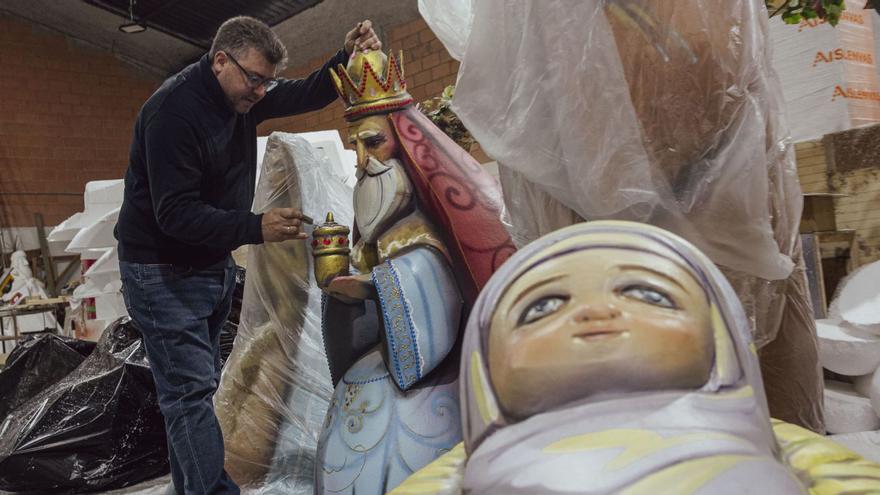 «It is going to be a smash hit. Mix Bonfires-Christmas It works very well and it is an economic aid that for us is a breath of fresh air ", says the artist Sergio Gómez, one of the nearly forty professionals who work against the clock in the workshops that not so long ago were empty due to the stoppage of parties by covid, which has led them to lose between 60% and 80% of the business for the year. Now they are bustling with artistic creations such as nativity scenes, reindeer, trees, stars, angels, lamppost ornaments and other Christmas themed decorations with bonfire aesthetics. A large part of the contracts are possible through a call for subsidies to municipalities for the elaboration of handmade Christmas elements promoted by the Provincial Council for 370,000 euros, to which 79 municipalities opted although aid has been approved for 42; but it is also due to town councils such as Alicante and San Vicente, which commission Christmas-themed creations from Bonfire builders. Some make the international leap, such as José Gómez Fonseca who, with the help of Carros de Foc, has designed a bonfire with Christmas motifs planted in Águeda (Portugal). «I am making decorations for Christmas events and themes in Elche and Murcia. Since restrictions were opened and capacity expanded, there is more work. People want to party and there is a high demand for decorations for entertainment venues. Halloween was also a boom.
One of the most prolific artists this Christmas is Fran Santonja, with commissions to decorate 13 towns, including Planes, Sella, Benimasot, San Isidro and Granja de Rocamora. «We have to live, maintain the ships because we have our materials inside, there are quarterly payments to the Treasury, insurance … Everything costs. You see that there have been no bonfires for two years, that we have not planted, and that these projects come out is a satisfaction and a great responsibility. The challenge is that all municipalities are happy with the work. Until now he had made Christmas decorations for shopping malls and other artists who build floats.
Just with the income from the fallas they planted in March, which were already built when the pandemic broke out, and with some earnings from painting murals and even buildings, the work for Christmas "ensures that you can throw a year perfectly." Now the headache is in the prices of the material they need, which has become more expensive due to supply problems and the rise in fuel and electricity. "There are carpentry companies that begin to fail the material and finding boards is complicated," explains Santonja. The package of white cork has risen from 50 euros to 75 years, hence they have bought a volume equivalent to two years of bonfires, with large orders that have gone to the warehouses because of the delay in serving them.
The artists who have won contracts are calling colleagues who have not been awarded any work so that this new business has an impact on most of the group. «The most important thing is that an artistic and tourist Christmas route is created in the province unique in the world. It is a very diverse decoration project, with a giant nativity scene in Alicante that is a Guinness record (its author, Pachi, also works on the Christmas decorations of several towns). It generates the idea of ​​exploiting a market by taking it to other places ", points out the senior teacher and president of the Artists Guild, Joaquín Rubio. In a year of hiatus, Christmas orders can represent between 15% and 20% of the budget for the year for professionals who basically survive with the remainder of the previous year and with the fallas burned in March. Rubio shares the decoration he is doing for Monforte del Cid with Fran Santonja. There are also artists hired directly by municipalities, such as Alejandro López, who will set up in San Vicente, commissioned by the Department of Festivities, a life-size nativity scene with the Virgin Mary, Saint Joseph and the Child, a Christmas tree and decorations for roundabouts. . And not union members like Juan Francisco Jesús, who makes sets for the Elda parade.
Pedro Espadero, who will sign the Official Bonfire of 2022 in Alicante, affirms that the money that the Provincial Council contributes this year to make Christmas decorations in towns, subsidizing municipalities, "is an incentive for artists and moves the workshops a little. Nativity scenes, Christmas pictures, entrance gateways to the villages … Everything was very stopped and he has come to help us a lot ». Sergio Gómez, author of the Children's Official, will transform the piece of the Adoration of the Virgin in 45 centimeters that he made last Christmas into three-meter nativity scenes for L'Orxa and Agres.
Another artist with commissions is Federico Molinero, who prepares a Three Wise Men, a nativity scene and other figures for Torremanzanas and Daya Nueva. "This gives us work after being unemployed for so long. At least we have a full month busy, "he says. Juanjo Sevior and José Priol will decorate Castell de Guadalest, Algueña and Murla; and Juan Manuel Varó and Juan Ramón Núñez (Jota de Juanes), and Eliot García divide up other towns. «We are doing various nativity scenes and other decorations such as photocalls, sculptures, a bit of everything. The Christmas work solves the situation a bit for us, "says Sevior, who has already built sets for musicals and theaters in Madrid. "It is an impulse and the demonstration that normality, and the Fallas and Bonfires of 2022 are getting closer and closer." Javier Gómez Morollón, Pablo González Devesa and Javier Capella are other artists who also make Christmas designs.

www.informacion.es
Eddie is an Australian news reporter with over 9 years in the industry and has published on Forbes and tech crunch.