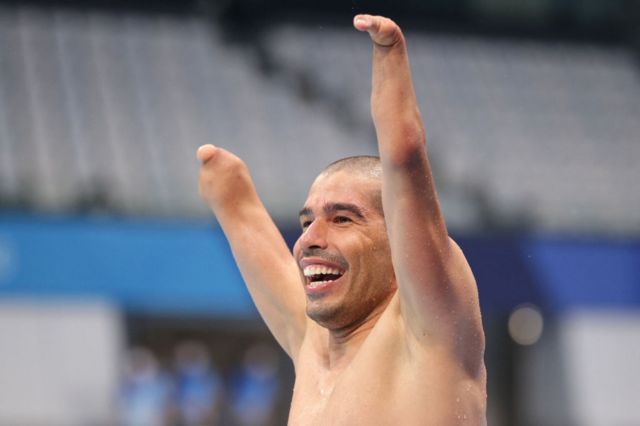 "We are different. This is very important for them to understand, but we are also the same. In achievements, in training. In trying to achieve our dreams."
"I don't believe in the term parathlete. I am an athlete."
The phrase is from Daniel Dias. He is Brazilian and has won 25 Paralympic medals in swimming.
No swimmer in the history of the Paralympic Games has such a large number of medals: 14 gold, seven silver and four bronze.
A feat that began in Beijing 2008 with four gold medals, continued in London 2012 with six more golds and in Rio 2016, at home, he added another four.
Last Tuesday he added his medal number 25, in the 200-meter butterfly event in the Paralympics that take place in Tokyo. He was in third place.
All he did was expand his legend.
"This is very important for people to understand, especially for people with disabilities. We are capable, the same, but also different," he told the BBC.
The story of a winner
At 1.73 m tall, Dias is known as "pool man" for his speed in the water and for his endurance: he swims between five and eight km a day as training.
The Paralympic legend was born on May 24, 1988 in Camanducaia, in the state of Minas Gerais, in southern Brazil.
He was born with a congenital malformation of his arms and right leg. But as he has said in several interviews, at the 2004 Paralympic Games in Athens he saw his compatriot Clodoaldo Da Silva take home six gold medals.
And he believed he could do it too.
Thus, after undergoing hard training, the 2008 Beijing Games arrived and he hung four gold medals in the 50-meter backstroke, 100-meter freestyle, 200-meter freestyle and 200-meter medley (all in their category, the S5).
He also got four silver medals. In June 2009, due to his extraordinary performance in Beijing 2008, he received the Laureus award for the best Paralympic athlete.
In London 2012 he came back for more: six gold medals. In Rio 2016 he added another four gold, three silver and five bronze.
And in the Tokyo jousts, which he announced would be his last Games, he already has a bronze one.
"Being an athlete is very difficult. But being a parathlete is much more. We have to deal with many things, including prejudice," he told the BBC.
"But at the same time, sport is an amazing tool to show human excellence ", he pointed.
Controversial
But despite being a Paralympic legend, the Brazilian is not happy with the qualification system for swimmers.
"For an athlete to be able to compete, we must be classified. We know. But if you asked me: Can you explain today's classification system to me? No, I can't."
Paralympic swimmers – as in other disciplines, such as athletics – are classified according to their disability.
Swimmers are scored from one to ten, inversely proportional to disability: that is, category one brings together athletes with the greatest disabilities. Dias was born with two arms and one leg that were not developed, but they have put him in category five.
"In 2016 I had seven world records. But today unfortunately I do not have any. They were taken from me by athletes from the top group. I am a five, they were a six. But today they are also a five," he said.
Dias claims that these athletes are "less disabled" so they were able to break their records more easily, even though he has even become faster in the pool.
"The world is evolving. Technology is evolving. And ranking cannot use that technology (to better measure skill level). Why not?", asked the swimmer.
Now you can receive notifications from BBC Mundo. Download the new version of our app and activate them so you don't miss out on our best content.

www.bbc.com
Eddie is an Australian news reporter with over 9 years in the industry and has published on Forbes and tech crunch.