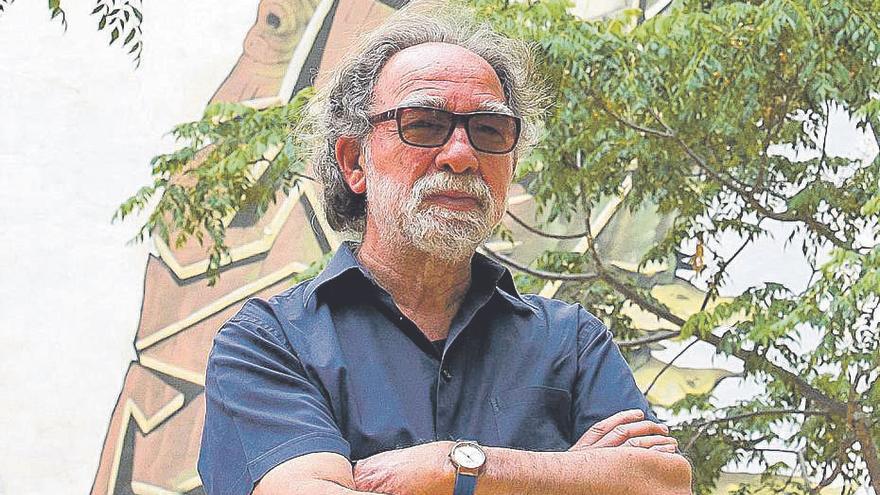 The origin of one of the most popular neighborhoods in Alicante, Benalúa, dates back to 1883, when the company "Los ten amigos" acquired 150,000 m2 of land and planned the construction of 208 homes. Currently around 10,000 people live there, 15% are under 20 years of age and 30% are over 65. Ernest Gil Gimeno has belonged to the "El Templete" Neighborhood Association of Benalúa since 2012, and has been its president for three years.
How did the association arise and how many associates do they currently have?
El Templete as a neighborhood association has been legally constituted since July 5, 1988, although the germ dates back to 1976. In January 1977 a cyclostile magazine entitled "Vecino Libre" was published, an organ of the A.VV. "Benaljoba" (Benalúa, José Antonio, Babel). At the moment we have about 70 members up to date with payment. The restrictions on mobility that the pandemic has imposed on us have meant that since March 14, 2020 we have not been able to hold assemblies or meetings. The contacts have been telematic and some partners have been lost.
How are they organized?
Except for a pandemic parenthesis, we have been meeting every Wednesday from 6:00 p.m. to 8:00 p.m. to plan work and answer suggestions and queries. We also have a Facebook and Twitter account.
How do you assess the work that has been carried out by the association and the role that these types of neighborhood entities play in society?
The AA.VV. They are entities that act a bit like the Jiminy Cricket of the administrations. Unfortunately it seems that, at certain heights, ears that should be very attentive to the needs of our neighbors are attacked by a selective deafness, and by dint of screaming we end up hoarse.
Do these types of organizations have a future?
The AA.VV. they will go through ups and downs, but until the perfect society is reached they will continue to be necessary. Participating to improve society is a right and a duty.
What activities do they carry out?
Of all kinds, organizational, cultural, recreational and healthy, in addition to the claims. Among the most recently highlighted is the exhibition-tribute to Remigio Soler, painter, sculptor, foguerer, illustrious and practicing Benaluense. Promoted by El Templete, in 2016, it reached more than 5,000 visitors at the Fish Market.
What does Benalúa have that makes the neighborhood a good place to live?
Especially its location facing the sea, its wide and tree-lined streets, an expansion that could be done here and not in other areas because it was not profitable, and the proximity to the center.
What relationship do they have with other groups in the neighborhood?
We maintain good relations and we are strengthening ties with the merchants association, la foguera, El Tumbao, Alicante Vivo, the Arniches Theater …
And with the Alicante City Council?
The City Council seems to have a lost gaze on large projects and forgets the immediate, the everyday; it seems that he does not even remember that Benalúa exists.
Its main claim for 20 years is a community social center.
We put the focus on the Community Social Center. It is a backbone of social life that we have been demanding for more than 20 years. We know what constancy is. There are 19 social centers in the city, why not here? The aging of the population is a fact and the absence of a community center blocks social life. Another urgency is a day center, increasingly necessary. How come the administration doesn't see it?
Another of its main demands is to withdraw traffic from some streets and promote pedestrian traffic, as well as the renovation of the neighborhood's perimeter avenues, alluding to Aguilera and Catedrático Soler.
This is an initiative of the Merchants Association that we support. The Sustainable Development Goals of the 2030 Agenda are goals to be achieved, among other things, for redistributive justice and to face the climate emergency. Time is short. Pedestrianizing the streets, as a test bed, can advance the model of the «15-minute city», a city of proximity to all essential services, with friendly and liveable social spaces. It is being experimented in several cities, in Paris … and [con ironía] soon in Benalúa. To recover the streets for people and not for vehicles or simply for terraces. That six-year-olds can walk alone to school because of neighborhood relations.
Much to do: lack of sports facilities, dozens of empty tree pits, the port-city relationship, Central Park, the old asylum …
It has been said that the City Council is working on an initiative similar to the one that has been very successful in Plaza de América, with intergenerational housing.
Intergenerational housing is very necessary. They are announced for the umpteenth time. When will the next one be?
What will the acquisition of the flour mills and the development of Benalúa Sur represent for the neighborhood?
We applaud the recovery of the flour mills … Alicante has lost so many heritage elements … For now it remains, but what will become of them?

www.informacion.es
Eddie is an Australian news reporter with over 9 years in the industry and has published on Forbes and tech crunch.