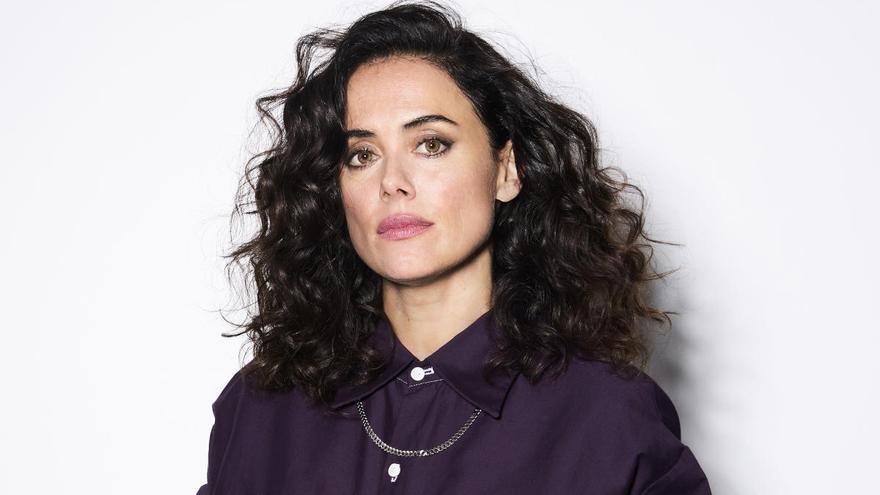 What of Patricia López Arnaiz (Vitoria, 1981) it is something that sometimes happens. They say that being at the right time and in the right place may lead you to achieve a dream, but the truth is that it is hard work and perseverance that make you, in the end, touch the sky a little.
In López Arnaiz's sky, awards are now flying overhead. The Basque actress, who has undergone major productions such as 'The invisible guardian' and its sequels and that has been more than praised for its role in the TVE series 'The other look', now gets fully into a leading role in the film 'Ane', by David P. Sañudo and where does he play Lide, an imperfect mother and courageous, who in the middle of the end of the Basque conflict and with the 'Y Basque' in between, will have to undertake the search for her missing teenage daughter.
The film, recorded in Basque, has already been defined as the great revelation of Spanish cinema this year, and she, López Arnaiz, attracted applause everywhere at the San Sebastián Film Festival, where the film was premiered and where critics began to pave a path that, according to the rumors of the most knowledgeable, goes direct to the Goya nomination.
For now López Arnaiz will have to see if it is done with the Forqué for the best female performance, and where she will have to measure roles with Andrea Fandos for 'The girls', Candela Peña for 'Rosa's wedding' and Kiti Mánver for 'El inconveniente'.
– When 'Ane' was released in Donosti, how did you receive the good reviews?
-It was a super great joy. This is the moment you are waiting for, for the public to see the movie and you don't know what will happen … I hadn't seen the movie but I was very happy with the shooting. It was very nice. We were very happy to be able to premiere thereIt was a good first 'feedback', and then it was a bomb, very exciting, we lived it as a team. That the character of Lide reached people, that they were excited, that they understood him … it was a surprise.
– After so many years in the world of cinema, do you never stop surprising yourself?
– Deep down I think I have a lot to surprise me. The reality is that I took a long time but they were dwarf droplets, one-sentence characters … really in what it is to work, in getting into work to the fullest, it took three years. I have much to discover and I continue to discover. I have met people who have been very passionate for many years and others who are very disenchanted.
– And you, have you ever been disenchanted?
– There have been times when the day before going to shoot you think: Why am I doing this? Especially at the beginning, when she had not yet played a character with chicha, when she was not very familiar with the environment and was very insecure.
When you have to go to a shoot to say a phrase you say: God, at what moment! But then you always go and it's never that bad. This is the hardest part of the trade, the small parts can even be unpleasant. In show business there are very uncomfortable moments.
– When they offered you the role, why did you say yes?
– The first thing I thought was that the script was very curious. The authorship, the style of writing caught my attention … it was something special, particular, special … As for the character, I loved it. What a kinky aunt, what edge, how irreverent, she doesn't care about everything, I loved that roll.
Later, with more reading and with a better vision, I had the feeling that it was a script with many layers, with a lot of material to work with and with different lines of work. I said yes although I had several projects to choose from because I thought it was a cool script and I loved the character. I wanted to work something like more imperfect, decrepit. I have made many very sensible and heroic characters.
I really believe that the script is very good for the interpreter job, parts of a site where they make it easy for you to really immerse yourself in something very real. It is not forced, it is written in a way that makes it live, everything is made to load you with a memory and situations that take you places.
– Do you have something in common with Lide?
– I suppose that what we are most alike is in stubbornness. How he turns to look for his daughter … the ability to show his error, to show vulnerability …
– And with Ane?
– I identify a little in the revolution with the mother. As a teenager I gave my parents a little war, that thing about As a chick, you legitimize your opinion with a lot of right and you fight with it because you can't do what you want. She was a warrior.
– It seems like mothers are always perfect but Lide is not …
– It's what I love about the character, his imperfection. When I saw the film in Donosti I was moved, I understand it so well … because really, in a more or less obvious way, we are all imperfect and we all have our difficulties. You see the pride between mother and daughter, the flawed communication. That she runs into a difficulty and there is something that makes her go out and show herself not so tough is so human… That idea of ​​a perfect mother will always be an image because there will always be difficulty. Suddenly I like the character for that, she is not a heroine and that's it. It is real, close to what we know.
Goenaga and Arregi
– Does being the protagonist of a film make you feel responsible for what it transmits?
– I always think that there is a responsibility with what you try to represent. If you are going to make a person in war, for example, you have to respect, not trivialize. That is a good question. Part of our job is to understand that we must respect, take into account the people who have experienced these situations.. The suffering of each one must be taken care of and the characters take care of.
– Cinema in Basque has made its way in recent years, what do you think has been the turning point?
– I deduce that it has to do with quality, but I do not consider myself with fine criteria for it. When a great Basque cinema has been made, it has transcended. Now I think of Goenaga and Arregi who are references that have led him to the Oscars. They are great filmmakers and they count very beautifully.
– The plot of 'Ane' is steeped in the Basque conflict, how long does it take?
– It's infinite!. It's amazing, more and more things are coming out. In the case of 'Ane', the conflict does not countNow they want to tell many things and everything is countable, the interesting thing is that they talk about conflict and show all the visions and not always the same story, which is what they have just fed up.
'Ane' tells of the conflict because it is a story that should be told in the Basque Country, but the theme of the train symbolically worked very well. David likes to work on metaphor, communication and isolation, Lide and Ane on each side. David tries to go to something real, he has not gone to tell that in particular, but it served him.
– What do the awards mean to you?
– It's something so new that I still don't know what it means to me. It is a joy, it has been very nice to share the awards I have received so far, it gives you a rush. The nominations with 'Ane' give me a lot of joy but I have a feeling that there is a part of me that does not understand. I do not have a very firm criterion. There is something strange. I know that in the end it is a recognition of the job and that is super cool.
This is a very intimate job, you put a very emotional part, you try to make it happen and the nomination is the greatest reward and that they keep proposing interesting jobs. The awards are a symptom of that. I am discovering this world. I am not fully aware.
– How have you lived the year of the pandemic and the fall of the sector?
– Everything is an atrocity … I have not lacked work because the audiovisual is the least damaged part, there have been productions that have fallen but have quickly re-engaged, but those who have a worse time are other sectors of culture. Sometimes I am a bit pessimistic, I don't know where things will lead, I feel that there is a gap, a super large void in terms of what art and culture supposed in normality and now it is all a chore. To what extent were we aware of how important it was to socialize? Everything has diminished and I don't know what to think.

www.informacion.es
Digsmak is a news publisher with over 12 years of reporting experiance; and have published in many industry leading publications and news sites.