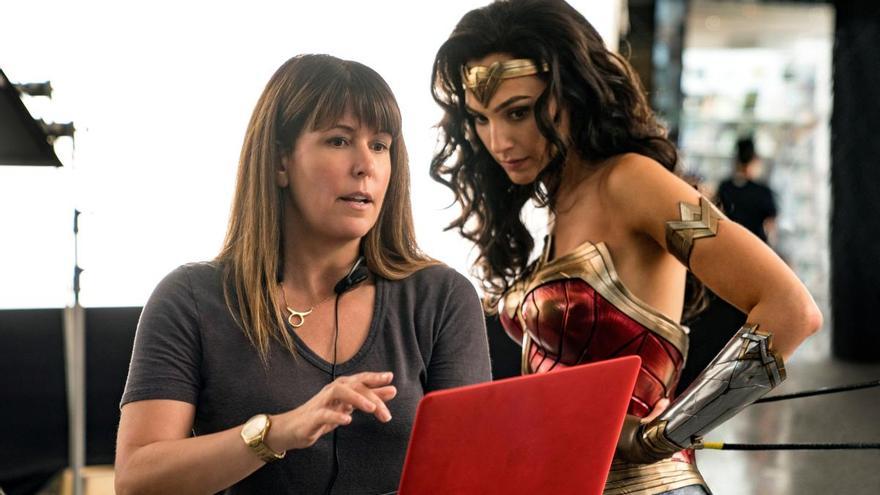 In a disastrous year for the cinema and without blockbusters, 'Wonder Woman 1984 'is undoubtedly one of the blockbusters with capital letters of 2020, but its director Patty Jenkins assured that, no matter how many zeros this film has in its budget, she conceived it as an almost intimate project.
"Both with 'Wonder Woman' (2017) and with 'Wonder Woman 1984' I felt as if I was making an independent, small and personal film," he said in an interview.
After being delayed three times, 'Wonder Woman 1984', again with Gal Gadot as a star, will be presented on Christmas Day with a controversial simultaneous premiere in theaters and on the HBO Max platform that has caused a tremendous controversy in Hollywood (both the director and the protagonist endorsed this solution from Warner Bros.).
Far from World War I of 'Wonder Woman', this sequel travels to the 80s, where Diana Prince (Gadot) will have to face two new villains played by Pedro Pascal and Kristen Wiig.
Of all the possible eras, why did you choose the 80s of consumerism and individualism for 'Wonder Woman 1984'?
The Wonder Woman that I fell in love with was Lynda Carter in the series of the late 70s and early 80s. To a certain extent and in my head, that time is where Wonder Woman belongs, to that stage of culture American pop.
But it was also exciting to confront our now fully formed protagonist against the evil of our time: consumerism, commercialism and other things of capitalism. What kind of villain is born from that.
The truth is another important theme in the film that is also very current. How can we protect the truth from hoaxes and lies?
A: I really don't know, because obviously there are accesses to the truth (…) I wish there was a kind of Wikipedia that was one hundred percent verified information or something like that, but then there would be people who would not trust that or who would find the right way not to trust that.
What I do challenge people to is at least try to be brave enough to try to find the truth. Don't decide what to believe just on your instincts without examining it and educating yourself about it. That's what I think we need to improve on: at least try. A lot of people don't try, a lot of people just stubbornly stick to their thirteen.
In 'Wonder Woman 1984' we see a more human and less perfect Diana Prince.
I love superhero stories that we can relate to. So I'm very interested in what it would be like if you were in Diana's shoes: how would you feel, what mistakes would you make, what lessons would you learn, what would you do.
In this story, I love that even Diana makes mistakes and has her own problems. That is what makes it three-dimensional and human. I would never make a superhero who didn't have those characteristics.
How has Gal Gadot internalized the role of icon for feminism that Wonder Woman represents?
She hasn't changed a thing: I think she always was. She is very iconic and ambitious in real life as is the character.
It has been wonderful to spend time with her and see how that person really was in her own life naturally. I think she works very hard to use that power that she has now and use it for good, so it is quite natural for her but it is also something splendid.
In this golden age of superhero cinema, how did you find your personal touch and your own space in huge movies like these?
I was lucky because it was very simple. I wanted to do 'Wonder Woman' for a long time. And his origin story had a lot of things that he believed he could make a very personal movie with. He talked about issues and things that happen in everyone's lives and, of course, in mine.
With both 'Wonder Woman' and 'Wonder Woman 1984' I felt like I was making a small, personal, independent film. But you can't do this with everything – that only works if the story syncs with something you want to tell as a personal movie. You can't force it.
Part of the production of 'Wonder Woman 1984' was made in Spain. Why did you decide to go there and what was it like to shoot in Spain?
First of all, Spain is incredible and the Spanish film industry is incredible.
We had access to incredibly skilled people and teams. And the diversity of landscapes of the Canary Islands is amazing. You had Tenerife, which is mountainous … And what was the other one like? Oh my god, I know the name … It was an island with a desert … Fuerteventura! Very, very different.
And we also went to Almería, which was also very different, so it was just a variety of landscapes that fit perfectly with the different parts of our history.

www.informacion.es
Digsmak is a news publisher with over 12 years of reporting experiance; and have published in many industry leading publications and news sites.