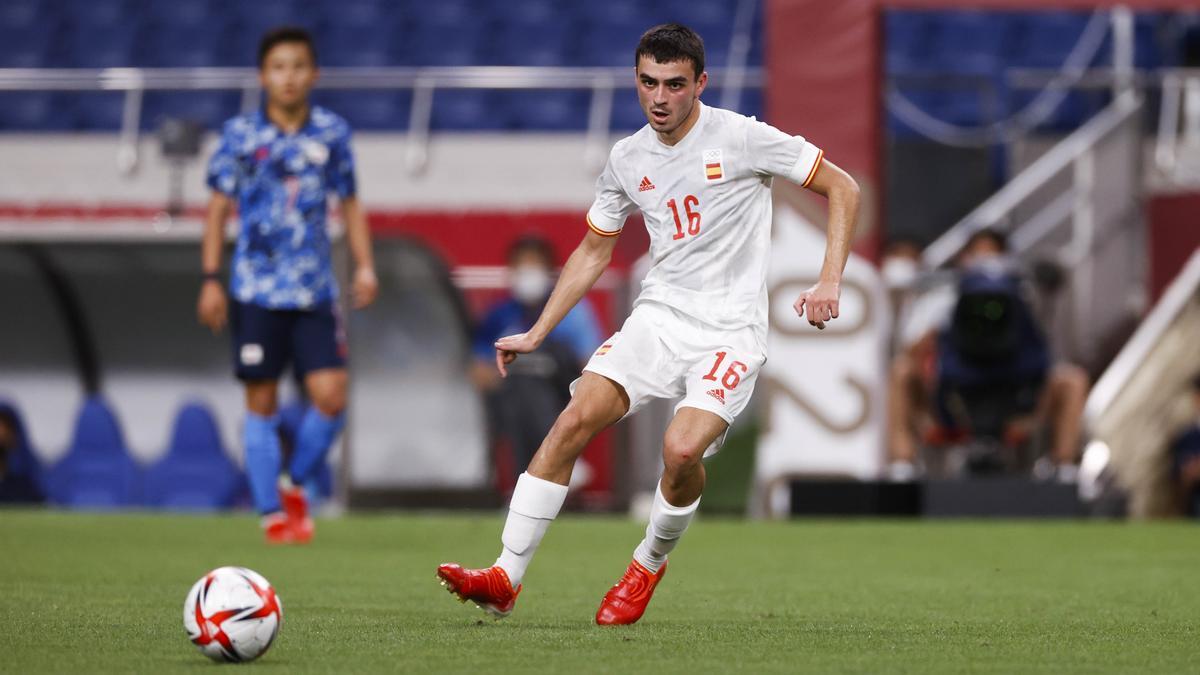 It is night in Japan and Pedri González (Tegueste, 2002) responds in his room in Tokyo on the eve of a historic date. You have given up part of your vacation for a unique dream, which is not available to everyone. The Olympic final awaits you, a great game against Brazil (Saturday, 1:30 p.m. peninsular time) and the possibility of crossing the threshold of history: in a few hours he can become the first person from Tenerife to win a gold medal at the Games. His humility presides over each of his messages.
A huge starter at Barça, in the national team, in the Games … Could you imagine at the beginning of the season that he would have an almost perfect course like this one?
IF someone had told me a year ago, I would have responded if we are crazy. They are a lot of things to be still in my first season, even more so in a big club like Barça. And as for the national team and the Games, I am proud to be here and I enjoy it every day.
And the next thing is to play against Brazil.
For me, he is the rival that I wanted from the beginning. I would have signed it. I have always liked playing against the best and Brazil is one of the most powerful teams here. It will be difficult to beat them because they play football very well. They are technical players, who like to have fun with the ball and are going to propose a very complete match.
He has been a starter every day. How would you analyze your tournament and how it has looked at the Games so far?
The truth is that I feel fine. I always try to contribute as much as possible to the team and do what the coach tells me at all times. Helping teammates is the most important thing and in this team we have a great group, which is what has led us to be in the final.
Did you know that you could be Tenerife's first sport gold medalist?
I did not know that, and hopefully it can happen. I am proud to represent the Canary Islands at the Olympic Games and any Canary will be proud of what I am experiencing. It is true that I feel loved and in this concentration so complicated by the situation that exists, I hope we have the opportunity to win the tournament because it is a very beautiful competition.
What would you say to those who insist that you need rest and vacations? Is tired?
It's normal for people to think I'm tired. I have played many games but I try to rest day by day, sleep after the games, eat well and pay attention to the nutritionists and specialists that we have in the national team. They have not been able to come here due to the issue of accreditations, but it is important to listen to their recommendations and thus be always available to the team.
How do you imagine the final? How would you like the Yokohama game to go?
Mainly I would like us to win, that is the fundamental thing. I have not imagined the game or thought how it will be. I am more about living and enjoying it in the moment.
Only the greatest have achieved titles with their clubs and a gold in the Games: Messi, Neymar …
For me it would be an honor to achieve what they do, but I don't compare myself to those beasts, far from it. They have been everything in football and any comparison with the two is impossible. I think more about how it would be a joy for me and my family.
He has said that he will do what Barça tells him in terms of rest and holidays.
That's right, I'll do what Barça says.
What makes an athlete more excited: winning a title with the national team or doing it with his club?
Given the opportunity to achieve one thing and the other, I don't think you have to choose. It is true that with Barça there are many years ahead to win important titles like the Champions League and that this can only be once in a lifetime, but I aspire to the maximum in all competitions.
Through the networks we have seen him enjoy and make the most of the Olympic experience. How has the coexistence and routine been in the Villa?
It is crazy to see that all athletes sleep in the same conditions and under the same roof, although some are more famous or famous than others. Everyone has treated me well when I have asked for a photo, for example Gasol. The treatment of athletes is appreciated, who are so close and behave that well with one. It is a luxury to have such references.

www.informacion.es
Eddie is an Australian news reporter with over 9 years in the industry and has published on Forbes and tech crunch.