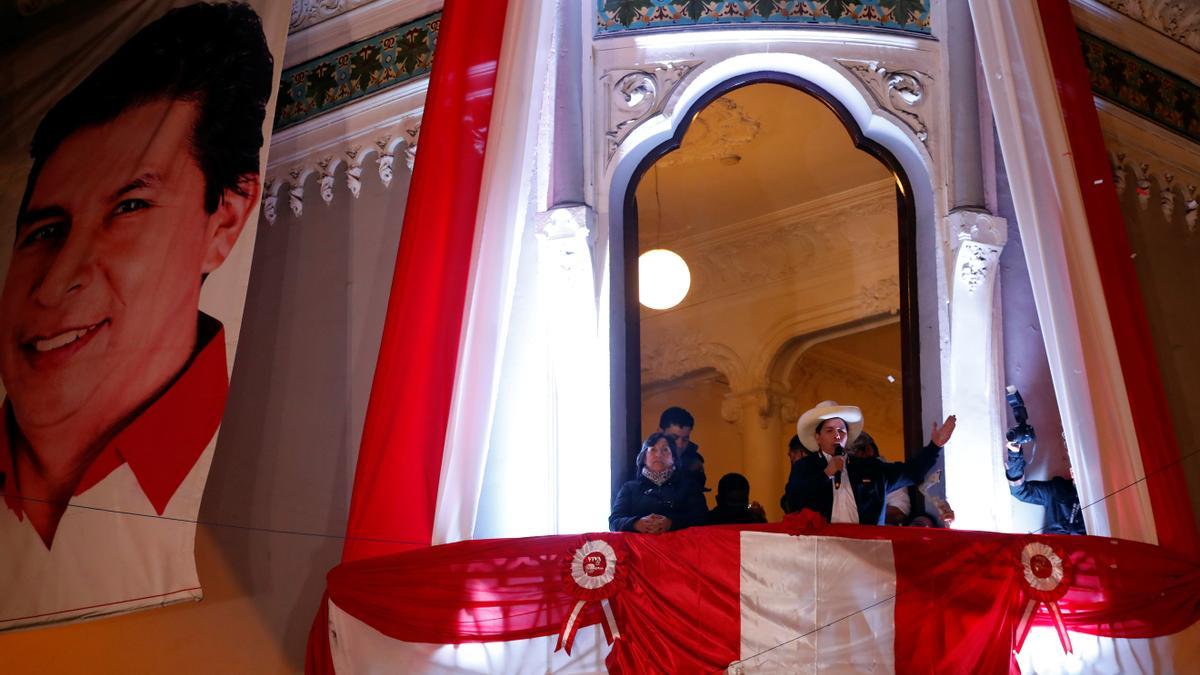 The National Electoral Jury of Peru (JNE) has proclaimed Pedro Castillo as the elected president of the country South American for the period 2021-2026. In a virtual ceremony that began at 7:00 p.m. (local time), the JNE presented the general act of proclamation, a document that certifies the result in which the leader of Peru Libre has obtained 50.12% of the support against the Popular Force candidate, Keiko Fujimori, who obtained 49.87%. Specifically, 44,263 votes have given Castillo the victory after the JNE has dismissed hundreds of annulment appeals of minutes presented by Fuerza Popular. In the session, Dina Boluarte was also proclaimed as the first vice president of the country and Castillo himself was present, who will assume the presidency on July 28 when the term of the interim president, Francisco Sagasti, expires.
Next, the president-elect has launched a message on his Twitter account in which he thanked the "Peruvian people for this historic triumph." "The time has come to call on all sectors of society to build together an inclusive Peru, a just Peru, a Free Peru," he said. "We call on the Afro, coastal, Andean and Amazonian peoples, the working class and their unions, the native and peasant communities and all of society to do in this beautiful homeland," he added and remarked that he seeks a Peru "without discrimination and for the rights of all ". He has also given a speech at the headquarters of his party in which has invited Fujimori to "this space to be a government of all Peruvians, of all bloods, without any discrimination "." To Mrs. Fujimori … Let's not put more obstacles to get ahead, no more obstacles, "he mentioned. He also addressed the rest of the forces:" Welcome everyone. Bring your experience, but with your loyalty and transparency, "he clarified." We Peruvians will create true economic development (…) We will be respectful of the institutional framework of this Constitution by which we have been elected until when the people decide. " , has riveted, according to RPP.
For its part, Sagasti has saluted Castillo's proclamation through your Twitter account. "Let us look with optimism at the future of our country, nine days before the Bicentennial, that this is the beginning of a new stage of reconciliation, consensus and unity," he said.
Hours before the proclamation, the JNE has announced that it unanimously dismisses the last five appeals presented by Fuerza Popular against the presidential election process and, subsequently, Fujimori has advanced that he would recognize those results, although he has insisted on his complaints of electoral fraud.

www.informacion.es
Eddie is an Australian news reporter with over 9 years in the industry and has published on Forbes and tech crunch.