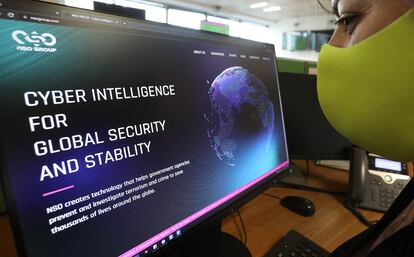 The global war on terrorism has given much of itself. The dissidents and what remains of the persecuted minorities in countries such as Russia, China or Saudi Arabia know this after the declaration of war between the empires of good and evil, when friends and more or less circumstantial allies of Washington could include in the axis of terror to whom it suited them.
It is also known by those in the thriving arms and security business, such as NSO Group, the Israeli company that created Pegasus, the sophisticated wiretapping software, now denounced by a consortium led by International Amnesty Y Forbidden Stories. Thanks to its technology, at least fourteen top-level leaders have remained within the reach of spies: three presidents (Macron among them), ten prime ministers and even a king, that of Morocco, subjected to monitoring by his own collaborators. According to NSO Group, its activities "help government agencies to prevent and investigate terrorism and organized crime to save thousands of lives around the planet."
The revelations have shocked international diplomacy. Again, a private company exhibits a power that is beyond all control and ultimately allows Israel, the state that protects it, to use it as a diplomatic weapon. The Israeli newspaper Haaretz has lifted the map of the countries privileged by Pegasus and it turns out that it corresponds exactly to Netanyahu's travels. Among the Arabs, Morocco, the Emirates, Bahrain and Saudi Arabia stand out, those implicated in the famous Abraham Pacts, sponsored by Trump in the last months of his presidency. In Europe, Hungary, Mexico in America, Azerbaijan in Central Asia and India in South Asia stand out.
The liberal MEP and former Belgian Prime Minister Guy Verhofstadt, concerned about illiberal and authoritarian Hungary, has no doubts on the matter: "There is a dictatorship that is growing within the European Union and we need a full investigation by Parliament." The Hungarian case being serious, it is more serious where despotism is inherent, as in Saudi Arabia, where wiretapping with Israeli technology is related to the murder of journalist Jamal Khashoggi by order of the crown prince, Mohamed bin Salman.
The scandal will force many explanations. Hungary owes them to the European Union. Also Morocco to France. But the government with the greatest responsibilities is that of Israel. It is a heavy irony of history that its security companies, generated by its prosperous military espionage complex and protected by its governments, are the ones that are sowing the seeds around the world with which totalitarians want to destroy democracies.

elpais.com
Eddie is an Australian news reporter with over 9 years in the industry and has published on Forbes and tech crunch.