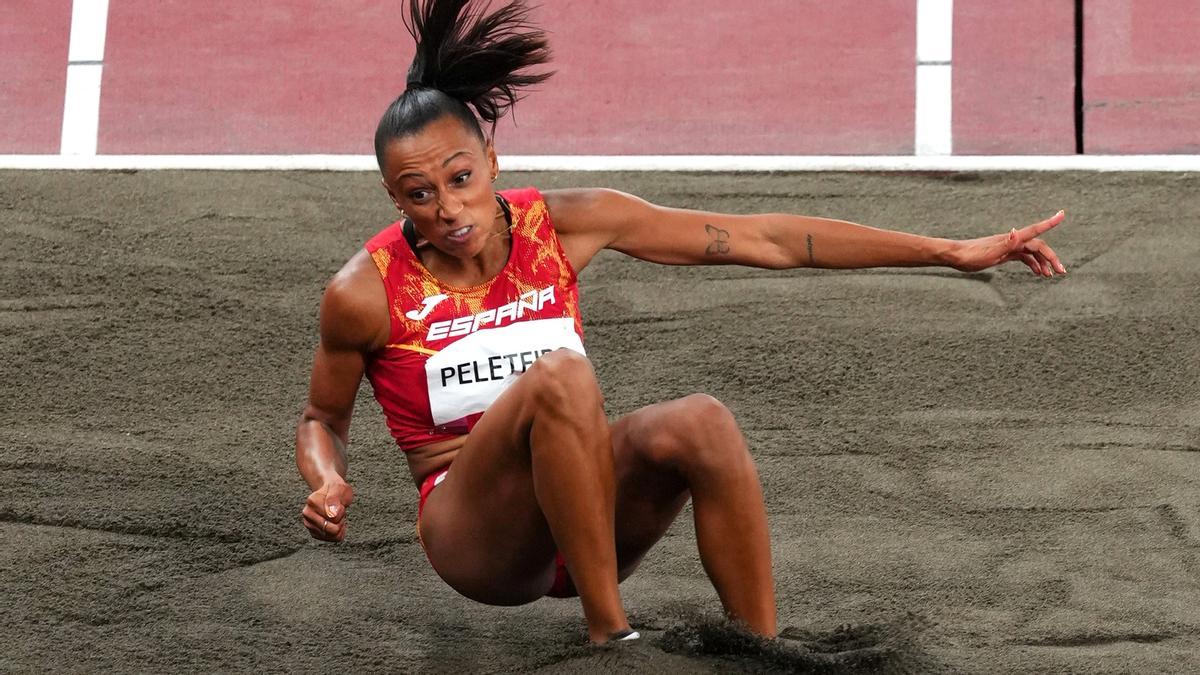 Ana Peleteiro has had in Tokyo the pleasure of having become the third Spanish woman to win an Olympic medal in athletics (bronze in triple jump) and the privilege of having closely watched the world record of her training partner, the Venezuelan Yulimar Rojas (15.67).
Two successive Spanish records (14.77 and 14.87) they put the finishing touch to the round success of the Galician athlete in the Games.
The pioneer was Maria Vasco, who obtained an Olympic bronze in the 20 km march of Sydney 2000. Then it was 16 years before Ruth Beitia was proclaimed height champion in Rio 2016.
Now the span has been shorter, barely five years into the long Olympic cycle. Peleteiro, what she had already been bronze in an indoor World Cup and European champion indoors, It has formed a shortlist to make history together with those.
On March 3, 2019, at the Emirates Arena in Glasgow, he achieved a European indoor title that was accompanied by a new record of Spain (14,73), erasing from the lists that of Carlota Castrejana, who attended his dispossession as team leader.
Seven years before the Galician had been junior world champion in Barcelona, and in the span of just one year he had hung two bronze medals: one in the indoor World Cups and another in these Berlin Europeans, this one gold.
its "African blood", as he likes to highlight, but above all the competitive gene that your coach has passed on to you, Iván Pedroso, have made her a superb competitor, capable of getting the best of herself on big occasions, without wrinkling before anyone.
He started in athletics when he was 6 years old in the schools of Ribeira, where María José Martínez Patiño and Carlos Adán, two outstanding former athletes, had the opportunity to appreciate his incipient qualities. She became Galician cross-country runner-up for children, but it soon became clear that her future lay in horizontal jumps. In the exercises on foot together he clearly beat all of them.
After her first explosion, at the Junior World Cups in Barcelona, ​​Ana, dazzled by her success and her media appeal, stalled on a journey through the desert that lasted almost four years, until she met Iván Pedroso.
Peleteiro has recovered the punch that led her, at 16, to be junior world champion with a mark of 14.17. Pedroso has had a good part to blame for the cure.
The Cuban ex-athlete trains in Guadalajara world figures of the triple as the Venezuelan Yulimar Rojas, world champion, or the Portuguese Nelson Évora, Olympic champion in Beijing 2008, and now a sentimental partner of the Galician medalist.
Qualitative leap
The year 2017 was a qualitative leap in Peleteiro's career. His seventh place at the Absolute World Cups in London worked the miracle that he began to seriously believe in his possibilities.
Under Pedroso's direction, he greatly improved his power and speed, which was already one of his great virtues.. As soon as the technique has polished the successes, already in the senior category, have not stopped taking place.
He has lost weight since he has been with Pedroso. "When I started with him I weighed 60 kilos, in the World Cups in London last year 59 and now He's around 57 and a half. "I have made an effort to be light in weight, taking good care of my diet," she explains.
At some point in her career, after the junior world title in Barcelona, ​​she lost the north a bit, wrapped in a media dust when she was only 16 years old. His incorporation to Pedroso's group gave him the necessary pause to regain discipline at work. Now he works a lot in training. "I was very lazy, I did the right thing. Not now, if I can do a little more, I do it. Enough to lose respect for the competition."

www.informacion.es
Eddie is an Australian news reporter with over 9 years in the industry and has published on Forbes and tech crunch.