Released from detention in Myanmar, protesters and journalists have described beatings, miserable conditions and cruelty under the military dictatorship opposed by the majority of the population.
Hnin, 23, was arrested along with 400 other youths in a cloud of stun grenades and tear gas in the commercial capital of Yangon on March 3 for protesting the military coup.
"When I opened my eyes, the police were holding guns in front of us," he said. "We thought it was a dream, but it was a reality that we couldn't avoid."
Some male protesters were beaten with fists and truncheons, he said, but several officers prevented their colleagues from beating the women. After their personal details were recorded at a local sports stadium, the detainees were taken to Insein Prison, a colonial-era compound notorious for torture. They are the last generation of thousands of political prisoners to experience their filthy conditions.
Hnin shared his cell with 80 inmates and countless mosquitoes. As repressions abroad intensified, more women were sent, especially from the poorer areas of Hlaingthaya and Shwepyitha in Yangon, where security forces have unleashed relentless violence.
He remembered how during the first nights the women cried and writhed on the floor, where they were all forced to sleep without beds. "Some people were unconscious," he said. "They were long nights."
Nearby was a teenager, about 16 years old, who had a possible broken leg after being trampled on when the protesters fled. Another young woman had been shot in the forehead with a rubber bullet, while a middle-aged woman was imprisoned after being beaten on the back and face with batons, Hnin said.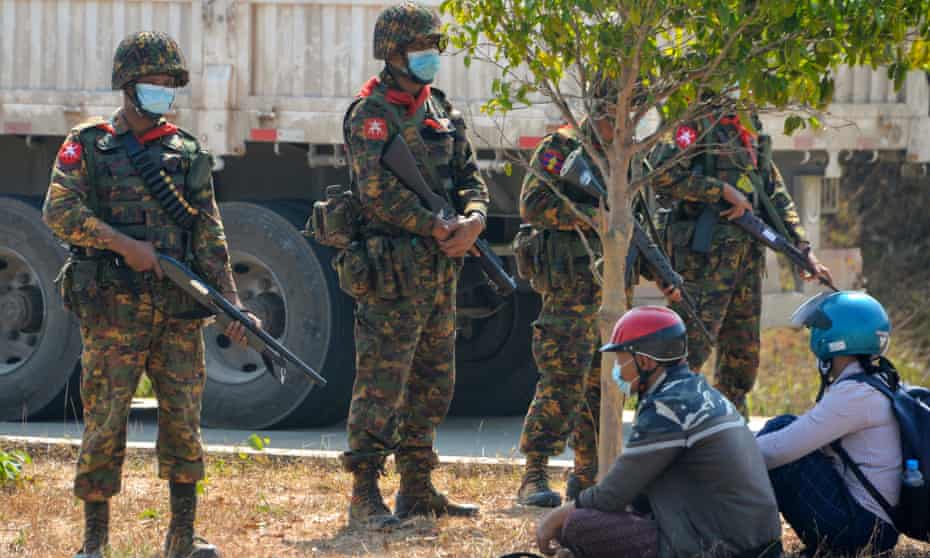 "There were so many injured women," he said, adding that civilians were taken from their bedrooms during nightly raids on their homes. "Some of the girls came to prison in their pajamas."
He said that a medical team visited his cell once during his detention, but only treated the women through bars. "I don't understand why they didn't enter the cell," he said.
Most of the hours were spent indoors "just thinking, sometimes crying," she said, haunted by the idea that this could be her home for years. One night, a woman who was interrogated for two hours returned in distress. The police forced her to raise her hand and threatened to slap her on the cheeks, Hnin said, adding that the prison guards, upon learning of the abuse, promised to protect the women from the police and soldiers.
As the inmates grappled with the physical and emotional trauma inflicted by the security forces, they were handed books that preached the non-violence of Buddhism, a faith the military says would be under threat without its troops.
Meals were mainly hard rice and although families were not allowed access to protesters, they brought sandwiches to the prison gates.
"The food was terrible," said Thiri, 19, who was arrested in the same group and released with Hnin along with some 600 protesters on March 24. According to the advocacy group of the Association for Assistance to Political Prisoners, 2,608 people are detained and 521 have been murdered as of March 30 since the February 1 coup.
Like Hnin, Thiri slept on the floor with about 80 women in a cell where only one of the four toilets worked, and only sometimes.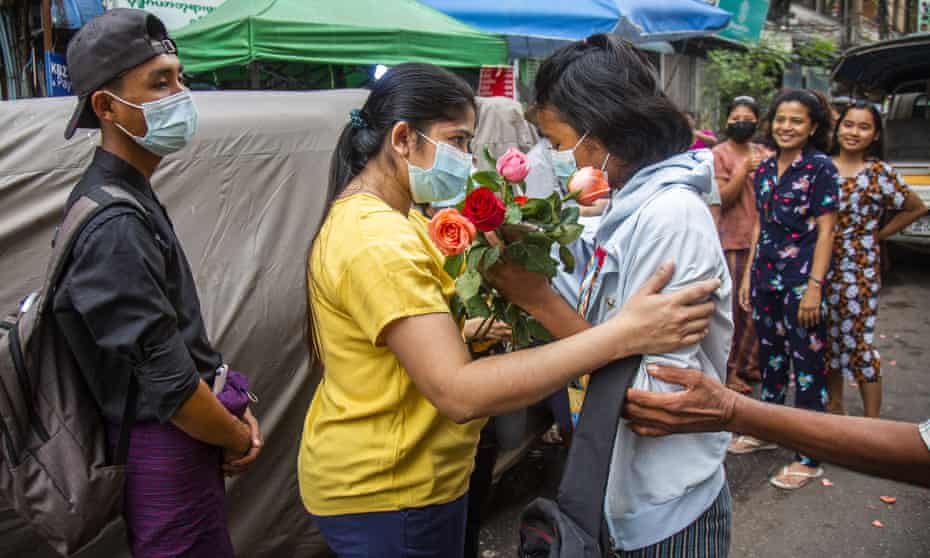 "There was no room to roll over when we slept," he said. "People were screaming and going crazy. Some cried every day. "
At 4 p.m., the women were allowed to pray in a small pagoda in the compound, where they exchanged stories with detained male protesters, who told Thiri that the police were beating and torturing three student leaders.
"They were handcuffed, blindfolded and questioned by the police," he said. "They were trying to get them to admit that they were the leaders."
The three men were still in custody, he added.
Upon her release, a senior police officer told the detainees that the police, and not the general population, were the victims.
"He said if we go out again, they know our address. It would be dangerous for our families and we would be incarcerated for at least three years, "Thiri said.
Hnin and Thiri were forced to sign a statement saying that they had been charged under section 505 (A) of the penal code.
When 29-year-old Polish photojournalist Robert Bociaga came out to document a protest in the Shan state capital, Taunggyi, on March 11, he was aware of the risks, which at that point in the city had not involved extrajudicial executions for part of the security forces. . Then a soldier charged him, hitting his head and right arm with a baton. In shock, he was surrounded by 10 officers and two police officers who, he said, protected him from a worse beating.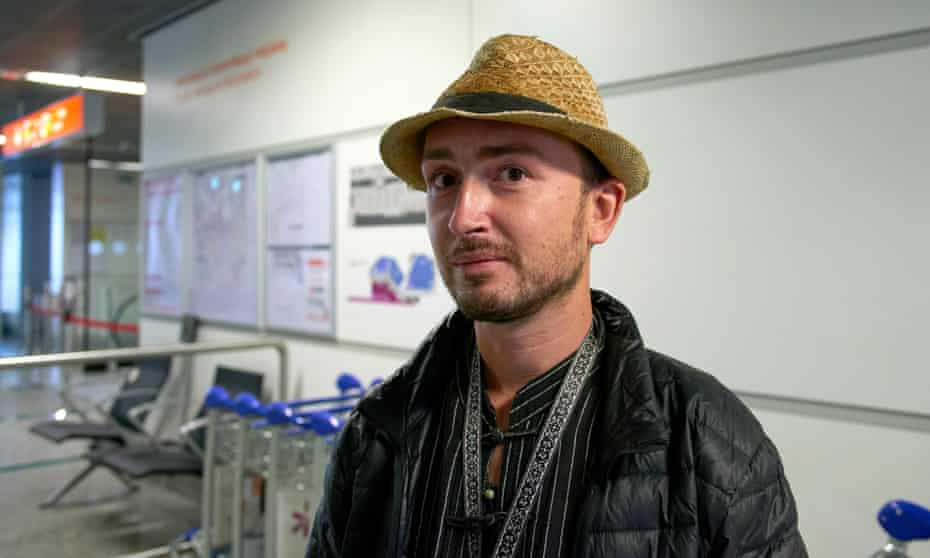 He said the soldiers destroyed his motorcycle, and they may not have been sure it was a foreigner because of his face mask.
He had suffered bruises and a swollen arm, but after 13 days in detention at a local police station, his wounds had healed, he said. The reason for his imprisonment was explained as a violation of his visa and for photographing troops without permission.
"They told me that with a tourist visa you could only photograph landscapes and pagodas," he said.
While in custody, he slept on the floor in a four-man cell with a rotating cast of suspected drug traffickers and someone charged with murder. But the only time he felt "terrified," he said, was just before his release when he was allowed to leave his cell phone for the first time to speak on the phone with the German embassy, ​​which represents Polish citizens in Myanmar. He peeked into an open room and saw a young man kneeling, hands folded behind his head, giving testimony under duress, he said.
"They treated me better than the people of Myanmar," Bociaga said. "They are in a much worse position."
The police officers had praised Aung San Suu Kyi, the civilian leader detained by the military, and told him that the dictator Min Aung Hlaing was a "bad leader". But since the police station was supervised by the military, "they were not free to speak too loudly," he said.
A police officer in his 20s with an army father, however, had told him that it was "good that the military could shoot protesters in the head" because they were "turning into terrorists," regurgitating military propaganda.
The junta acknowledged an army shoot-to-kill order on state television ahead of Armed Forces Day on March 27, when it warned that protesters would be "in danger of being shot in the head and back."
Despite his time in jail, Hnin said he would continue the fight for democracy, fueled by hatred of the military "with all my heart."
As shots rang out in Yangon and the country on Armed Forces Day, she said the beatings and chants of protest scared her. But it was willing to act on advance directives from the ousted elected officials, who are to announce a "government of national unity" made up of ethnic leaders on April 1.
"I will consider what is the best way for me and for the country," he added.
(The names of the Myanmar people have been changed)

www.theguardian.com
George is Digismak's reported cum editor with 13 years of experience in Journalism