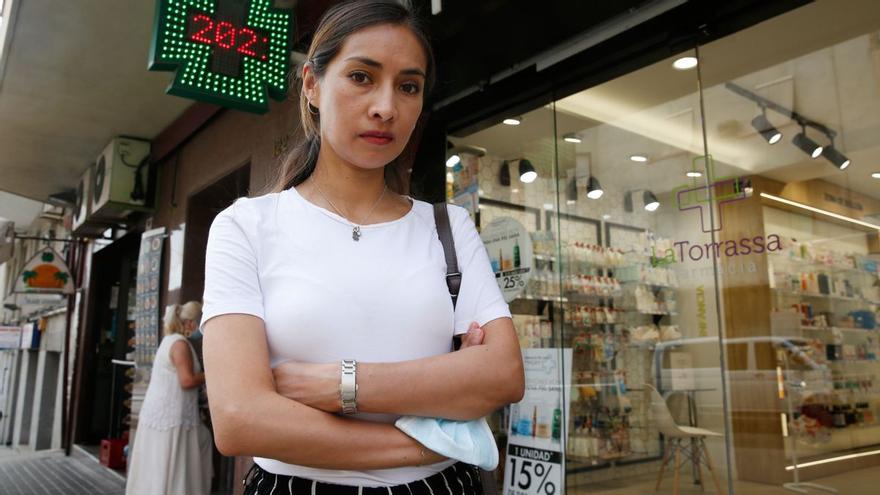 Raída Paulina left her native country, Peru, when her illness left her without walking. "If I had not come to Europe I would have already died: my family does not have money to pay for the treatment," he explains. In 2018, she went to Italy, where several experts visited her and obtained her residence and work permit for humanitarian reasons. He received treatment and began to improve. Hence, in 2019 she will already work caring for the elderly or as a shop assistant. But in 2020 the disease reappeared. "I was sick again, having trouble breathing … and they recommended that I go to Barcelona where there were better treatments, "says the girl. Rented a room In l'Hospitalet, he enrolled in a course at Pompeu Fabra University and entered the Hospital Clínic to begin an exhaustive analysis to remedy his ills.
Without the help of the register
"The Hospital told me that if I did not register, they had to charge me for all the tests," says the young woman. He tried, he asked the owner of the apartment where he lived to register him on the register. "But the woman He asked me for 500 euros in exchange: this is money that I don't have", she explains with a thread of voice. Both the social workers of her reference CAP and the hospital moved heaven and earth to obtain funds for her. They did not succeed. Her city council, although it could, does not register those without a rental contract.
So Paulina's story has a bad ending. "I run out of medicines … I will have to return to Italy because here I cannot pay for them," he is sincere. Your journey has been in vain. But like her, there are thousands of chronically ill patients who cannot cope with the medication they need in Catalonia and throughout Spain. "We have cases daily: patients covid who leave the ICU with hormonal involvement and who are discharged get worse, diabetics who can't afford insulin, mentally ill, heart, lung … "says Laura Morros, a reference of the health commission of the Col·legi de Treball Social de Catalunya (TSCAT).
"It is not a new situation, before the pandemic there were already people who could not cope with the medication despite the co-payment," says Morros. According to CIS data, in 2019 about 3% of Catalans could not afford pharmaceutical expenses. Today the Pharmaceutical Bank estimates that it could have exceeded 4%. "At school we are in contact with professionals from primary care, hospitals and social and health centers. Before the pandemic, 5% to 10% of patients could not pay for medicines. Today we are at 30%", estimates Morros, who points out that the shortage is evident throughout the Catalan territory.
Eat or go to the pharmacy
And why is pharmaceutical poverty growing? Well, because so has poverty. "According to the co-payment law of 2012, only pensioners and those who collect unemployment have a free pharmacy. But those who have exhausted the benefit, those who wait to collect it or those who receive rickety wages and become ill they have to decide between whether they eat or go to the pharmacy, "says the professional, who works in a Barcelona hospital. To these, the CAPs point out, we must add the immigrants who cannot register and, despite the fact that they can go to the emergency room, they do not have a family doctor nor do they have access to the pharmaceutical copayment.
Oenegés without resources
Before the pandemic, as soon as the doctors detected a case, they referred the patients to the social workers of the health centers, and these, in turn, activated financial resources to be able to ensure the payment of the medication. "That we have to depend on the NGOs to guarantee free healthcare from the outset does not seem appropriate to me, but it is because It has been a year since all funds have been exhausted, both from social services and from entities. The situation is desperate"says Morros. In some CAPs, social services can only cover one or two months of pharmacological aid. In others, there are chronically ill who have been waiting for a year for such aid.
"We had never seen a similar panorama," he is sincere Homer Val, responsible for the social fund of the drug of the Pharmaceutical Bank in Catalonia and Aragon. This entity is financed with both public and private aid to pay for the medication of the vulnerable. "In February we ran out of the funds we had planned for all of 2021"Val laments. The bank assures that the demand has already exceeded 30%. 17% of those affected are minors, and half of them the drugs they need are related to mental health: tranquilizers or anxiolytics." In minors we see that the saturation of mental health centers is leading to an increase in drug treatment because many families cannot afford a private psychologist, "insists Morros.
"It is true that we do not cope with all the cases that are claimed from us," he also states. Eva Gonzalez, technician of sanitary projects of the Red Cross. In Catalonia, the NGO cares for nearly 2,000 seriously chronically ill patients in financial distress. "It is not only important that we pay for their medication, we also work so that they have a healthy diet and good health habits ", explains González, who is committed to working on an individualized approach.
The consequences of this lack of aid has not been long in coming. "The consequences will be enormous, we have a part of the population in poor health that will worsen. I don't know how long the administrations are taking to invest money," says Homero. "We're seeing patients who re-enter the hospital because, unable to continue treatment at home, they become ill again. Many will die before being able to have this treatment, "denounces Morros.

www.informacion.es
Eddie is an Australian news reporter with over 9 years in the industry and has published on Forbes and tech crunch.