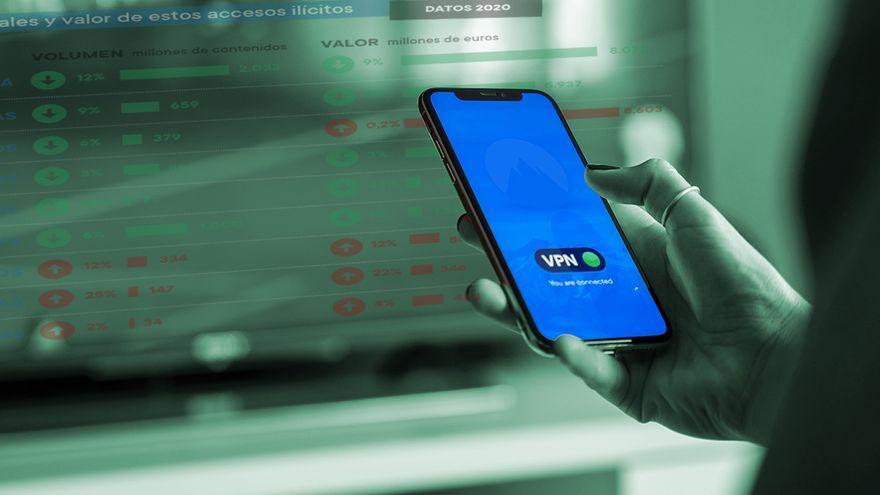 Spain experienced in recent months a phenomenon similar to that which has already occurred for years in other countries of the European Union and America. The proliferation of platforms for music, series and films and the extension of paywalls in digital newspapers has transformed piracy. The problem of content theft decreased in 2020 in the music, film and video game sector while it grew in the newspaper and magazine sector. The pandemic has also exacerbated the information needs of the population, who are looking for reliable news in the media with which to make decisions. In total, illegal accesses caused losses last year of more than 30,000 million euros to the culture and information sector according to the data that has just been made public in the Observatory of piracy and consumption habits of digital content 2020. A study by an independent consultancy (GFK) promoted by the Coalition of Content Creators and Industries, which includes companies such as Mediapro, the General Society of Authors or LaLiga.
Content piracy doesn't just affect companies from which content is stolen. It is a phenomenon that the public coffers also suffer by not collecting taxes. The common fund lost about 682 million euros last year between VAT, personal income tax and Social Security contributions. A huge amount of money defrauded by private companies located outside the law. The Piracy Observatory denounces that behind 9 out of 10 internet portals in which copyright-protected content is offered for free are pirate companies that generate significant profits thanks to this content and that, in addition, on many occasions also sell the personal data of the users of the network who access them.
According to the Observatory, the book industry is the most affected by piracy. 33 percent of Internet users make illegal accesses. Newspapers (with 25 percent of illegal accesses) are just behind in the statistics and are at the same level as music, which manages to improve ground after years in which this musical was the sector most punished of all by proliferation of pages like Napster in which Internet users downloaded entire discs causing great damage to the authors. Last year 334 million newspaper contents were downloaded from all over Spain illegally. The value of these downloads amounts to 501 million euros.
The now published study also highlights the need for publishers in particular and content creators in general to control large platforms like Facebook to curb piracy. More than half of those who accessed some illegal content or did it through social networks. The other half did it thanks to Google. A search engine in which 4 out of 10 looked for a tutorial to access illegal content. American Valley companies are beginning to realize that information is not free when it is good. If it is truthful, rigorous and with professional honesty, it is supported by companies that need capital that can only be paid with the support of readers. In this sense, publishers have been warning for months that sharing content protected by copyright (even among friends and through "private" networks such as WhatsApp) is a crime. It is against the Intellectual Property law, which recognizes the author and the medium for which he works the rights of reproduction, distribution and communication of the work.
The impact of digital piracy on employment is perhaps the most worrying part of the entire observatory study. The auditing company points out that without piracy, more than 20,000 direct jobs could be created. If we add the indirect ones, the figure would exceed 130,000 users.

www.informacion.es
Eddie is an Australian news reporter with over 9 years in the industry and has published on Forbes and tech crunch.