Fernanda Paul
BBC News World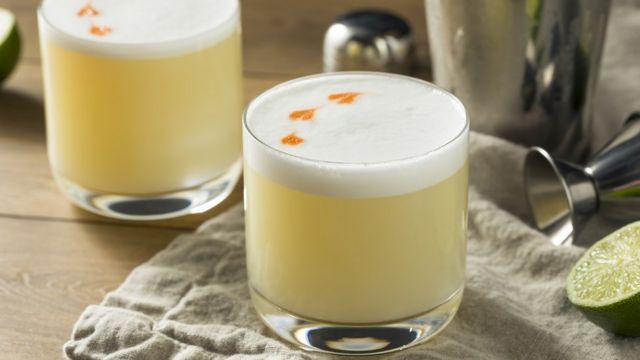 Is the pisco Peruvian or Chilean?
The question has been causing controversy for decades in these two Latin American countries. Some will say, with certainty, that he is Peruvian. While the others will affirm, with the same security, that there is no doubt that he is Chilean.
Added to this are the eternal discussions about the quality or authenticity of this alcoholic beverage that is made from grapes and that inspired the famous cocktail, the pisco sour.
Now, the "trade war" between Chile and Peru over the appellation of origin of pisco added a new episode after the Chilean government decided to promote a plan to defend its production internationally.
The strategy comes after Lima rejected a "truce" proposed by Santiago in March 2019 to end the historic dispute between the two. The suggestion of the administration of Sebastian Piñera He aimed at the two nations "complementing each other" to be recognized in international markets.
However, Peru's response was categorical: the Minister of Culture at that time, Rogers Valencia, said that it was not possible that, within Peruvian regulations, "The brandy of Chile is considered pisco."
And he added that if Chileans want to learn about pisco, "we are here to teach them how to do it."
After this resounding slam of the door, Chile had no choice but to focus on its own production and promote a strategy in its favor.
What, then, is the new initiative about?
Defense in international courts
With a total investment of 7.1 billion pesos (US $ 9,5 millions) For the next four years, the Chilean strategy has two main axes.
The first is to strengthen and guarantee denomination of origin of Chilean pisco through an offensive in international courts.
So far, Chile has lost several lawsuits against Peru in the world. One of the most controversial was the one that occurred in India in 2019, when this country granted Lima exclusive rights over the appellation of origin to the drink produced in Peruvian territory.
In its defense, Peru has indicated that Chile "unduly modified" the name of a region of its territory (Pisco Elqui) in order to appropriate the term, an argument that is widely rejected by the neighboring country.
However, countries like Ukraine and Colombia They have also recognized the rights of Peru on the name of the product.
"Through this plan, Chilean pisco will have tools to support the right of Chilean producers to use the word pisco to designate the national distillate. It has not been an easy process, however, since today Chile, through the support of this Government will position pisco in the place it deserves, "the undersecretary of agriculture explains to BBC Mundo. Ifis Ignacio Pinochet.
Until now, Chilean producers had stated that their sector did not have sufficient support from the State to carry out their legal defense abroad.
"It is the first time that the position of the Chilean State has changed and they are finally understanding the patrimonial value that pisco has for our country," he tells BBC Mundo Claudio Escobar placeholder image, General Manager of the Pisco AG Producers Association of Chile.
"The barrier that we have due to this blockade and due to the State policy that Peru assumed against our brand is insurmountable. That is why this strategy marks a before and after for us. "
"We are the first pisco producer and consumer country in the world, and we have always had the right to use this brand, there are more than 300 years of history," he adds.
On the other hand, the second axis of the Chilean strategy points to product positioning internationally, with a strong promotional campaign.
The idea, according to the Piñera government, is to target mainly the priority markets in United States, China, United Kingdom and Argentina.
In Chile, today the pisco industry generates more 3.500 permanent jobs and 40.000 indirect, according to official figures from the government of that country.
In addition, there are more than 10,000 planted hectares in the territory that produce about 175 million kilos of grapes. With this, they occur around 35 million liters of pisco per year.
For Claudio Escobar, investment in defense and promotion is a "very powerful signal that is being given to producers to project their industry, to give them a long-term sustenance, especially considering that our growth strategy is focused on the international market".
"That has always been our dream and we want to fulfill it," he says.
Peru: "It's going to be wasted money"
From Peru, however, they pointed out that no campaign, no matter how millionaire, will be able to defend the denomination of origin of Chilean pisco.
"It will be money lost because any consumer illustrated or armed with a Smartphone can Google the origin of pisco and take it to the port of Peru," he tells BBC Mundo Jose Moquillaza, Peru brand ambassador for pisco.
"Today there is no million-dollar campaign that demolishes a truth that is quickly accessed by digital means," he adds.
For the Peruvian producer, "it is time for Chile to embrace its genuine culture and call for its distillate Elqui, Curicó or Limarí, which are beautiful native Chilean words ".
"Each culture has its words and has to embrace and love them. We, with all our problems, do not occur to us to use a word that does not correspond to us, "he adds.
Thus, with this new episode, it is presumed that the fiery competition between Peru and Chile for pisco is far from over.
Now it remains to be seen if Chile really manages to position itself and earn the recognition it craves so much.
Now you can receive notifications from BBC News Mundo. Download our app and activate them so you don't miss our best content.

www.bbc.com
Eddie is an Australian news reporter with over 9 years in the industry and has published on Forbes and tech crunch.