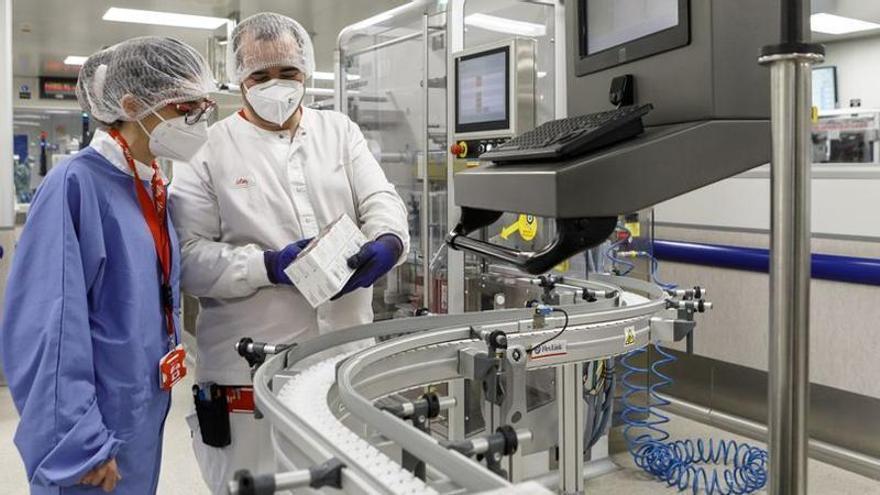 Many drugs with decades of life, which have already lost the patent and have competition from generics, are still very important in fighting many diseases or symptoms. In Spain, as in all of Europe, they are subjected to constant downward price revisions, which has meant that, in order to be able to sell at those low prices, many of these drugs and their active ingredients are no longer manufactured here and bought abroad. of our continent, mainly in Asian countries, in search of lower costs.
One of the lessons of the crisis caused by Covid-19 has been the realization that this dependence can be excessive on a good as necessary and delicate as medicine and that it can put the supply at risk in a health emergency situation. To counteract this reality, Farmaindustria has proposed a project, in collaboration with the rest of the business associations in the sector, which it has already presented to the Government, and whose objective is to generate the appropriate framework to recover part of that production of strategic drugs. With two main objectives: to give more security to the health system and patients and to strengthen the productive fabric in our country.
Under the project name MedEst (Essential Medicines and Strategic Industrial Capacities), up to 40 companies that manufacture medicines and pharmaceutical raw materials would be willing to invest more than 1,700 million euros to recover part of this essential manufacturing for Spain. Two thirds of the investment would be made by manufacturing companies and one third by pharmaceutical raw materials companies.
This open initiative, which was announced last January as an Expression of Interest, also integrates various multinational companies, sectoral associations, auxiliary industry and universities, together with Farmaindustria, the generic association, Aeseg, and that of manufacturers of active ingredients, Afaquim. . The high interest aroused has meant that, in a few months, up to 40 tractor companies, with their corresponding auxiliary and collaborating companies, have joined the project.
The project is aligned with the objectives and contents of the Plan for the Recovery, Transformation and Resilience of the Economy, Spain May, recently presented by the Government and its implementation will depend on the extent to which the project is approved, also taking into account the funds Europeans for the reconstruction that Spain will receive.
objectives
The objectives of the MedEst proposal are twofold: on the one hand, to increase strategic manufacturing capacities to have greater guarantees in the supply of strategic medicines for our country and, on the other, to improve the productive competitiveness of the pharmaceutical industry in Spain through of their training in knowledge, technology and digitization. It responds to the concern of the excessive dependence that Europe has on Asian countries in the production of active principles and essential medicines. "In most cases we are talking about mature drugs, with many years on the market and which no longer have patent protection, but which are still the ones indicated to combat certain symptoms or diseases", explains the president of Farmaindustria, Juan López -Belmonte.
"This initiative – he continues – seeks to define together with the health authorities a unified list of drugs and strategic active principles; analyze the level of risk of shortages (lack of supply of the active principle, absence of therapeutic alternatives, limited manufacturing capacity in Spain, etc.) and define the appropriate framework so that companies in our country can face a drug production based on three fundamental axes: quality and competitiveness, digital transformation and ecological transition ".
collaborative initiative
From Farmaindustria "new innovative companies with active ingredients, as well as generic drugs and biosimilar products, among others, were invited to participate. The response has been magnificent, "says López-Belmonte, who expresses his conviction regarding an initiative that provides an adequate response to a strategic need and strengthens production capacities.
It is, therefore, according to its promoters, a double opportunity for Spain. On the one hand, to achieve greater strategic protection and reinforcement of our productive fabric in the face of future health crises and, as a consequence of that, it would have an effect both on the creation of employment and on the increase in the country's exports.
And, according to experts, the pharmaceutical industry is postulated as one of the strategic sectors capable of contributing to the reactivation after the economic and social crisis caused by the pandemic. Farmaindustria had already proposed to the Government a framework of strategic collaboration on which the pharmaceutical industry committed itself to work in four lines: generation of qualified employment, promotion of biomedical research, collaboration to prepare Spain for future health crises and boost production of medications.
The keys to the MedEst project
Under the project name MedEst (Essential Medicines and Strategic Industrial Capacities), companies that manufacture medicines and pharmaceutical raw materials have committed to investing more than 1,700 million euros to recover part of this essential manufacturing for Spain. The general deputy director of Farmaindustria, Javier Urzay, explains it in this video.

www.informacion.es
Eddie is an Australian news reporter with over 9 years in the industry and has published on Forbes and tech crunch.