The night in South London began with pain and silence, as hundreds of people gathered to remember Sarah Everard and call for changes that would keep others safe. It ended in anger and violence, as the police trampled on flowers and candles in tribute to Everard and tried to silence the women who spoke in his memory.
Tensions were high before the vigil, which had been officially canceled after the metropolitan police refused to grant the organizers a permit. That compounded anger against the force, already high after a serving officer was charged with Everard's kidnapping and murder.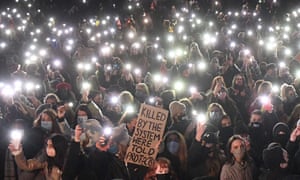 Police initially held back when hundreds of people flocked to the bandstand on Clapham Common carrying candles and flowers, even though a helicopter was flying overhead.
The meeting may have been canceled, but the emotions that erupted in the wake of his murder could not be suppressed.
And so they came, to mourn the loss of Everard and share their anger, of a woman breastfeeding her two-month-old daughter, to protest against the 70-year-old veterans, furious that after so many decades they still had to speak out against a culture of endemic violence against women.
"She was walking home," read a sign. "We are 97 per cent," read another, a reference to a recent poll that found that almost all British women had been bullied.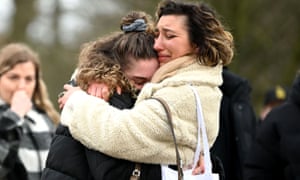 Many said they were only more determined to come after the police effectively banned the vigil. "The irony is so explicit: are you going to drag women off the street for protesting that a woman is being taken off the street?" said 62-year-old Deborah Bestwick.
The answer turned out to be yes, although it was clear that the police images and videos would only add to public outrage. There was already a particular frustration among many women that the gathering, outdoors and largely socially estranged, had been banned for health risk reasons, when they protested another major threat to their lives.
"It is dangerous for us to go out as women, regardless of the pandemic, so we wanted to be here," said Ellie, who like many at the event did not want to give her full name for fear of legal retaliation.
At 6 p.m., when the vigil was scheduled to begin, a small number of organizers gathered at the kiosk behind a string of flowers, candles and messages that were left in Everard's memory. A drum set the crowd for a minute's silence, heads bowed. Then there was a short speech by a woman wearing a mask, like most of the crowd.
Without audio equipment, his voice couldn't get very far and he asked the front of the crowd to shout out every sentence after speaking, a human amplifier carrying the message to those further back.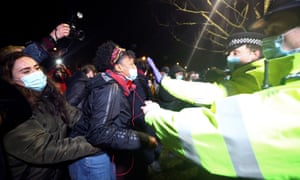 "We came here today, out of our pain and anger at the senseless murder of Sarah Everard," he yelled, and the crowd echoed, echoing through the grass Everard crossed just before his murder.
"We came here today, because after Sarah's disappearance, the police told the women that they should stay home to avoid being attacked … the women say no."
As he spoke, the police began to make their way to the bandstand, some of them trampling the tributes and trying to push the speakers away. After a roar of fury from the crowd, which included boos and shouts of "don't take your hands off my sister," the speech was allowed to continue.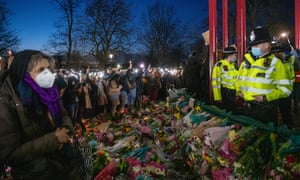 But then officers flooded the bandstand, told the crowd to disperse, even though the gathering had been peaceful and largely masked, and began threatening to arrest those who remained.
After violent clashes, with protesters shouting "arrest yours" and "what a shame", at least one woman was handcuffed and taken to a police van.
"We are here to show solidarity and support, because we should be able to walk home alone and be safe," said Sally, 25, after officers threatened her and a friend with arrest if they did not leave the area near the kiosk. of music .
"They are here and doing this, there was no need, people wear masks and are distancing themselves socially. They are showing brutality. "

www.theguardian.com
George is Digismak's reported cum editor with 13 years of experience in Journalism