Note to readers: EL PAÍS offers openly all the content of the Future Planet section for its daily and global contribution to the 2030 Agenda. If you want to support our journalism, subscribe here.
Camila Ponce got dizzy while waiting for her mother and brother to come out of a store. A severe pain in her head and back disturbed her. Annais Medina was returning home from school in a van when she began to feel ill. Vicente Pizarro had a strong pressure on his chest and Sofía Faúndez had to leave class because she felt difficulty breathing and a metallic taste in her mouth. The episode of massive poisonings caused by a cloud of polluting gases lives on vividly in the memory of the children and adolescents of Quintero and Puchuncaví, two municipalities located on the central Chilean coast, 30 kilometers from Valparaíso and about a hundred from Santiago.
In the bay that joins both towns, an industrial complex was installed since the 1960s that has not stopped growing since then. Today it has at least 15 active companies, between public and private: from thermoelectric plants, to oil refineries, through copper smelting centers, natural gas regasification and fuel discharge and storage, among other activities. 80% of the oil comes from these industries, 8% of the electrical energy that is supplied throughout the country and natural gas from the entire metropolitan region.
Already in 1993 the Ministry of Agriculture established that the area surrounding the Ventanas industrial complex, in Puchuncaví, was "saturated by sulfur dioxide and particulate matter." However, nothing has slowed the rise in air pollution. Today it is one of the five "sacrifice zones" that exist in Chile, vulnerable territories marked by inequality, where industrial pollution fully affects human development. Its inhabitants, about 50,000 people, live with the smoke that constantly emanates from the industries, the oil spills. coal strandings and mass poisonings. It is common to hear from the quinteranos themselves that they feel "the backyard of Chile."
Between August 21 and October 18, 2018, almost 1,400 people were treated at the Quintero Hospital for poisoning. They had symptoms such as headaches, vomiting, diarrhea, dizziness, and fainting. A cloud of gases from the industrial complex impacted the health of residents, especially the smallest. 58% of the total attention corresponded to minors, according to a Terram NGO report published in the magazine of the Medical College of Chile.
The regional government of Valparaíso came to decree a health alert for several days, an unprecedented event in a territory that already had a history of several polluting episodes. During this period, no company stopped operating, only their activities were reduced and some dangerous processes were paralyzed. Classes and educational activities were suspended. The students organized and occupied the schools for days in a protest that for many was their own revolution.
"Everything was chaos"
"My mother accompanied me to the office. It was full of grandparents and children with the same symptoms as me, "recalls Camila Ponce. The 17-year-old is vice president of the Colegio Sargento de Aldea de Ventanas. Of the 23 classmates in her class, four, including herself, were poisoned during the emergency. His medical report contains a diagnosis for "harmful effects of other gases, fumes and vapors."
Sofía Faúndez, 15, was in her first year at Colegio Don Orione de Quintero when the environmental crisis occurred. He had come from Quillota, in the interior of the region, and did not imagine what it means to live in a sacrificial zone. When she arrived at the health center, she was shocked: "The children were on mats two by two or three by three because there were no more beds, there was no more space." His mother, Carolina Astudillo, remembers that the hospital was "totally collapsed" and that students were arriving on stretchers, but no one knew what was happening: "Everything was chaos," he says. She was poisoned three days later.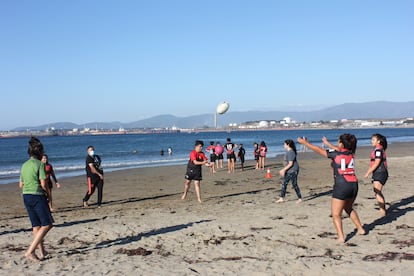 María Araya, president of the Advisory Council of the Quintero Hospital, an organization that represents users, was a first-line testimony of that. At 10:50 on August 21, he received a call from his secretary: "Mrs. Maria, the children are falling intoxicated! They have had to build a field hospital to treat them ". His daughter fell ill within a few days.
"Here we had experienced dizziness, vomiting and fainting spells, but this time we detected something different," says Katta Alonso, spokesperson for the group Women in the Sacrifice Zone. There were nosebleeds, numbness in the limbs, and skin damage. Annais Medina Calderón is 11 years old and suffers from chronic asthma. She spent the entire time that the mass intoxication lasted locked up at home. "I couldn't even open the windows," she says, but still, the gases affected her. "They took me to the emergency room and they diagnosed me with acute bronchitis, but they didn't know what was on my skin. First they said it was scabies, but days went by and the wounds got worse. We got money for a clinic in Santiago, they told us that everything had to do with contamination, "he wrote by message with the help of his mother, from his home, while he was recovering from covid-19.
In Puchuncaví, children between the ages of one and five have a high probability of developing cancer throughout their lives due to continued exposure to certain metals. The study says Soil and household dust as means of human exposure to metals in the commune of Puchuncaví carried out by the Universidad Católica de Valparaíso (UCV), which concludes that the arsenic levels in minors in the area are "unacceptable." The wind disperses particles rich in these minerals and deposits them on the floors and ceilings of houses, where children remain locked up for a long time to protect themselves from the toxic air.
"We cannot run, we are short of breath"
As a kind of preparation for the pandemic, the children of Quintero and Puchuncaví learned about confinement, online classes and the mask long before the appearance of covid-19. When pollution skyrockets, like in 2018, they have to apply restrictions. They are not forced by any authority, but they know they have no choice because the outside air becomes unbreathable. "If there is contamination we cannot go out to recess, nor do physical education. We cannot run, we are short of breath and we get coughs, that's why we have to stay home, as has happened with the pandemic, "says Vicente Pizarro, 11 years old. "It is very difficult to explain to children these limitations that they have, especially when there are those peak (peaks) ", says Manuel, his father, president of the organization Movimiento por la Infancia de Quintero y Puchuncaví.
In Puchuncaví, children between the ages of one and five have a high probability of developing cancer throughout life due to continued exposure to certain metals
The study Impact of children and adolescents due to contamination in Quintero and Puchuncaví carried out in 2019 by the Children's Ombudsman together with the Catholic University of Valparaíso (UCV) maintains that minors in the area have naturalized "a premature feeling of the disease and a feeling of permanent fragility" generated by the air they breathe. Regarding the 2018 episode, he says: "It modified the way of inhabiting their territory, the representation they have of their habitat and the fundamental daily activities for the first years of life, such as play, socialization with peers and sport or activity at the same time. fresh air".
The 12 kilometers of bay that separate Quintero from Puchuncaví have changed the "virgin coves and white dunes" recalled by Katta Alonso, a resident of the place for 50 years, for industrial chimneys, gas pipelines that go into the sea and warning signs to the Bathers: "Beach not suitable and not enabled for bathing. Industrial zone ", which do not always comply with them. Ponce no longer goes down to Ventanas beach. He decided long ago that he did not want to bathe in a "full of coal" place. Only between January 1 and May 31, 2019, on the Ventanas de Puchuncaví beach, A hundred strandings of coal and other substances were registered. In January of this year, the fishermen collected four tons of charcoal on that same beach. José Carvajal is one of those responsible for this work and comments that when the waves are low and the sea is calm, the coal is stranded in the sand: "It works like a cup of milk: if you leave it still, the cream comes out on top."
On permanent alert
Until now, the amount and type of pollutants that each of the companies emitted between August and October 2018 is unknown. Precisely, that was one of the requests made by the Supreme Court, through a pronouncement which was considered historical in favor of those affected. The ruling, which will be two years old in August, also dictated 15 other measures to prevent new poisonings. Time has passed, but for the inhabitants of the area there has been little progress.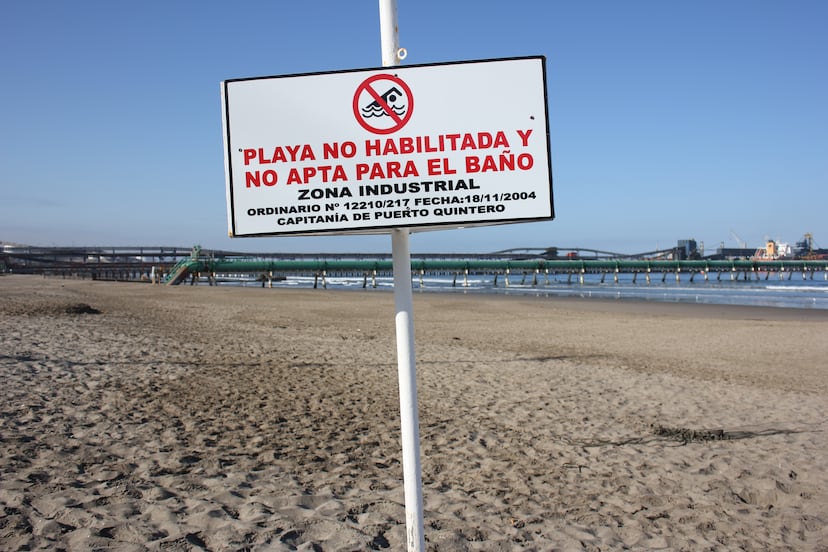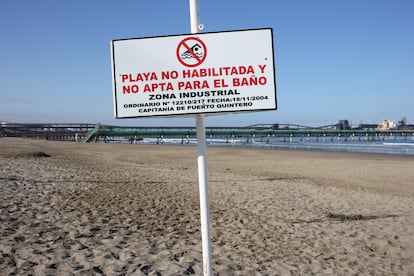 "The court did not set any deadline to comply with its provisions and with that it washed its hands," says Katta Alonso. The Ministry of the Environment launched a Atmospheric Prevention and Decontamination Plan that for the neighbors is insufficient. They consider that it is limited to control the emissions that the regulations already include, but it does not extend to other gases such as the various types of volatile organic compounds. They also argue against laws that are too "lax" compared to the standards recommended by the World Health Organization (WHO). "Since the pollution episodes we have been completely forgotten. There has been a very large abandonment by the government and local authorities ", laments Carolina Astudillo.
The inhabitants of the bay live in a permanent state of alert. For some, even scary. Manuel Pizarro has decided to leave Quintero with his hujo and the rest of the family: "The pediatricians recommended us to look for another place to avoid broncho-pulmonary or asthma problems." Faúndez is not very optimistic about the future of the area, but he does not want to go: "In spite of everything, I adore Quintero." Ponce and Medina also want to stay there: "We are not the ones who should go!" Medina exclaims. They all agree on an idea that she synthesizes: "We have the right to live in a place without pollution."
You can follow PLANETA FUTURO in Twitter, Facebook e Instagram, and subscribe here a nuestra 'newsletter'.



elpais.com
Eddie is an Australian news reporter with over 9 years in the industry and has published on Forbes and tech crunch.