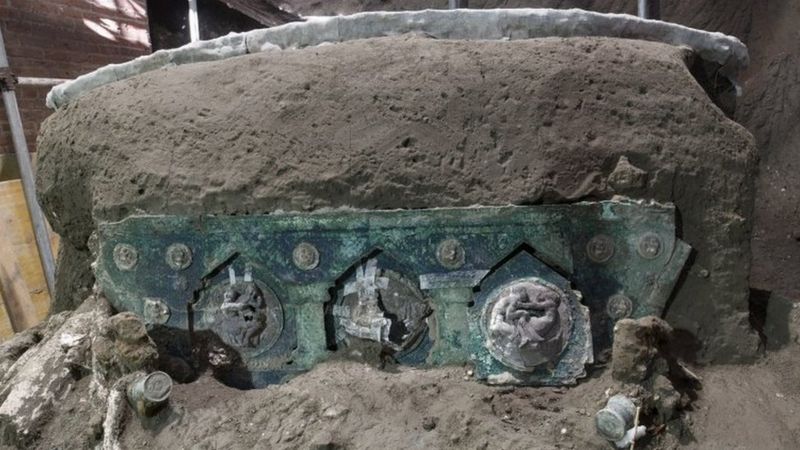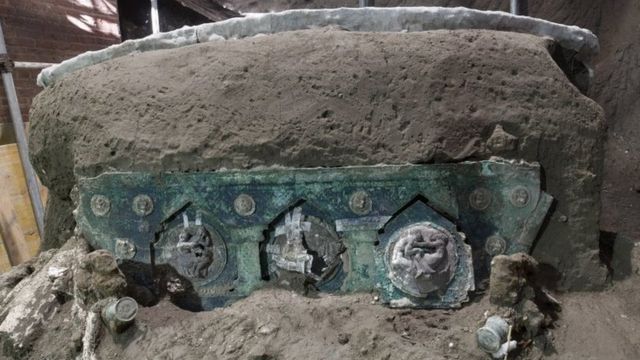 A team of archaeologists has discovered a ceremonial chariot in Italy near the ruins of the ancient Roman city of Pompeii.
The 4-wheeled carriage was found near a stable where in 2018 the remains of three horses had already come to light.
Experts believe that the float was used at parties and parades.
Archaeologists have described the find as "exceptional" and noted that it is in an "excellent state of preservation."
Pompeii, destroyed by an eruption of the volcano Vesuvius in AD 79. C. is an archaeological treasure that continues to surprise researchers.
The eruption buried the city in a thick layer of ash, which preserved the remains of many of its buildings and inhabitants, which today can be seen almost as they were at the time the volcano wiped out Pompeii.
The carriage was located in a two-level portico that connected with the stables in an old villa in Civita Giuliana, north of the city walls.
A statement issued by the archaeological site detailed that the carriage has "iron elements, beautiful bronze and tin ornaments" as well as ropes and floral elements that were "almost intact."
Archaeologists say efforts to recover the float took weeks after it was discovered in an excavation on January 7.
The fragile materials required particular care and special techniques, such as the use of plaster casts to unearth it without causing damage.
The operation was carried out with the collaboration of a department of the Public Prosecutor's Office, given the rise in attempts by criminals who seek to loot the site using clandestine tunnels and other techniques.
Authorities described the float as a find unmatched in other archaeological discoveries in Italy.
"This is an extraordinary find that increases our knowledge of the ancient world," Massimo Osanna, director of the Pompeii site, said in a press release.
He said that some of the decorations on the float indicate that it was used at community festivals, and possibly weddings.
"Taking into account that ancient sources allude to the use of the Pilentum by priestesses and ladies, it cannot be ruled out that it could have been used in rituals related to marriage, to take the bride to her new home." "
Dario FranceschiniItaly's Minister of Culture stated that Pompeii "continues to amaze us with its discoveries and will continue to do so for many years, with more than 20 hectares still to be excavated."
Ancient Pompeii, about 23 kilometers southeast of Naples, is one of the UNESCO World Heritage Sites.
Under normal circumstances it is one of the most popular tourist destinations in Italy, but is currently closed due to the covid pandemic.
Now you can receive notifications from BBC News Mundo. Download our app and activate them so you don't miss our best content.

www.bbc.com
Eddie is an Australian news reporter with over 9 years in the industry and has published on Forbes and tech crunch.