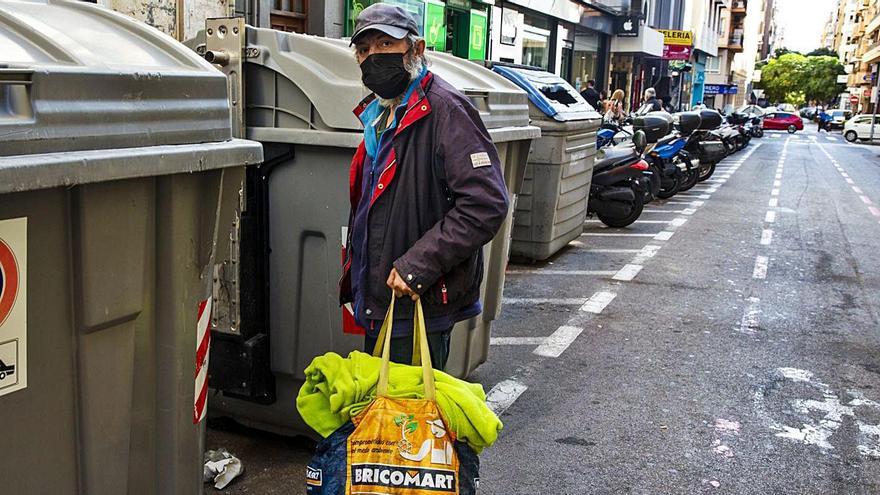 Wednesday afternoon. November. It was one more day in the routine life of Carlos Zamorano, a Riojan living in Alicante since he was a child. He was ordering in the central avenue Maisonnave, while reading one of the books that always accompany him. At one point, he left his meager belongings tucked between two air vents in the underground car park to go to a nearby supermarket. It barely traveled thirty meters. When he returned, suddenly, he had run out of what little material he has.
The two bags in which you keep your little personal belongings (a couple of blankets, some clothes and a bottle of water) they were no longer where I had left them. «A man I know warned me that the police had thrown everything into a nearby container"Explains Carlos, while he turned his gaze to his back, to the gray container from which he had to rescue his things. Although not all: "I had a bag with some food and that stayed in the container. I could not rescue him … ».
He did not witness the police action, which It seems that it was propitiated because another homeless urinated on the avenue. Carlos learned from Gabi, a man from Alicante who related the scene to him. "To the astonishment of all of us who passed by on the street, the Police threw away the belongings of both [de quien miccionó y de la otra persona]. Imagine his anger [el de Carlos]. If I had not warned him, I would not have known what had happened to his things, "says Gabi, who assures that he did not hesitate to ask the agents why they were acting:" Reason? None. I'm witness. He just had the two bags with everything he has. When I asked the police, they did not give me any explanation either, they only told me that another homeless man had urinated in the street. For Gabi, witness of the events, what happened is no reason for the beggar to be left without his few belongings.
For Carlos, either. "When they told me what had happened, I had to go back to the supermarket to buy a broomstick to remove the bags from the container. Someone told me to get inside, but … no kidding! "Continues the homeless man from La Rioja, who came to Alicante when he was a child. Municipal sources consulted by this newspaper assure that They have no record of this police intervention, although they also admit that everything that happens during a shift is not written down.
Two days later, Carlos was about to relive the same scene. "This morning [por ayer], I was having a coffee at Maisonnave. He had left things in front. Then, I saw that a car had parked next to it, it had a light and the logo of the City Council. A person [que no era policía] He started looking at my bags and I got closer. He told me he was going to take things away, "says the homeless man, who without losing his sense of humor celebrates that at least this time they were not going to end up in the trash:" We are improving, I was not going to throw it in the container … ».
Before the two episodes so close in time, Carlos admits that he is afraid to "get up" and leave his things alone. "It doesn't seem like a coincidence," or so he estimates. «I take care that I am in Maisonnave, but I do not bother, I do not shout, I do not do anything improper or stand in the middle of the street. I try to hide my things and ask for some money while I read », Carlos continues.
Meanwhile, the bipartisan continues with the processing of the controversial Ordinance against Begging and Prostitution, which includes fines of up to 3,000 euros.

www.informacion.es

Digsmak is a news publisher with over 12 years of reporting experiance; and have published in many industry leading publications and news sites.