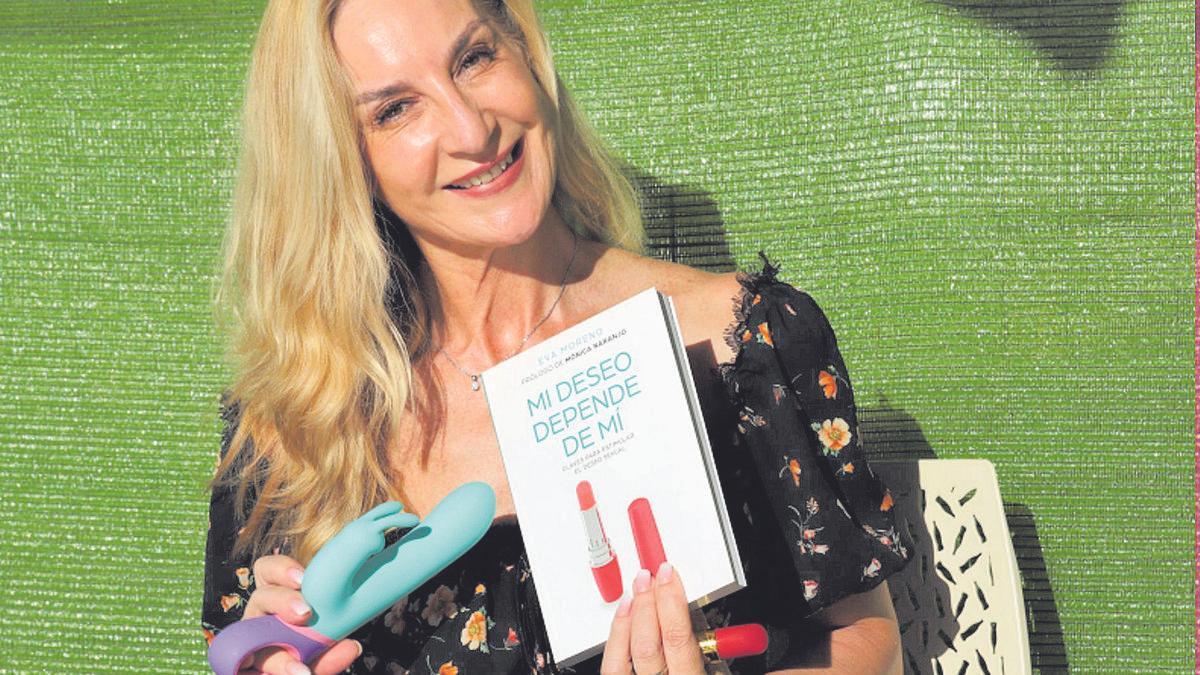 Eva Moreno is the forerunner of the sale of erotic toys. The sexologist gives clues about emotions and sexuality in her book 'My desire depends on me', in her therapeutic consultation and even in Mónica Naranjo's program 'Monica and sex', where she collaborates. The creator of Tapersex meetings, shows us what sexual education problems are found in a society marked by the high expectations that porn sets for young people.
In his latest book 'My desire depends on me' he assures that sexuality is not perfect …
We have the ideal that when there is a sexual encounter it has to be the most wonderful thing in the world and we have built it based on false beliefs that we have received through the media with women with fantastic bodies where everything is perfect. This has to do with the lack of emotional and sexual education that we have. In the field of sexuality we become super-demanding and, that, the only thing that does is stop us, thus the fear of not measuring up appears.
Is society well educated sexually speaking? What is there left to do?
We still need to learn a lot! The first thing, the self-knowledge, that is, to know our own bodies. Fortunately, the woman is already taking steps. You cannot put your body in the hands of another person who does not know you at all so that they can discover what you like, where they have to touch you, how you like to have sex, what are your pleasure points … All that We have to bring it learned from home and from there communicate with the other person who must have the curiosity to know your body and for you to know his. We need to empower ourselves in our sexuality, learn more about our body and speak.
How can you educate yourself on it in high schools or from home?
Wearing emotional and sexual education subjects to schools, from a very young age. I think that a parallel education would also be necessary for adults because if they receive a message in schools that is totally opposite at home, a dissonance is created in the children. An emotional education with which they teach you to communicate, express yourself and connect with your emotions is progress and is health.
How important is it for health to take care of sexual desire?
It makes us happier. When I work with women who are concerned about their hypoactive sexual desireThey feel sad and feel that they have failed in their relationship or that they have some lack and, all this, makes them not satisfied with themselves.
Collaborate in the program 'Monica and sex' with Mónica Naranjo and she does it in your book, what has the singer contributed to her?
First, get to know her and have that trust in me to let me help her in her process of reconnecting with her sexual desire and, also, the experience of participating in a program that talks about sexuality with that normality and sense of humor.
Is there that normality when it comes to talking about sex or is it still a taboo subject in society?
Have prejudices, preconceptions and a lot of shame. When expectations are this high, it kind of cuts you off. The model of sexuality where young people are learning is that of porn and that has nothing to do with what happens in a normal person's bed (laughs). In porn we see women objectifying themselves into holes and not feeling, there are no orgasms and everything is spectacle. And men last three hours with a big erection, they have huge penises, that's not real! When you watch a movie of SupermanYou know it's fiction and that doesn't happen to us with porn.
In your therapies as a sexologist, have new issues emerged as a result of the pandemic?
Yes, I am working more in couples therapy since the pandemic. Couples have had the opportunity to live together and, therefore, more time to speak from a situation of vulnerability and uncertainty. With the sum of all that, they have realized that they need help because in their relationship there are problems both in communication and on a sexual level. Little by little the fear of asking for therapeutic help is lost.
Modesty when asking for help has been reduced, have the Tapersex meetings contributed?
The erotic toy has served us as a vehicle to put the subject on the table. It puts creativity in the game, takes you away from the routine, helps in self-knowledge, etc. Women are less used to talking and masturbation, in men it is more natural and fortunately that is changing.

www.informacion.es
Eddie is an Australian news reporter with over 9 years in the industry and has published on Forbes and tech crunch.