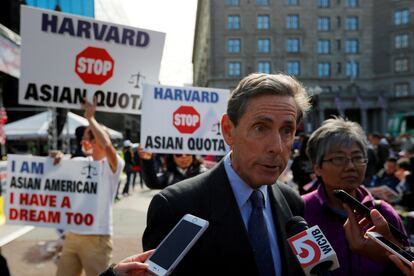 The Supreme Court of the United States has decided this Monday to accept a case that will allow it to dictate jurisprudence on whether universities can consider the ethnicity of potential students in admission programs. The case affects Harvard University and North Carolina University, accused by the organization Students for Fair Admissions (SFFA) of discriminating against Asian-Americans to facilitate access to other minorities, such as Blacks or Latinos. The plaintiffs allege that, having better grades, the ethnic trick works against them, something that both educational centers deny. The overwhelming conservative majority of the high court threatens the practice of positive discrimination, which seeks to improve opportunities for groups historically excluded from North American society.
Lower courts rejected SFFA's claims, arguing that Supreme Court rulings over the past 40 years support colleges and universities considering race in their admissions programs to promote ethnic diversity in the classroom. The last time the high court discussed positive discrimination, known as "affirmative action," was in 2016. It then ruled in favor of the University of Texas, sued by a white woman who accused it of using race as an admissions factor. in favor of blacks and Latinos over whites and Asian Americans. However, the composition of the court has changed in recent years, increasing the presence of conservative judges.
The vote in the Texas case was four for the university and three against. Seven of the nine members voted because Justice Antonin Scalia had died a few months earlier and Justice Elena Kagan had recused herself from participating. Of the four progressive votes in favor, two of them are gone: Anthony M. Kennedy and Ruth Bader Ginsburg. During his tenure, former President Donald Trump filled the three available vacancies, tipping the scales toward conservatism. That the Supreme that is going to rule on positive discrimination. The debate will probably take place in October, adding to the list of high-profile cases that have reached the court table, such as abortion and possession of weapons.
Chief Justice John Roberts is recognized for his tie-breaking vote on the closest decisions in recent years. The moderate conservative has voted on many occasions with the progressive bloc. However, in the case of positive discrimination in universities, he has a clear position: "Dividing us by race is a sordid business", he once wrote.
SFFA believes that Harvard imposes a "racial sanction" on Asian-American applicants by rating them lower in some categories than other applicants and giving "massive preferences" to black and Hispanic applicants. Last year, Harvard offered 1,968 places to a record 57,435 applicants. The freshman class was made up of 27% Asian-American, 18% black and 13% Hispanic, according to Harvard's website. The university does not specify the percentage of white student admissions. "If Harvard abandoned race-conscious admissions, African-American and Hispanic representation would be cut nearly in half," the nation's oldest private university said.
Follow all the international information in Facebook Y Twitter, o en our weekly newsletter.



elpais.com
Eddie is an Australian news reporter with over 9 years in the industry and has published on Forbes and tech crunch.