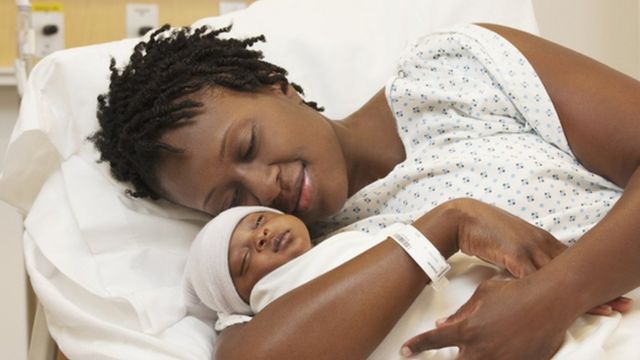 Some studies are already reporting that pregnant mothers who get vaccinated against COVID-19 can pass the antibodies on to their children.
The data is still under review and researchers are still collecting more evidence, but what is known so far is within what was expected, according to experts.
In recent weeks, news has circulated from doctors who report the first babies born with covid-19 antibodies that they received while in the womb of their vaccinated mother.
The truth, however, is that before these cases that were presented as something striking, preliminary studies in Israel and the United States that involved dozens of women, had already reported babies who were born with these antibodies thanks to their mothers being vaccinated.
"This is is natural, normal and what is expected after a mother becomes infected with COVID-19 or is vaccinated, "Dr. Flor Muñoz-Rivas, a pediatric infectious disease specialist at the Texas Children's Hospital, told BBC Mundo, who was not involved in these studies.
What in principle is good news, however, leaves questions aún unanswered related to the protection that these antibodies can provide to newborns.
What does the preliminary data show?
Studies that have shown that a pregnant mother who gets vaccinated can pass her antibodies on to her baby are still in review by independent experts.
These preliminary results, in any case, are within what was predicted to happen, based on the experience of other vaccines.
In February, a study in Israel was conducted with 20 women who received both doses of the Pfizer / BioNTech vaccine in the third trimester of pregnancy.
The result was that all 20 women developed antibodies and they all passed them on to their babies.
"Our findings highlight that vaccinating pregnant women can provide maternal and neonatal protection against SARS-CoV-2 infection, "says the study, the results of which are still under review.
In early March, a study in the United States, supported by the US National Institutes of Health, included 84 pregnant women, of whom 13 had their babies during the research.
Of these 13 women, who were vaccinated during the third trimester of pregnancy, 10 passed antibodies to their babies.
The study also included a group of lactating women, and showed that antibodies can also be passed to babies through breast milk.
For this research, vaccines were applied Pfizer / BionTech and Moderna, two of the three vaccines approved in the US, where the Janssen / Johnson & Johnson is also licensed for use.
What does this mean?
Pregnant women have a higher risk of suffering a serious infection of COVID-19 than non-pregnant women, according to the World Health Organization (WHO).
The organisimo also warns that "there seems to be a relationship between the disease and the risk of a premature labor".
That means if the mother is at risk, so is your baby may be at risk.
So, "in general this is good news"Denise Jamieson, head of the department of gynecology and obstetrics at Emory University, says, referring to the US study in a report from The Washington Post.
"The reason we vaccinate women is to protect them, not necessarily to protect children," says Muñoz-Rivas, but adds that "if they are protected, there are good chances that pass your protection to the baby".
For decades, pregnant women have been known they have reacted well to vaccines such as tetanus, influenza, or whooping cough.
Muñoz-Rivas explains that in the case of whooping cough, for example, pregnant women are not vaccinated so that they do not give her, if not to do not give the baby.
This research is also important because, as the authors of the US study say, pregnant and lactating women were not included in the first trials of covid-19 vaccines, so they are still needed. More data.
What does it mean for a baby to be born with antibodies?
"If the baby is born with antibodies no guarantee that is immune to covid-19 ", explains Muñoz-Rivas.
This is because it is not yet clear how many antibodies are passed from mother to child, or what quantity is necessary so that the baby is protected.
It also takes more time and more data to know how durable it is that possible protection offered by the antibodies that the newborn receives.
This is because they are passive antibodiesIn other words, the baby did not create them but received them from his mother, so as the months go by they can be degraded.
In that case "any potential protection that the baby may have is going to be very short"says Muñoz-Rivas.
Antibodies can also be passed through breast milk, but their protection may be don't be so strong like the one that comes directly through the placenta, according to the expert.
Questions to be resolved
The results that are known so far open up a number of questions that need further investigation.
These are some of the main ones mentioned by Muñoz-Rivas:
Know how much antibodies the baby receives according to the month of pregnancy in which the mother is vaccinated
Compare more vaccines to see if any of them have a greater ability to pass more antibodies than others through the placenta
Get more data on how much and what type of antibodies are present in breast milk and the potential protection they can provide
Know if the covid-19 vaccines can be administered with other vaccines that pregnant women normally receive, such as influenza, whooping cough, or tetanus
Should pregnant women get vaccinated?
WHO indicates that still "there is little data available to assess safety" of the vaccine against covid-19 during pregnancy.
Even so, the organism maintains that they do not have "no specific reason to believe that there is a specific risk that outweighs the benefits of vaccination for pregnant women. "
Therefore, he advises that women with high risk of contagion or with comorbidities "can be vaccinated in consultation with their health service provider."
In the US, the Centers for Disease Control (CDC) indicate that any of the COVID-19 vaccines licensed in that country can be offered pregnant or lactating women.
The CDC also indicates that despite the paucity of data, experts believe that "It is unlikely" that vaccines such as those from Pfizer, Moderna or Janssenn / Johnson & Johnson "carry a specific risk for pregnant women."
Other countries, such as Israel, are including pregnant women with risk factors for high morbidity among those with priority access to vaccines against covid-19.
Instead, India, for example, has explicitly stated that pregnant and lactating women should not receive the injections until further studies are conducted.
Now you can receive notifications from BBC Mundo. Download the new version of our app and activate them so you don't miss out on our best content.

www.bbc.com
Eddie is an Australian news reporter with over 9 years in the industry and has published on Forbes and tech crunch.