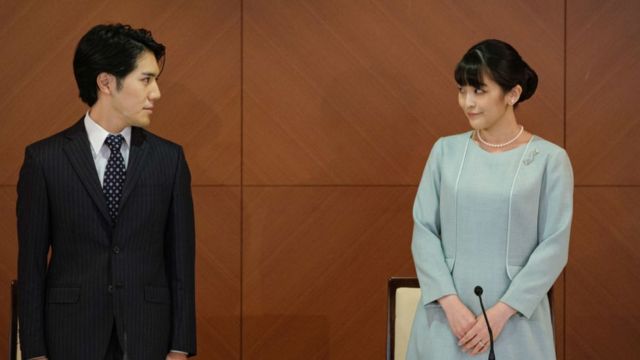 This Tuesday, Princess Mako of Japan finally married Kei Komuro, her boyfriend since college, thus renouncing her royal status.
Under Japanese law, female members of the imperial family lose their position if they marry a "commoner," although that rule does not apply to male members.
Mako skipped the traditional rites of a royal wedding and declined the payment offered to royal women when they retire from the family.
She is the first female member of the royal family to refuse both customs.
The couple are expected to move to the United States, where Komuro works as a lawyer.
That departure has drawn inevitable comparisons to the British royal couple of Meghan Markle and Prince Harry, which is why the newlyweds have been dubbed the "Harry and Meghan of Japan."
Just like Markle, Komuro has been object of a intense scrutiny ever since her relationship with Mako became public. The most recent criticism he received was for sporting a ponytail when he returned to Japan.
Some tabloids and users on social media opined that her hairstyle – considered unconventional in Japan – was inappropriate for someone willing to marry a princess.
"Kei is irreplaceable"
At a press conference the couple gave on the same wedding day, Mako apologized for any inconvenience their marriage may have caused to the people.
"I am very sorry for the inconvenience caused and I am grateful to those who have continued to support me," she said, according to a report by the public media NHK.
"For me, Kei is irreplaceable. Marriage was a necessary option for us."
Komuro added that he loves Mako and quStarted spend the rest of your life with her.
"I love Mako. We only have one life and I want us to spend it with the person we love," Komuro said, as reported by the AFP agency.
"I feel very sad that Mako has been in a bad situation, mentally and physically, due to the false accusations."
Princess Mako left her residence in Tokyo at around 10:00 a.m. local time on Tuesday to get married, waving several times to her parents, Crown Prince Fumihito, and Crown Princess Kiko. He also hugged his younger sister before leaving.
The couple have received extensive media coverage over the years and their relationship has been the subject of controversy, causing the princess post traumatic stress disorder, the official royal affairs agency, IHA, previously reported.
This same Tuesday several people protested against the wedding, carrying banners pointing to financial matters of the Komuro family, particularly the mother of the groom.
The now-ex-princess got engaged to Komuro in 2017 and the two planned to tie the knot the following year.
But the wedding was postponed after some complaints about Komuro's mother's financial problems.
The palace denied that the postponement was linked to that, although Crown Prince Fumihito said it was important that money matters were cleared up before the couple married.
According to the BBC Tokyo correspondent Rupert Wingfield-Hayes, the real reason for the animosity against Komuro appears to come from a conservative section of society that does not believe that they are a couple worthy of an emperor's niece.
Komuro – who received a job offer from a prominent law firm – is of humble origin and local tabloids have spent years searching for gossip about his family, including the allegations against his mother.
Analysis: Hideharu Tamura, BBC News, TokiO
The reaction of some media and part of the public to the relationship between Princess Mako and Kei Komuro has made it clear the pressure faced by the women of the imperial family.
The IHA has reported that Princess Mako suffered from post-traumatic stress disorder due to strong criticism from the media and networks since the announcement of their engagement four years ago.
She is not the first woman in the Japanese royal family to be affected in this way.
Her grandmother, Empress Emeritus Michiko, temporarily lost her voice almost 20 years ago when the media called her unfit to be the wife of an emperor.
His aunt-in-law, Empress Masako, suffered from depression after being blamed for not having a son.
Royal women are forced to meet certain expectations: they must support their husbands, give birth to an heir, and be guardians of Japanese traditions. If they fall short, they are savagely criticized.
The same happened with Princess Mako, who said that she would renounce her royal status. But even that has not been enough to stop the attacks against her, her husband and their marriage.
If you want to read this story in Japanese, you can find ithere.

www.bbc.com
Eddie is an Australian news reporter with over 9 years in the industry and has published on Forbes and tech crunch.